What's a parent's best friend? One of them is probably a vacuum cleaner to clean up the dust, mess, hair and fur (for paw-rents). We have had different vacuum cleaners, from small handheld vacuum cleaners, to large ones, robot vacuums and of course the stick vacuum. We review LG's latest handheld stick vacuum cleaner, the CordZero A9 Kompressor Vacuum Cleaner, to find out if it's a worthy house help.
---
Overview of LG CordZero A9 Kompressor Vacuum Cleaner
The all-new LG CordZero A9 has got a sleek, dark grey and black finish, even my boys went "wow" and could not take their hands off the vacuum cleaner. For once, they are actually interested in helping out in chores voluntarily! I was a bit apprehensive initially as I was considering purchasing a robot vacuum cleaner to help with cleaning. But seeing how it was sleek, relatively light made using it a breeze.
This vacuum cleaner comes with a few innovative features including a compressor that compacts debris, maximising space in its dust storage. It also has a washable HEPA filter that enables filtration of the air so the dust is contained. The filters and cyclones are also washable. There is also a powerful suction, if required, that would come in handy for minor drilling or more effective vacuuming.
Rather than having an inbuilt battery like some of the stick vacuum cleaners, the LG CordZero A9 also comes with two rechargeable batteries. This keeps the vacuum cleaner going for a good 90 minutes.
The vacuum cleaner also has a wet mop function. Simply fill the water and the vacuum cleaner can do light mopping as well.
---
Pros and Cons of using LG CordZero A9 Vacuum Cleaner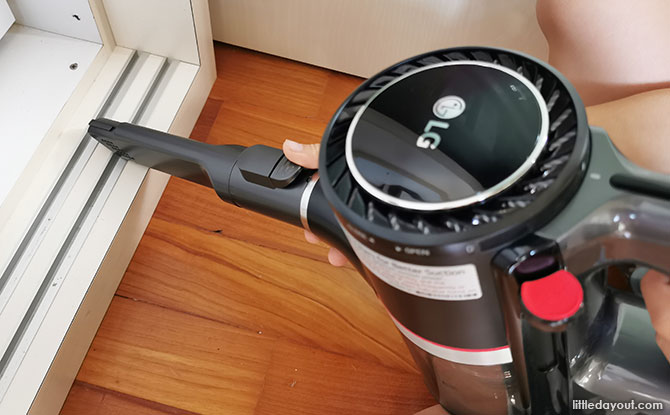 As we own a few vacuum cleaners according to different usage – car, home, deep cleaning, we were quite familiar with another brand of stick vacuum cleaners. The LG CordZero is definitely an upgrade from our older stick vacuum. Firstly it is lighter hence you can use just one arm for vacuuming. There is also a power button once activated the vacuum cleaner runs hence holding the power button continuously is not necessary.
The LG CordZero A9 also has a suite of accessories for vacuuming of different corners, crevices and materials such as carpets, sofas and so on. I liked how there was also a docking stand for all the accessories to be neatly hung. The dock comes with all vacuum cleaners at no additional charge.
The removable and rechargeable battery packs also meant I could vacuum for a longer time without having to wait for it to charge. I could easily charge one battery pack and use the other. The appliance was intuitive to use and did not require too much effort.
My favourite bit was the end of the vacuum cleaner which could be twisted to reach different angles. This was useful for hard to reach corners. Its adjustable wand length can also be used by different members of the family of varying heights, whether it's adult or child.
The LG CordZero A9 also has a mophead which allows wet mopping while vacuuming at the same time. However, while the mopping function was a bonus, no harsh chemicals should be put into the water dispenser so that minimised its effectiveness. It was not very wet mopping hence it would not be able to mop up spills so well.
Using a separate mop with proper floor cleaning agents would be more effective. I also had to wash the pads – which added to the chore list. As a working mother with no household help, I preferred to streamline all chores and minimise the to-dos.
---
Verdict on the LG CordZero A9 Vacuum Cleaner
The LG CordZero A9 is a user-friendly vacuum cleaner that is versatile and user-centric functions. It cleans crevices easily and also did pretty good clean-ups of fine dust and even glass shards. (Yes we had to clean up tiny glass shards that were not too visible) It was a breeze to use and easy to maintain with its washable filters. I'd recommend this Korean made stick vacuum cleaner over its lookalike competitor brand in a heartbeat.
But I'm still eye-ing a robot that will do all the cleaning without my hand manoeuvring it.
To read more about the LG CordZero A9, visit this site.