pandamart #HuntTheMouse, Singapore's largest cash hunt, returns from 9 March to 8 April 2023 for its fourth iteration and promises to be the easiest cash hunt yet.
The nationwide #HuntTheMouse is organised by Sqkii, a a gamification company, and supported by title sponsor foodpanda.
In the 2017 to 2019 editions of the game, cash hunt attracted more than half a million players who went out in droves in search of the hidden gold coin.
---
Hunt for Coins at pandamart #HuntTheMouse
---
-- Story continues below --
For the 2023 edition of #HuntTheMouse, over 100 coins will be hidden in various parts of Singapore. The first to find each coin will be able to redeem cash of corresponding value.
In total, there are:
• 1 x $50,000 gold coin
• 100 x $500 silver coins
To play pandamart #HuntTheMouse, players will get visual hints on a real-time map to locate the coins.
You can find the #HuntTheMouse real-time map here.
Like a Battle Royale, the circles on the map, which indicate possible locations of silver coins, will start to shrink every half an hour. The real-time map will also eliminate improbable gold coin locations at 10 am, 2 pm, and 6 pm each day.
The game is safe and suitable for families with children as the coins are:
not hidden in restricted zones
not hidden in places that will endanger safety
not hidden in places that require opening, dismantling or vandalising.
not hidden underwater.
not buried underground.
Hints for the gold coin will be posted daily on Sqkii's Facebook, Instagram, and Telegram channel.
---
Earn Crystals to Obtain More Hints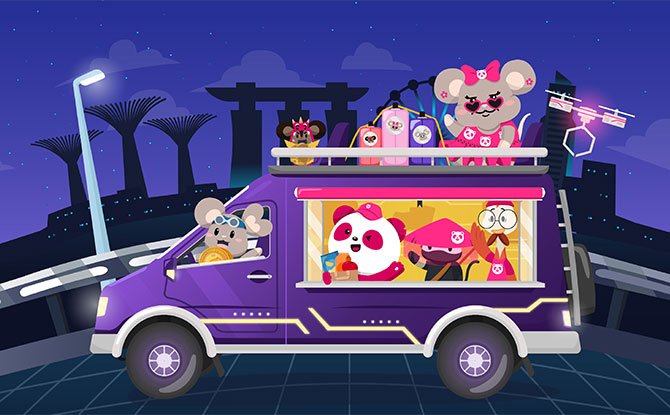 Players can also perform brand actions by partners and participating merchants listed on the game website to earn crystals.
The crystals can be used to obtain more gold coin hints, eliminate more gold coin locations, or shrink selected silver coin circles to give them a competitive advantage over other players.
Between 9 March and 8th April 2023, players can add a scratch card into their cart when ordering from pandamart, foodpanda's online grocery store.
A physical card will be delivered with the order and players can scan the card to earn in-game crystals, which can be used to obtain more hints on the locations of the coins.
There will also be upsized crystal earning opportunities available for orders made on pandamart during certain periods, which will be revealed on foodpanda's Instagram account.
---
Go #HuntTheMouse
"We've always wanted to build a fun grocery shopping experience and #HuntTheMouse is a great way for our customers to get even more value in an enjoyable way. We're thrilled to be part of this popular nationwide game especially after the pandemic, and look forward to helping our customers be winners – both at the game and in the kitchen!" says Mr Judson Teo, Head of Marketing (New Verticals), foodpanda Singapore.
"It's been three years since we've had a fully physical hunt where players can search in-person and experience the thrill of finding coins everywhere around Singapore," shared Mr Kenny Choy, co-founder of Sqkii. "We're excited to bring families and friends back together again, and enable bond building through gameplay that is safe, fun, and rewarding."
Get more details about pandamart #HuntTheMouse.