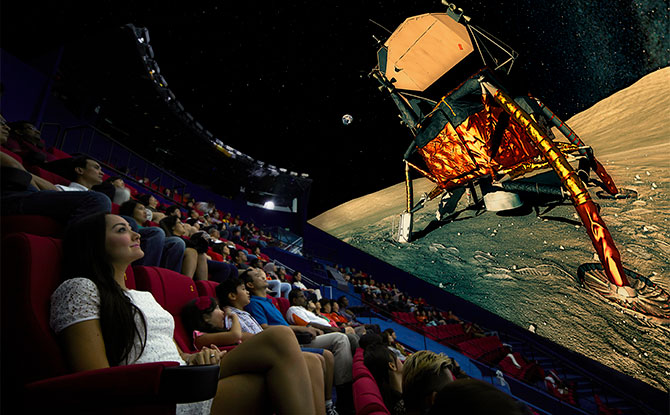 Like a magic box, Omni-Theatre has the ability to transport audiences to other worlds through its combination of crystal clear 8K visuals on a 23-metre diameter dome screen and immersive sound.
And, from now till 26 February 2023, there is even more reason to pay a visit to Omni-Theatre because you can enjoy 10% off ticket prices when you make a booking with a special promo code OT-PROMO10.
---
Three Gripping Science Shows at Omni-Theatre
There are three movies currently screening at Omni-Theatre, each providing a window into the wonders of science and nature.
---
Dinosaurs of Antarctica
---
-- Story continues below --
Take journey back in time with Dinosaurs of Antarctica. While we now think of the Ice Continent as a frozen desert, this wasn't always the case. Join Antarctic scientists as they dig into the continent's past, exposing lush primitive forests filled with roaming dinosaurs and giant river monsters since lost to time.
Find out more and book tickets here.
---
Sea Lions: Life by a Whisker
Be inspired by a coming-of-age story about an Australian sea lion pup named Otto. Sea Lions: Life by a Whisker provides an intimate look at life inside a colony of sea lions living in an environment that is equally harsh and beautiful. It also introduces the people who are trying to save the endangered species.
Find out more and book tickets here.
---
Big Astronomy: People, Places, Discoveries
Discover the wonder of the cosmos and the excitement of discovery with Big Astronomy. Look out into the universe along with scientists in Chile, where the stable, dry air makes it one of the best places of the world for astronomy. Visit three observatories located in remote parts of Chile and meet the people, all with different background and skills, who keep the observatories working in the effort to study the sky.
Book your tickets to Big Astronomy here.
---
Show Times at Omni-Theatre
Catch the three shows at Omni-Theatre daily at the following times:
Dinosaurs of Antarctica: 12 pm, 2 pm & 4.20 pm
Sea Lions: 10 am, 11 am & 5.15 pm
Big Astronomy: 3 pm, 3.40 pm
---
Enjoy 10% Discount with Promo Code from 16 Jan to 26 Feb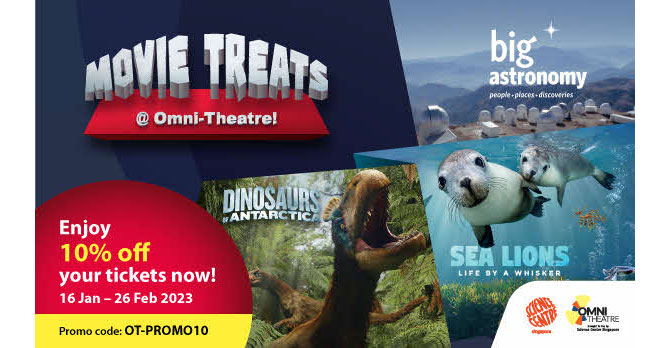 From now till 26 February 2023, remember to use promo code OT-PROMO10 when booking your show to enjoy a 10% discount.
Book your Omni-Theatre tickets here.
This feature is brought to you by Science Centre Singapore.