Food brands coming together under one roof has been a recent trend in the food industry, consolidating and sharing spaces, while serving up solid mouth-watering renditions of their signature fares. That's what you can expect at Nomstar at Northshore Plaza, a dinosaur safari-themed outlet with a view of Punggol Waterfront!
Nomstar at Northshore Plaza II is located at a rather obscure corner of the third floor of Punggol shopping mall. Its location gives it a gorgeous view of the water. The concept at this waterfront enclave is to have five famous Asian restaurants, each offering their takes on classic dishes from Singapore, Hong Kong, Japan, Thailand and Vietnam, under one roof.
---
5 Asian Brands in 1 Restaurant at Nomstar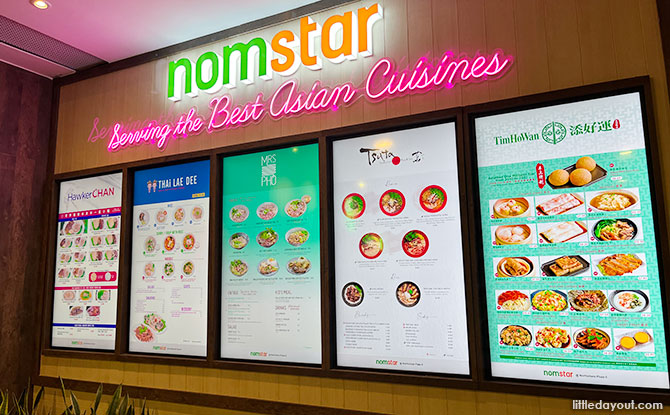 At Nomstar, you will find 5 brands, most of which will require no introduction at all:
---
-- Story continues below --
Tim Ho Wan: Started by Chef Mak Kwai Pui, home to award-winning, authentic Hong Kong-style dim sum known for its the Baked BBQ Pork Buns, Pan-fried Radish, BBQ Pork Rice Rolls and Steamed Sponge Cake.
Tsuta: Founded by Chef Yuki Onishi, its flagship restaurant in Japan is the first ramen eatery to receive a Michelin star in 2016, with ramen offerings that achieve the elusive umami flavour.
Hawker Chan: Hawker Chan is the international franchise of the humble Hong Kong Soya Sauce Chicken Rice & Noodle, which is helmed by Chef Chan Hon Meng.
Thai Lae Dee (by Took Lae Dee): Hailing from Bangkok, it is one of the city's most famous 24-hour restaurant chains with an array of pad kaprow, pad thai, tom yum soup and green curry. Its Northshore outlet offers No Pork No Lard for all its dishes.
Mrs Pho: The restaurant puts a new spin on the classic pho, with variations including Premium Short Rib Pho and Wagyu Pho. It also doles out a medley of beloved Vietnamese streetside charcoal grills, from seafood to mushrooms and cauliflowers.
---
Serving the Best Asian Cuisines – under one roof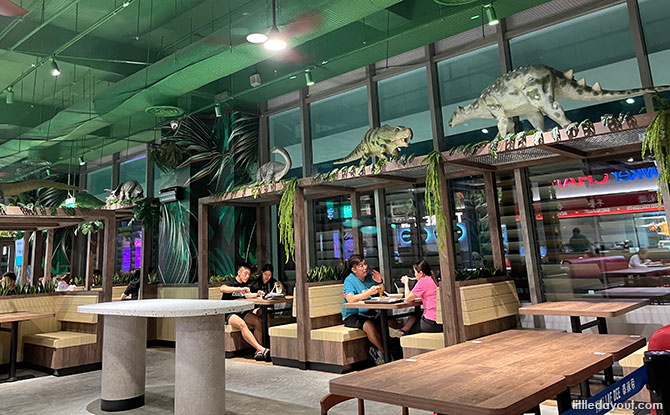 A nature-inspired palette and medley of plants keep the space with a casual décor connected to the sense of environment, where a green ceiling canopy visually frames the various seating spaces while the waterfront view allows natural light to brighten the relaxed space during the day.
Injecting an eco-friendly sustainable element, a large Tray Return pillar with four different sorting holes for waste, paper, metal and plastic catches the eye as a vibrant leafy-framed centrepiece.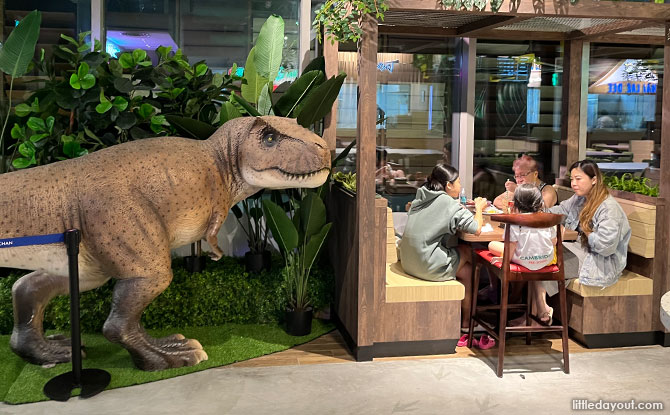 Dinosaurs decorate the space at Nomstar, perhaps a playful nod to hunting in packs and providing soundscape for a themed "Jurassic Nest" concept.  Eating with a T-rex or Pterodactyl looming nearby is rather novel and makes you wonder what is the suggested kill in the course of relishing the meat dishes!
To order from any of the five stalls, one just needs to scan the QR code at your table and await your number once ready for pick-up which will be flashed on hanging monitors located within the space.
We had delicious evening out sampling selections from the five brands!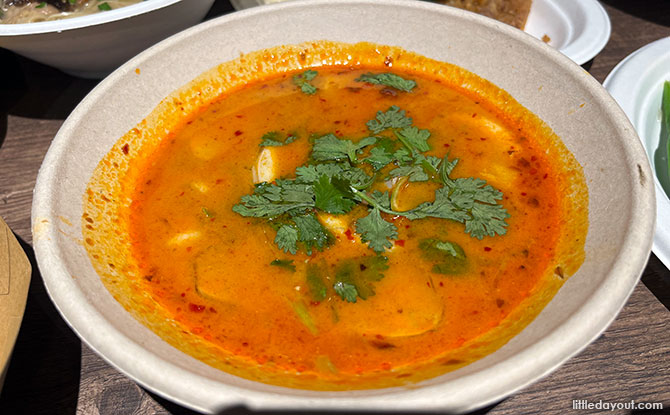 A good Tom Yum soup is a perfect balance of sweet, sour and salty with the right mix of sugar, lime juice and fish sauce and the Tom Yun Seafood with Rice ($9.80)  by Thai Lae Dee nailed it with its burst of flavours.
The other dishes served were Thai Crispy Chicken Rice ($6.80) which went well with green chilli as well as the spicy, salty Minced Chicken with Chilli & Basil Leaves served with Rice ($6.80).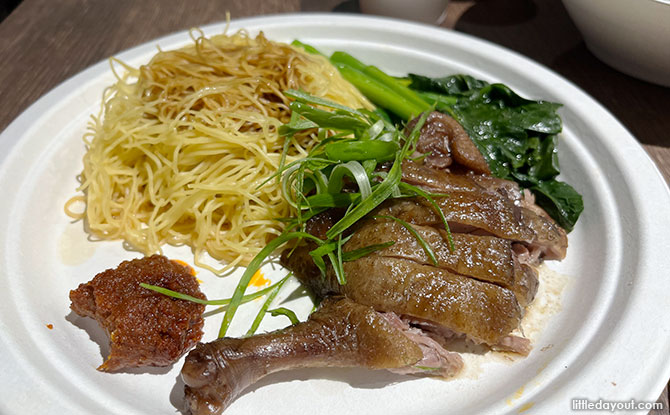 Chef Chan Hon Meng aka Hawker Chan was also present that night to dish out his Soya Sauce Chicken Rice ($6.80)  and new Duck Drumstick Noodles ($8.80), both characterised by the sweet, juicy goodness of the deep brown meats, resting on gleaming vegetable stalks.  The rice included braised nuts and a custardy hard-boiled egg while lightly-sauced noodles had the right bounce to the texture.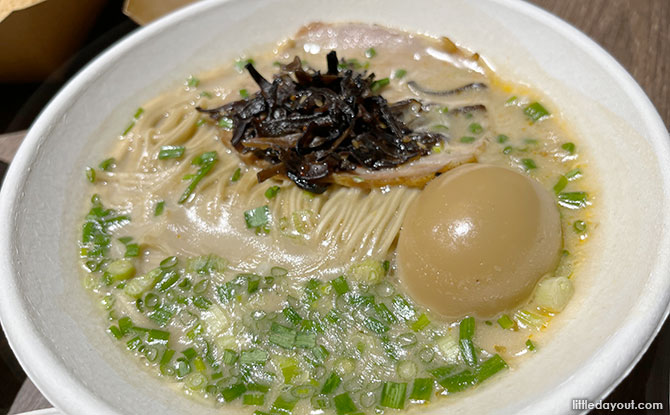 Chewy noodles in rich umami broth of the Tonkotsu Soba ($8.80) from Tsuta was a harmonious blend of seasonings that worked very well with flavourful slices of pork and mushrooms, topped with jammy soft-boiled egg and a generous sprinkling of scallions.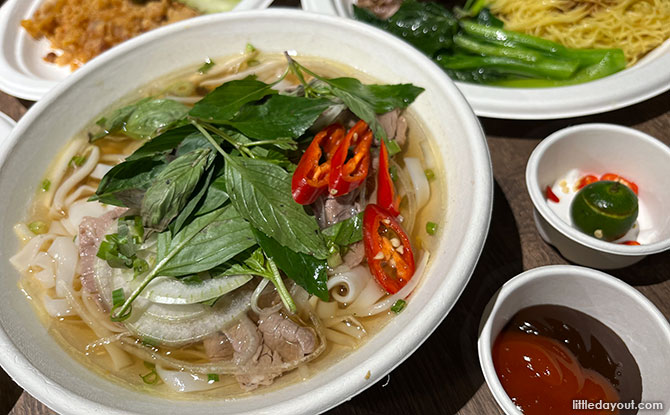 Mrs Pho served up its deliciously delicate Sliced Beef Pho ($9.90), with tender beef slices and thin glass noodles swimming in distinctive and deep broth, fresh basil and mint leaves, crispy bean sprouts and cut red chilli, that make for a tasty meal.
Tim Ho Wan's Baked BBQ Pork Buns (3 pieces for $8.60) and Hong Kong Style Egg Tarts (2 pieces for $5.70) are known popular favourites although we preferred the crispy pork buns with their succulent filling for its contrasting flavours and textures, to the egg tarts with their smooth sweet-salty pastry crust and more jelly-like custard.
Refreshing lychee concoctions and sweet pineapple cordials from Hawker Chan, served by friendly roving "rangers, completed our meal!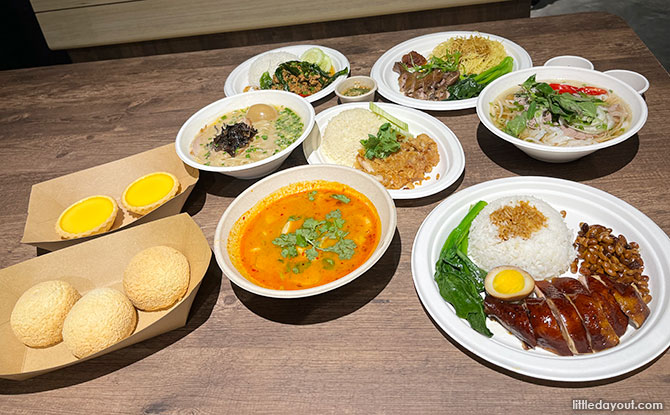 The variety of dishes from the different menus served up by the five brands does leave one spoilt for choice.  As  a one-stop food enclave offering different choices for diners in groups, its main draw is catering to varying tastebuds with popular Asian fare.  Furthermore, if stuffed, the location is perfect for a leisurely stroll along the waterfront after heavy meals! There is also the ship playground just beside Northshore Plaza II as well.
---
Nomstar at Northshore Plaza II
Where: #03-02, Northshore Plaza 2, 418 Northshore Drive, Singapore 820418
Opening Hours: Mon to Fri, 11 am to 9.30 pm (Last order 9 pm); Sat & Sun / PH, 10.30 am to 10 pm (Last order 9.30 pm)