For those of you who fondly remember times at Playeum's space at Gillman Barracks as well as its past events like The Big Draw – Playeum has news to share about its new adventure. Playeum's Children's Centre for Creativity will be moving out of its premises at Malan Road and onto both virtual and real worlds.
Playeum has been instrumental in nurturing creativity and unleashing the imagination in children. It will continue to do so with public programmes as well as community projects to continue empowering families.
---
Five Wonderful Years at Gilman Barracks: Playeum's Children's Centre for Creativity To Close
Many children have spent hours tinkering at Children's Centre for Creativity, connecting all kinds of materials, building cars out of recyclables, engaging in sensory play and created their own worlds.
Pictures of my child's experiences at Playeum's spaces and events peppered my depositories. Interestingly enough, Little Day Out covered the opening of the Children's Centre for Creativity in 2015 and our readers have also had the privilege of being among the first have an exclusive preview Playeum's engaging exhibitions.
---
-- Story continues below --
While I reminisce those times, I'm glad to know these experiences will continue to be available in different formats.
From early events like the Big Draw, community events and setups at National Museum Singapore as well as Early Childhood Development Authority festivals, Playeum has always been a welcomed partner.
It used to be challenging finding spaces that welcome and embrace the spirit and energy of the child. Personally, as a parent, I always found Playeum to be an open sanctuary to unleash the child's creativity and imagination freely.
If you had wonderful memories of Playeum experiences, you can tag #Playeum in pictures on Social Media platforms, on Facebook as well as on Instagram.
---
Playeum's Public Programmes: Playeum at Home, Kampung Konversations and Artful Play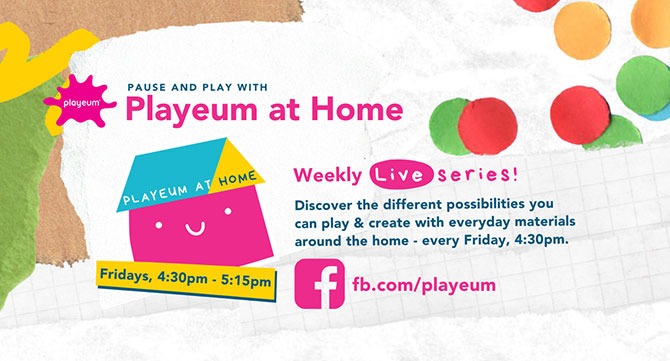 Even as Playeum's Children's Centre for Creativity shuts, its work and programmes still go on. These programmes to support parents and the creativity of children include Playeum at Home, Kampung Konversations and Artful Play programmes.
Playeum at Home is a free online maker activity for children using simple materials, usually recyclables found at home. This session will be held every Friday, beginning 21 August, from 4.30 pm to 5.15 pm for children between ages 5 to 12. An adult of elder sibling's assistance will be helpful. This activity will be broadcasted on Facebook live.
Whether it's toilet rolls, rubber bands – there's plenty to do with these materials. The series is open-ended and encourages little makers to create. Adults are welcome for some maker therapy! More information available here.
Kampung Konversations, as its name suggests, is for adults to share and create. Previous sessions included story-telling tips, fathering in the 21st century and craft activities. Apart from connecting with like-minded people, Kampung Konversations are casual communal chats for adults to get some me-time through art or meaningful sharing. Sometimes, experts join in the chats to share tips and ideas. All sessions are free, held online and pre-registration is required.
Other public programmes include adhoc Artful Play programmes for children. The upcoming holiday camp is a 3-day camp on 21st Century Arkidtects: Building Our Future Homes. More details on fees and timings can be found here.
Playeum will also be collaborating with various community spaces to create more free play opportunities!
---
Playeum Programmes for Educators, Schools and Charities
Playeum will also be continuing to serve the children from marginalised communities and children with varying disabilities through various channels.
With both digital presence and programmes as well as community partnerships, Playeum's mission will be furthered by working directly with schools, charities and specific communities.
---
Join in Playeum's New Adventure
I'm excited to see what's in store with Playeum's new adventure.
If you would like to find out more on how to contribute or support Playeum's cause, you can get more information here.