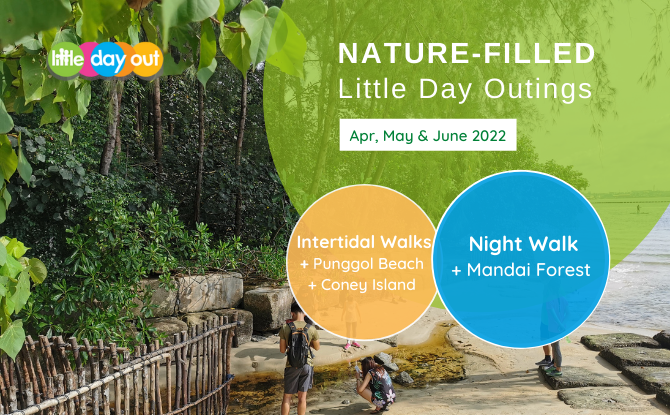 We have more walks and outings all about nature's wonders in the next few months! Head to the shores to find our tiny neighbours in all colours and shapes at the intertidal zone, or trek into the Mandai forest in the dark to find a deer, and check out Coney Island afresh together with us!
Take your pick and sign up today! Spots will be sold fast, fastest fingers first!
Coney Island Intertidal Walk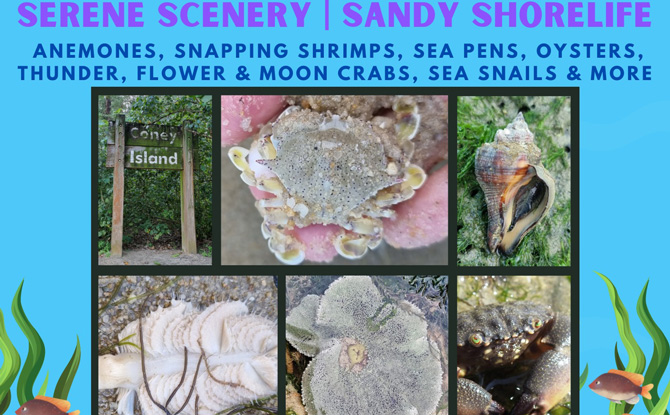 Been to Coney Island? Have you noticed the marine animals and plants?
---
-- Story continues below --
Head to the shores at low tide to explore the shallow sandflats! You will see Carpet Anemones, Snapping Shrimps, Flower Crabs, Moon Crabs, Sea Pens and Tube Worms living in a sea of seaweed. Take a closer look at the rocks and tree snags encrusted with limpets and barnacles which are yummy cuisine for the pretty Spiral Melongena Snail.
See if you can spot an Onch Slug and various Sea Snails. In the deeper waters, the beautiful Mangrove Whipray and other fish have been spotted. Find Purple Climber Crabs, Thunder Crabs, Rock Oysters, Drills and Bead Anemones at the breakwater.
Dates & Times:
7 May (Saturday), 6 June (Monday), 8.00 am to 10.00 am
Sign up here.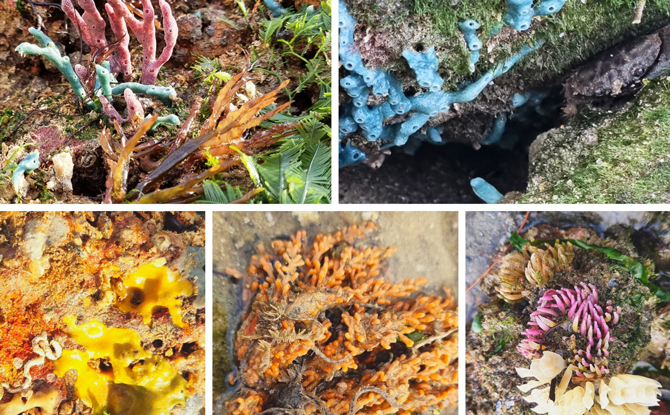 Punggol Beach, while tucked away, in the northeastern region of Singapore, is home to much marine life which gets exposed at low tides. Take the chance to witness the explosion of colours in sponges – orange, blue, champagne, purple and green. Friends of Spongebob perhaps? They are nestled in the beach's rocky area and also host to Brittle Stars.
Eager to find Mister Krabs? Look for Thunder Crabs, Flower Crabs, Purple Climber Crabs and of course Hermit Crabs. Try to spot the shy Onch Slug, which might be invisible to your eyes as it camouflages amidst the algae.
Other lifeforms encrusting the rocks include tiny mussels, fan worms, rock oysters and barnacles. Check out the hard corals, sea urchins, ascidians, clams, drills and more!
Dates & Times:
23 April (Saturday), 9.00 am to 11.00 am
Sign up here.
Ever wondered about the actual wilderness surrounding the Zoo? Mandai Forest will surprise man with its own nocturnal wonders. See Sambar Deer feeding, Lesser Mousedeer trotting gingerly in search of fallen fruits, find Colugos and bats feasting. Their presence is revealed only with glowing eye shine. Use your sharp eyes to spot other creatures like Drogs, Rats, Rachers and Rat Snakes.
If there is plenty of rain during that time, there will be bioluminescent mushrooms sprouting in small clusters and we may even spot Long-tailed and Dwarf Wood Scorpions as they fluoresce alongside gorgeous hues of reds, yellows and purples by plants, lichens, fungi and insects. Join in for a good dose of forest magic!
Dates & Times:
30 April (Saturday), 2 May (Monday), 10 June (Friday), 7.15 pm to 9.15 pm
Head into the darkness here.
Nature-filled Little Day Outings in April, May and June 2022
To sum up, here are the nature-themed Little Day and Night Outings for April to June 2022!
Intertidal Walks
Punggol Beach: 23 April (9 am – 11 am)
Coney Island (Day): 7 May, 6 Jun (8 am to 10 am)
Nature Walks
Mandai Forest (Night): 30 Apr, 2 May and 10 Jun (7.15 pm to 9.15 pm)
Let's walk in the wild here.
Sign up for our upcoming walks now, limited spots are available.
---
Safe Management Measures
Walks are conducted with MTI/STB approved guides and groups will be split into subgroups according to prevailing COVID-19 Safe Management Measures. The walks and outings will be held in uncrowded, open areas with plenty of fresh air. All participants are to stay masked to minimise risk.
Love what we are offering but can't make it this time round? Register your interest with us for our next adventure.
---
Stay in Touch for Future Little Day Out Camps & Outings
Love what we are offering but can't make it this time round? Want to be the first to know? Do fill up the form below so we can get in touch with you! Find out more here too!