Wary of heading out, and eager to have access to more digital experiences for your children? National Gallery Singapore has just launched Small Big Dreamers, the biannual festival, which has gone digital for 2020 for children at home.
No more barriers to art appreciation, nor dealing with meltdowns at the art gallery or other unmentionable embarrassing episodes. (Yes I've been there, done that.)
With 22+ art experiences online, your child will be wholly inspired to participate, interact and learn about art online.
Small Big Dreamers Festival 2020 takes a closer look at five artworks by artists in Singapore and Southeast Asia and simplifies the elements and processes in art such that young children will be able to appreciate the finer details.
---
-- Story continues below --
National Gallery Singapore's Small Big Dreamers Festival 2020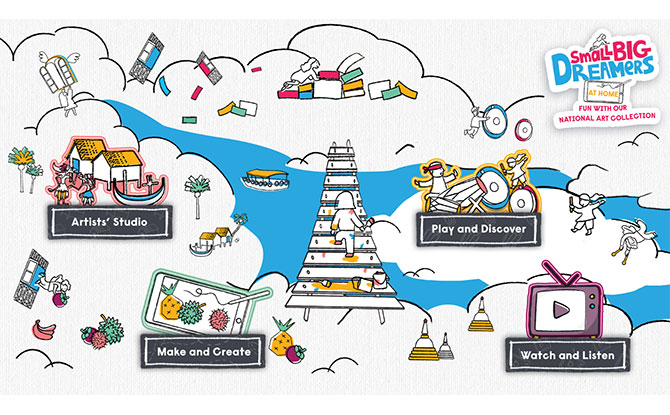 National Gallery's microsite is easy to navigate with five main zones: Artists' Studio, Make & Create, Play & Discover, Watch & Listen and the fifth zone SBD Live! to be launched in September. Children can play interactive games, get crafty with hands-on activities and learn more about the artists.
Artists' Studio lets the children get up close to the artworks and examine them.
I liked this feature as it allows much closer observations of artwork compared to heading to the gallery. As you scroll through the masterpieces, interesting details and facts will be revealed. They can look at the textures, colours, gradient of each piece.

Children can proceed to Make & Create to attempt art and craft projects exploring the practice of the featured artists. Just print out the templates, gather the materials for some offline crafty fun.
I think the Play & Discover segment will be the most sought after.
There are three games available – An Artist's Tropical Landscape inspired by Georgette Chen's Tropical Fruits, Feeling Blocks inspired by Choy Weng Yang Horizontals 1, My Ink-credible Adventure by Yeo Shih Yun.
Children will get to manipulate various elements of the artworks such as size, shadows, light and position. This interactive module teaches children on the artmaking techniques used by each artist.
After completion of the artwork, children can choose to save it and share it.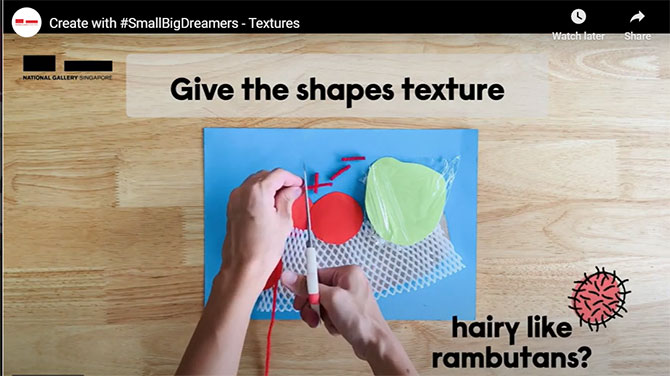 The Watch & Listen zone has on-demand tutorial videos by artists, illustrators who will teach them different art techniques. There will be more videos added to the selection such as story-telling and chats with educators and curators.
Our Experience on #Smallbigdreamersathome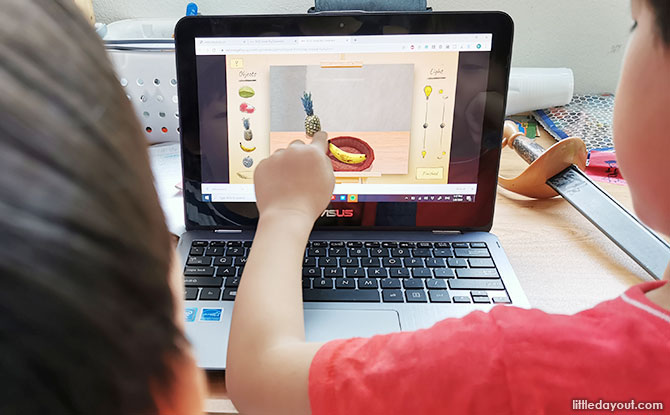 There are over 22 activities and resources on the Small Big Dreamers Festival site.
As a parent who enjoys dabbling in art, I loved it that National Gallery Singapore has brought art to an accessible platform. We could explore various art pieces at our own pace, learn about their details and talk about composition, shadows, shapes. Appreciating art can be done at a click.
There's plenty to explore and the Small Big Dreamers Festival site is available till 28 March 2021. Aside from the art and craft tutorials, there is also the Small Big Dreamers Live segment with events on sketching, music-making and art-making.
Appreciating Art and Nurturing Creativity at Small Big Dreamers Festival at Home Digital Edition
Visiting the galleries may not be possible for now, but exploring the world of art digitally is a great way to create, imagine and developing a lifelong appreciation for art.
Visit the Small Big Dreamers at Home site and remember to add #Smallbigdreamersathome when you post your creations online!