As Singaporeans, we love our food. And with National Day around the corner, it is unsurprising that National Day themed foods is a thing. As you make plans for celebrations for National Day 2020, here are some National Day-themed foods that you can get, some of which help to support charitable causes too.
National Day-Themed Desserts & Food 2020
---
President Halimah Yacob's Red and White Agar Agar Kit
Get some desserts and support a cause! The #FFLShareTheCare "Red and White" National Day desserts campaign is raising funds for President's Challenge! President Halimah Yacob has contributed her very own "Red and White" National Day agar-agar recipe to an e-recipe book in support of the President's Challenge. Other brands and organisations, such as MINDS and Delcie's Desserts and Cakes, are also supporting the cause. Find out more here.
---
Red and White Cake from Pan Pacific
---
-- Story continues below --
Other than their six-course Cantonese set menu featuring delicacies inspired by iconic Singaporean dishes, diners can elevate their meal with Pan Pacific's Opaly Raspberry Mousse Cake. This sweet and tangy cake is made of White Chocolate Mousse, Raspberry Confit, Feuilletine Crunch and Red Velvet Sponge. The cake is available for pre-order for collection or delivery between 1 to 16 August 2020. Website.
---
Starbucks Shiok Food
Although the foods aren't red and white, Starbucks's SHIOK Food features some of our most loved local flavours. Some items to look for including the Impossible Rendang Pie, Rendang pie, Ondeh Ondeh and a Milo dinosaur cake! All snacks are available for a limited period only so get them while you can. Details here.
---
The Frosted Chick's National Day-themed Desserts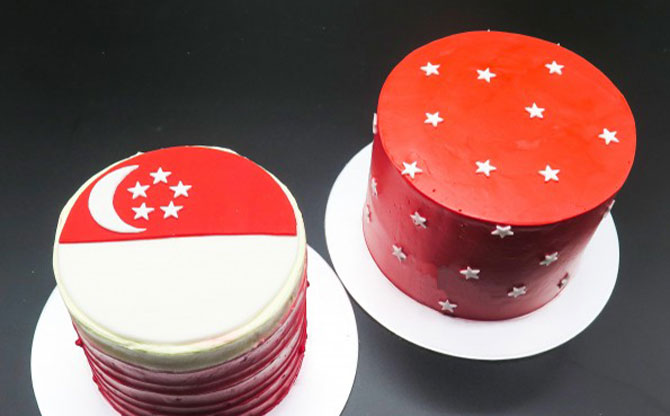 The Frosted Chick specialises in customised cakes, dessert tables, cupcakes, macarons, cake pops, cookies and other artisanal desserts. This National Day, it has two National Day items: Singapore Flag cookies and a National Day cake. For the cake, choose between two designs, Red with white stars or an Ombre red swirl with a Singapore flag fondant topper. For those who like a bit of a crunch in their desserts, you can opt for the Singapore flag cookies. Website.
---
Butter Studio's "Our Singapore" Cake
Butter Studio is a halal bakery with outlets around Singapore. They have creative National Day desserts such as "Our Singapore" National Day Cake, which is a signature Ondeh Ondeh cake given a beautiful coat of patriotic red and white frosting, gold sprinkles and other decorations, and a handcrafted edible Merlion to top it off. Other National Day themed food items include a "Celebrate SG55" Cupcakes Party Box with flavours such as Red Velvet, chocolate and ondeh ondeh. If you're looking for something more suited for sharing with a small group, get Butter Studio's SG55 Singapura Cakelet which is a decadent red velvet cake. Website.
---
Cupcakes from BreadTalk
Celebrate Singapore's 55th Birthday with specially designed themed cupcakes! Red, White, and everything nice! These limited edition cupcakes are available in 3 different flavours of chocolate, raisins and blueberry topped with tantalising buttercream. Website.
---
Happy 55 Sweet Treats Box from Goodwood Park
If one type of National Day treat is too simple for you, try Goodwood Park's Happy 55 Sweet Treats Box. This mega snack box consists of cupcake flavours in flavours such as Kopi Macarons, Pandan Mascarpone Tarts, and- Chocolate Earl Grey Cakes. The SG55 bundle is available for orders placed from 31 July to 10 August 2020. Website.