If you have ever thought that it would be nice to have music to accompany playtime at the playground, check out Musical Swings at Dhoby Ghaut's Cathay Green.
---
Musical Swings is by Canadian artists Daily tous les jours
Part of Singapore International Festival of the Arts, Musical Swings is by Canadian artists Daily tous les jours. The whimsical installation adds a fresh take to the idea of play blending together technology and placemaking.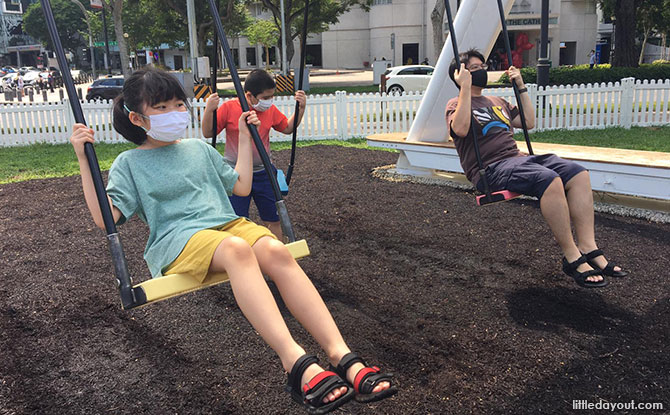 The Musical Swings installation is made up of a set of swings. As each swing swings in motion (pardon the pun), different notes are triggers. This is an opportunity for people of all ages to make music together. Only one person is allowed on each swing at any time.
As the movement of the different swings gets synchronized, there are secret melodies to be unlocked.
Since it is open into the evening, you can also have an after-dark experience there too.
---
How to Participate in Musical Swings
Entry to the Musical Swings at Cathay Green is by registration only. Registration will be available 3 days in advance and can be done at this website.
For safe distancing purposes, groups are not allowed to intermingle.
It is recommended to arrive 5 minutes before the start of the designated play session timing to check-in and for temperature taking.
Musical Swings by Daily tous les jours is recommended for participants age 7 years and above who are at least 120 cm tall. Kids below the age of 10 need to be accompanied by their parents or their carers at all times.
Musical Swings is free with registration. It will be at Cathay Green from 25 June to 11 July 2021. Opening hours are Monday to Friday, 2 pm to 9 pm, and Saturday & Sunday, 12 pm to 9 pm.
Get more details about Musical Swings and register here.