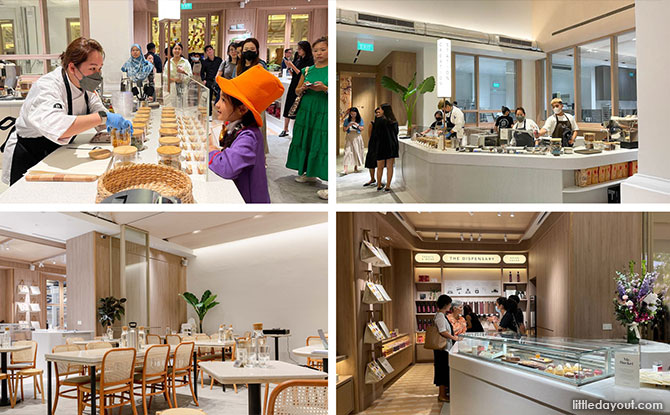 Local chocolate specialty brand, Mr Bucket, is officially unveiling their latest retail concept. Mr Bucket Chocolaterie (Dempsey Factory) is a chocolate experience centre that features a chocolate factory, dining and retail space to allow visitors to have an experience like no other.
---
Mr Bucket: Dishing Out Artisanal Chocolates
Since November 2020, Mr Bucket specialises in artisanal chocolate bon bons and treats from cacao sourced only within Asia. Gaining inspiration for their brand by Roald Dahl's novel Charlie and the Chocolate Factory, Mr. Bucket Chocolaterie aims to revitalise the Asian chocolate industry by advocating for small cacao farmers in the region through their chocolate making approach.
---
Visiting the Chocolate Factory at Dempsey, a Fascinating Retail Experience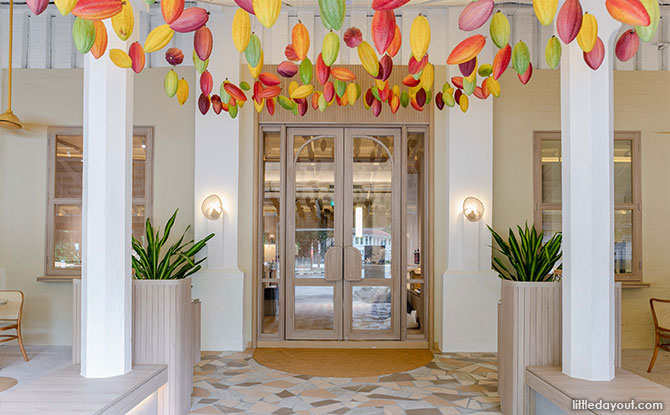 Upon entering the space, we are greeted by a cosy outdoor patio that seats up to 60 guests. A colourful cacao pod installation hangs from above, which is said to be made from real cacao pods! There, you can chill and enjoy your chocolate treats, and even glance through the glass windows to get a peep of the bean room on the right, where the cacao beans begin their journey through sorting and roasting.
---
-- Story continues below --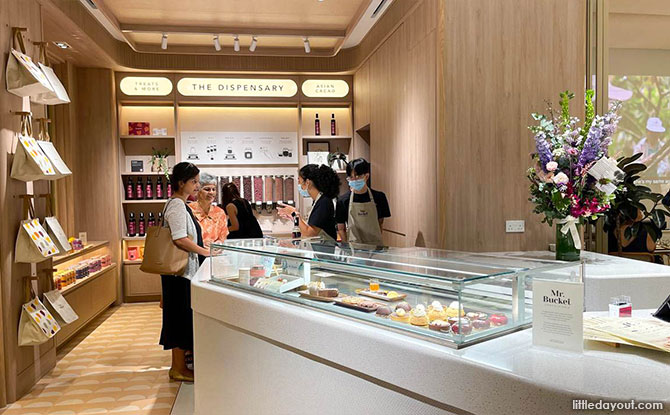 Inside, the space features the retail corner with a dispensary to the left that displays counters filled with Mr Bucket's signature chocolates which are available for purchase. As part of sustainability efforts, visitors are highly encouraged to bring along their own reusable containers to fill up with their choice of chocolate treats such as chocolate buttons, dragees and granules.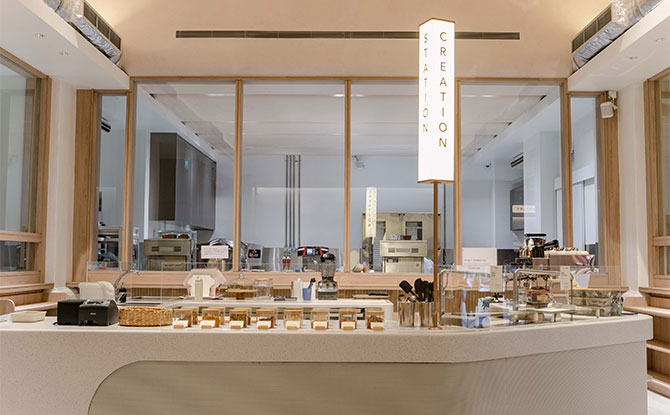 Visitors can also learn about how the magic of chocolate making happens from bean-to-bar, as every production step can be witnessed through the clear glass windows within the outlet. There is also an indoor dining space should you prefer to enjoy your treats under the cool air conditioning breeze, where you can view the creation station and build the chocolate slab of your dreams.
---
Review of Mr Bucket's Chocolates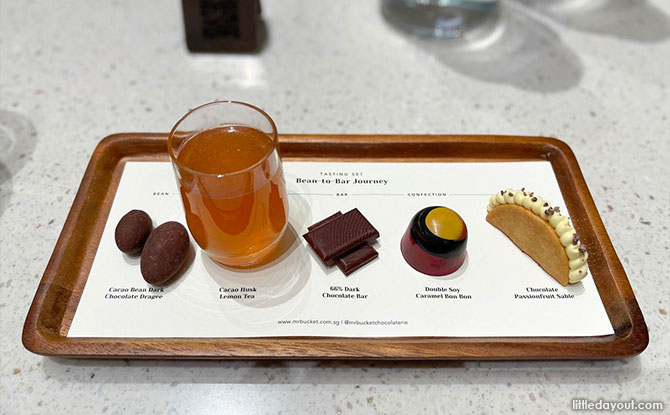 We first tried out the Bean-to-bar Journey tasting set that brought us through the process of cacao being made from beans into a bar, confection and pastry. This platter spotlights cacao beans from a farm in Panchor, Malaysia, and upon tasting the dragees, I was surprised by the fruity taste that came from the bean. What intrigued me most was how the husk was not left wasted, and brewed into a cold brew tea infused with lemon. Another interesting one was the Double Soy Caramel Bon Bon, created with a caramelised soy sauce that oozes out when bit into. Although it sounds like a frankenstein-esque combination, it had a very rich chocolate and caramel flavour with just a tinge of umami.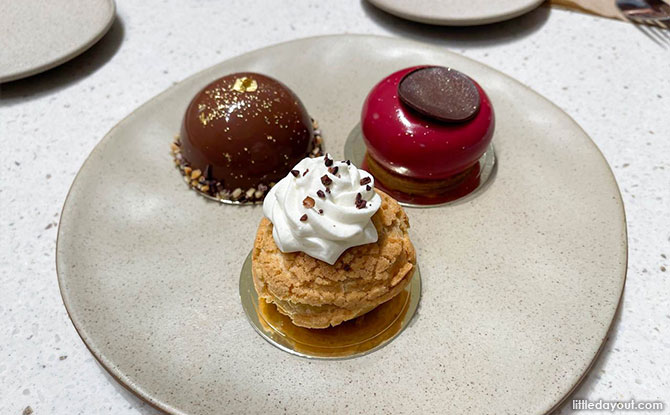 Next, we were served with the cakes and desserts. While all of them tasted oh-so-delightful, the Dark Chocolate Choux Puff and the Signature Chocolate Dome stood out as my favourites.
The Dark Chocolate Choux Puff ($10) is filled with 80% Anaimalai chocolate cream and topped with vanilla chantilly. The crispiness of the puff paired with the lightweight cream filled with dark chocolate flavour tasted wonderful.
The Signature Chocolate Dome ($12) is filled with 72% Calinan chocolate mousse and has a cacao nib wafer at the bottom, which filled my mouth with the rich taste of chocolate with a crunchy texture.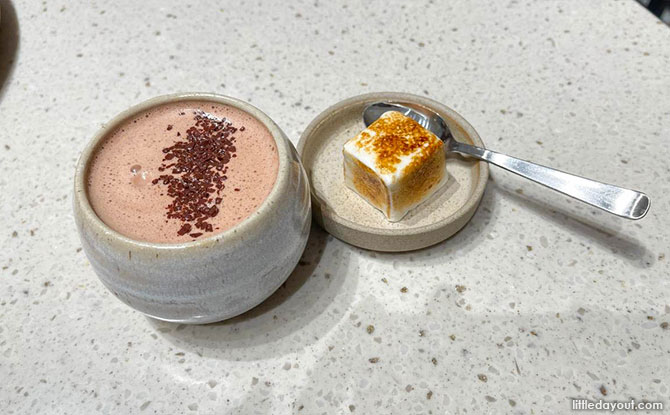 For the drinks, we tried out the 64% Single Origin Hot Chocolate ($8) which was served with a homemade rosemary marshmallow.
The taste of the hot chocolate was very fragrant but not too sweet, and the rosemary marshmallow can be eaten or mixed in with the hot chocolate to adjust the sweetness of the drink.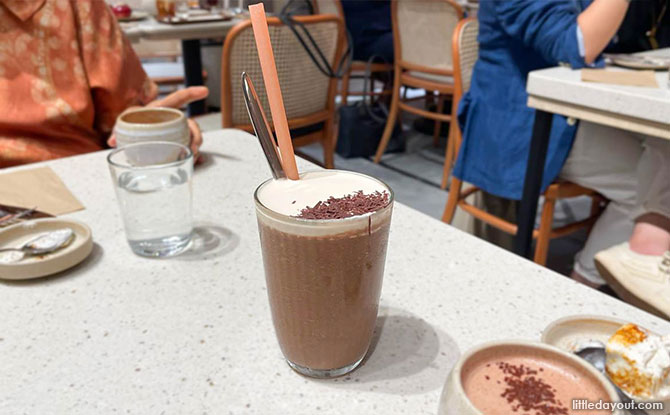 We also tried the 72% Single Origin Chocolate Milkshake ($12). It tasted super rich and felt like sinful indulgence in a drink. An interesting titbit to note is that their drink straws are made from rice husks, that lasts longer than paper straws and are biodegradable.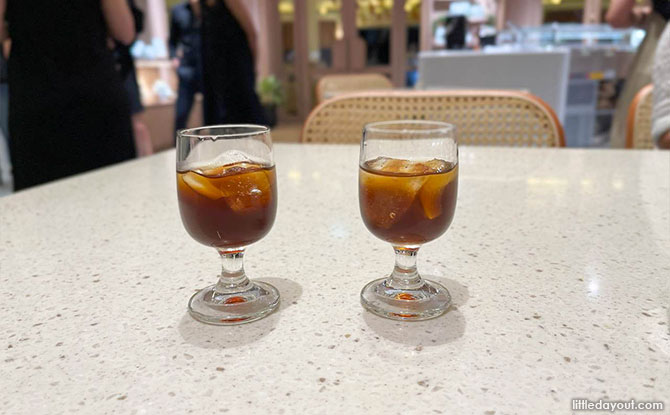 We even had the opportunity to try out the Cacao Wine ($10), which included hints of dried currants, caramelised pineapple & clove. The taste was sweet and felt very familiar, akin to port wine.
After trying the delectable food and drinks, we got to my favourite part of the experience – making my own chocolate bar!
Located right at the heart of the chocolate factory, the Creation Station allows you to choose from a wide variety of 16 different inclusion and topping ingredients to create the chocolate bar of your dreams.
There are also two chocolate flavours to choose from, which at the time of writing, is the 72% Dark Chocolate and 50% Oatmilk Chocolate. I chose freeze dried strawberries and popping candy as inclusion, and added fruity pebbles as the topping.
It is highly recommended that you make your chocolate bar early, as the waiting time for it is about 20 minutes for the bar to set before packaging.
---
Visit and be transported into the world of chocolate at Mr Bucket Chocolaterie
The experience has been a very educational yet fun one, and I certainly left with an even greater appreciation for chocolate.
Whether you are a fan of Charlie and the Chocolate Factory, or simply enjoy indulging in delicious chocolate, Mr Bucket Chocolaterie is a place that caters to all ages.
Come and experience the tantalising sights and taste of delightful chocolate making at Mr. Bucket Chocolaterie.
---
Mr Bucket Chocolaterie
Where: 13 Dempsey Road, Singapore 249674
Website