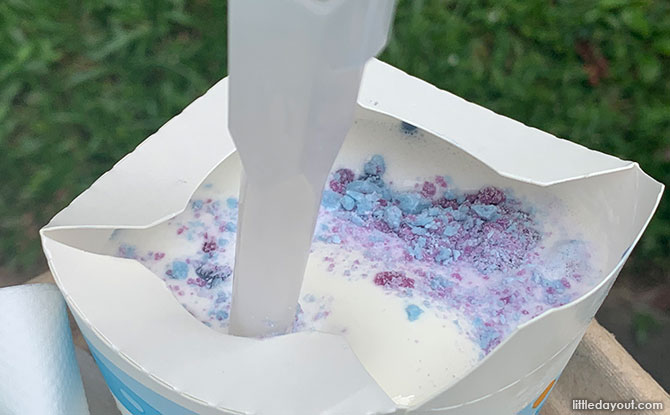 McDonald's Singapore has introduced a Sea Salt McFlurry and its it blue. The ice cream combination is made up of vanilla soft serve ice cream together with a sprinkling of blue bits and swirls, mixed into one frozen dessert.
Perhaps what is most striking when handed the cup of McDonald's Sea Salt McFlurry, the blue bits look almost mesmerising. It is no wonder that some are calling it McDonald's most aesthetic menu item.
Presumably, the reason why it is blue is to bring in the element of the sea and deep ocean. However, with its midnight swirls mixed with dashes of white, we would not be too far off imagining it to be the milky way instead. We also imagine the bits on top to be sparky popping candy – wouldn't that be a surprise for the taste buds?
---
McDonald's Singapore's Sea Salt McFlurry Review
---
-- Story continues below --
As we dug in, our first impression was that it didn't taste very different from regular vanilla soft serve. While we were looking for flakes of sea salt, instead the bits on top were more like cookie crumbs – with a blue hue.
After a while, the salt taste started to come through. However, it was rather faint and subtle. But we did enjoy the taste and bite it brought to the Sea Salt McFlurry.
However, by the time we got to the bottom of the paper cup, we were ready to get a cup of water to wash down the taste of the Sea Salt McFlurry.
There you go – a whole range of reactions in a cup.
The Sea Salt McFlurry may not be everyone's taste. Some may well be put off by the overly-blueness of the toppings. Nonetheless, it is probably worth a try especially since it is here for a limited time only. It goes for around $3, depending on which McDonald's Singapore outlet you pick it up from.