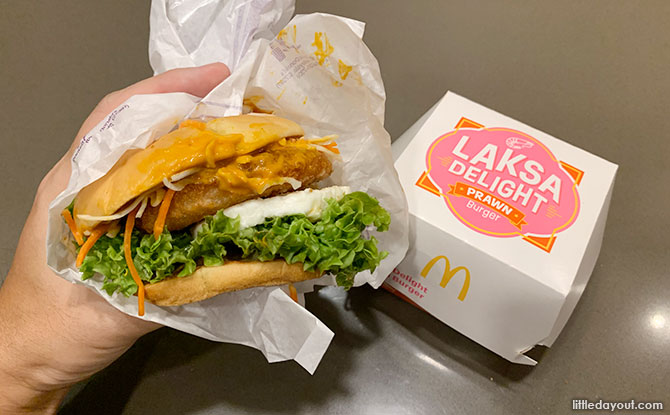 We've already had a nasi lemak burger, Hainanese chicken burger and a har cheong gai burger from different fast-food restaurants in Singapore, so, the McDonald's Laksa Delight Burger was kind of inevitable.
Available at McDonald's Singapore outlets from 28 July 2022, the Laksa Delight Burger is being launched in conjunction with National Day. It puts a McDonald's spin on the favourite local dish, a bowl of rich and savoury laksa.
---
McDonald's Laksa Delight Burger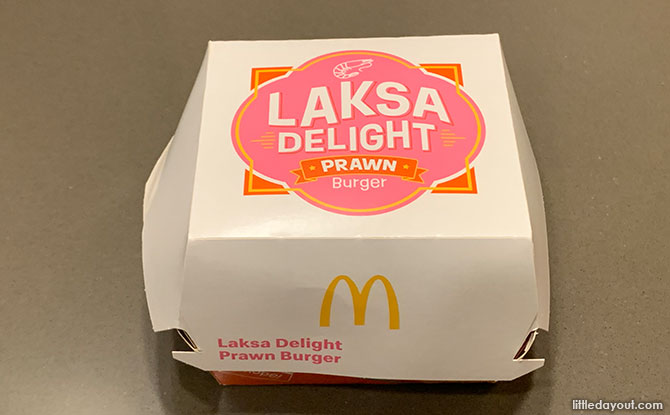 The McDonald's all-new Laksa Delight Burger comes in two variations.
---
-- Story continues below --
The Laksa Delight Prawn Burger features a crispy prawn patty topped with creamy laksa sauce, a round egg, and fresh purple cabbage slaw. This is sandwiched between two lightly-toasted butter buns.
While you don't normally find chicken in laksa, McDonald's has given the local dish a poultry touch with the Laksa Delight Chicken Burger. This features a chicken patty with creamy laksa sauce, crisp cabbage slaw and a round egg.
We gave the Laksa Delight Prawn Burger a try. We found that the sauce was sweeter than what you would normally get with a bowl of laksa, but it isn't bad. In fact, it was actually quite a "delight". There is a bit of spice to the sauce. Imagine what it'd be like to mix in the sambal to your laksa sauce.
The prawn patty was nice, especially with the pieces of prawn inside. The crust of the patty gave it a nice bite as well. We also recommend eating it at the restaurant rather than taking it away. This way, you can enjoy it hot.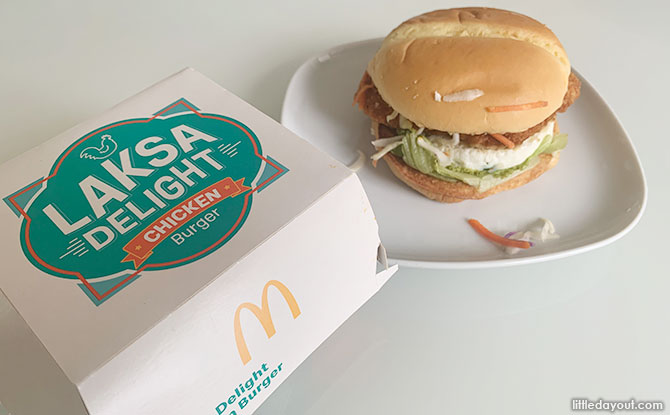 We then moved on to the chicken version of the laksa burger. Unfortunately, this combination didn't work for us.
---
Teh C Frappe & Pulut Hitam Pie
In addition to the Laksa Delight Burger, McDonald's is also delivering local flavours in the form of a Teh C Frappe. The iced drink is topped off with chocolate power and a layer of whipped cream.
When we tried it, it reminded us more of the type of "teh tarik" you'd get from a Nescafe beverage dispenser.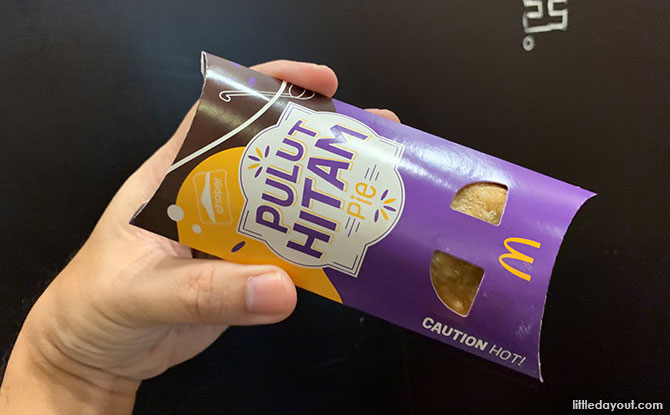 Another local flavour on the menu for National Day is the Pulut Hitam Pie. The purple sticky rice with coconut cream dessert finds its way into a McDonald's signature pie crust.
This was pretty good. We liked the taste of the filling and it worked well with the crumbly pie crus.
To get a taste of the McDonald's Laksa Delight burger and the Pulut Hitam Pie, there is a Laksa Delight Feast available from $10.80. These menu items are available for a limited time only and while stocks last.
McDonald's is not the only fast food brand which has something special for National Day. KFC has also unveiled a Satay Crunch chicken special menu item. Or if you're a fan of real satay, you must-know about this satay place.