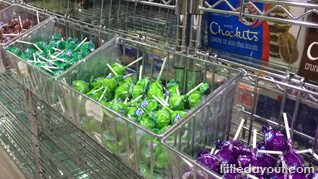 It has been said that one of the best ways to get to know a culture is through its food.
When travelling overseas, one naturally seeks out the local cuisine at a restaurant. A fun alternative is to duck into one of the local supermarkets and gawk at the variety of produce on the shelves. This provides a chance to imagine what it would be like living in the country and shopping there regularly like a local.
Markets From Around the World
Luckily for us here in Singapore, there are plenty of ways for us to sample the food and cultures from other countries without leaving the country. And this need not be through dining at restaurants alone.
A variety of grocers in Singapore specialise in directly importing hard-to-find produce from other countries. Their shelves aren't filled with the usual staples and goods we find in big supermarket chains.
In fact, many of these grocers are the antithesis of large chains.
Smaller in size, they carry a limited variety of goods and are willing to cater to special demands – these are not your super-duper-hyper-markets. Most have sprung up to cater to the needs of the expatriate communities in Singapore, homesick for a taste of home.
In that respect, we love how they provide an insider's view into the culture of the countries they represent. Best of all, they make for interesting outings without having to go much further than a few skips and hops away – for most of them at least; some are literally at the ends of Singapore though, as you'll see below.
Mexican – Belmonte Latin Foods
Tucked away beside the pool of a condominium is Belmonte Latin Foods. Carrying groceries directly imported from Mexico (ever wondered whether Mexican coke tastes different from locally produced coke?), this small shop carries everything from beans to dips to hot sauces. Get fresh tortillas here or pick up a tortilla press if you fancy making them yourself. There are even tables laid out and you can order food to eat there too. They also have an online store for you to shop from the convenience of your home too.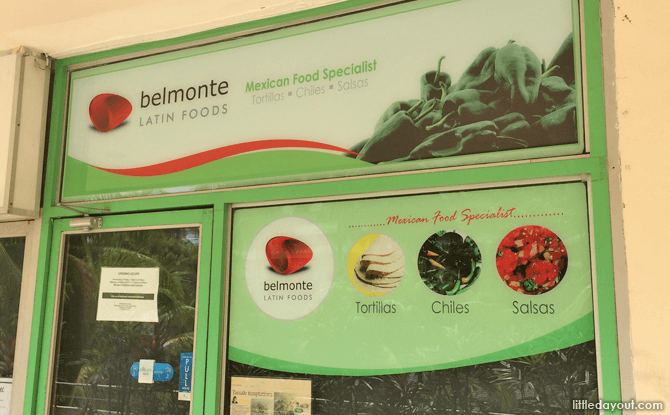 Address: 5 Ridgewood Close, #G5 Ridgewood Condo, Singapore 276696
Tel: 6245 1413
Website: www.belmontemex.com
Korean – Shine Korea
Annyeonghaseyo! All things Korean are so popular nowadays that you will find Korean products even at large supermarket chains. However, there are also plenty of Korean marts (at last count, more than 15), specialising in harder to find Korean goods. The chains include Shine Korea, Sol Mart, Seoul Mart and Korean Mart Lotte. The Shine Korea outlet at Marina Square has a large variety of goodies. You will find drinks such as Black Tea Latte and Persimmon's Leaves Tea on the shelves while snack-lovers can pick up a pack of O!Karto and other munchies too. There is even a corner with Korean cookware on sale.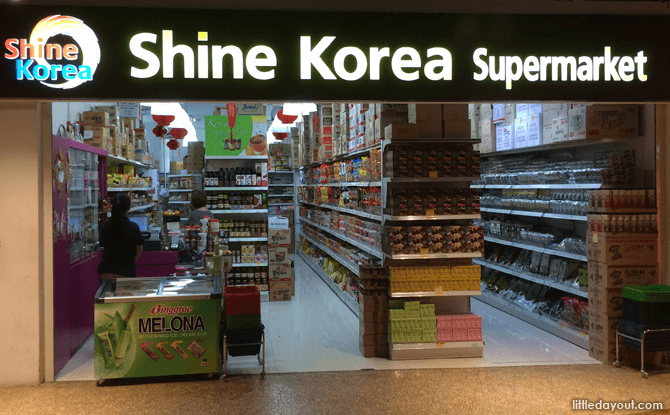 Address: Shine Korea Supermarket, 6 Raffles Boulevard#02-218A, Marina Square Singapore 039594
Tel: 66336 0607
Website: www.shinekorea.info
Japanese – Meidi-ya
It is hard not to mention Meidi-ya when one thinks of a Japanese supermarket. This behemoth of a supermarket at Liang Court carries a wide variety of Japanese groceries. You can get everything from Wagyu beef to Nakajima salted fish and Japanese yams here. Thinking of making a Japanese-style pasta? Pick up a pack of ikasumi (squid ink) pasta sauce mix. We also love that Meidi-ya has a kids corner with a TV to entertain the little ones. Meidi-ya also offers online shopping and has an in-store takeaway counter with hot food. If you fancy sitting down, just outside the supermarket are plenty of Japanese restaurants too. We especially like Yayoiken for its friendly staff and quick service.
Address: 177 River Valley Road #B1-50 Liang Court Shopping Centre, Singapore 179030
Tel: 6339 1111
Website: www.meidi-ya.com.sg
German – German Market Place
The bright yellow signboard of the German Market Place stands out among the row of Bukit Timah shophouses. Since 1999, this specialist grocer has been importing products from Germany and Europe. There are seasonings, sauces and even cake mixes that you won't find at the regular supermarkets. Also, check out their yummy range of chocolate spreads (try the Lotus Speculoos spread, made from crushed cookies, or the Ovomaltine Crunchy Cream), sweets and ready-to-make desserts. Of course, the freezer section is well-stocked with sausages and meats. Check out their online shop too.
Address: 609 Bukit Timah Road, Singapore 269710
Tel: 6466 4044
Website: www.germanmarketplace.sg
South African – The Springbok Bazaar
A sister shop to German Market Place, The Springbok Bazaar is located at Bukit Timah Plaza. Bringing in products mainly from South Africa, they carry unusual products such as biltong, a type of dried meat jerky, and Ouma breakfast rusks. There are also more recognisable names such as Nestle products, but made in South Africa. They have an online store as well.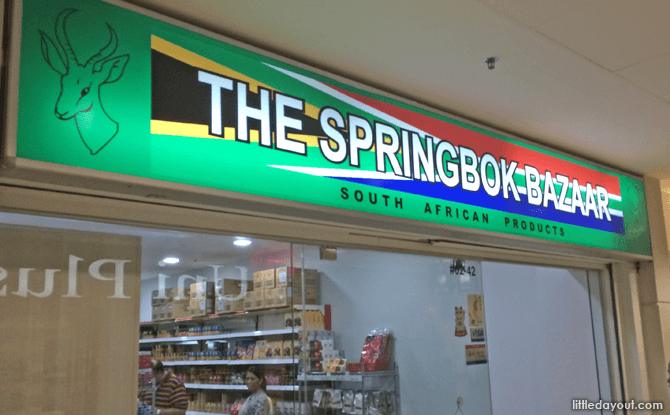 Address: 1 Jalan Anak Bukit, #02-42 Bukit Timah Plaza, Singapore 588996
Tel: 6463 3641
Website: www.springbokbazaar.com
China, Taiwan and Hong Kong – Yue Hwa Chinese Products Emporium
Sun cakes from Taiwan, fortune cookies from Hong Kong and cucumber-flavoured Lays potato chips from China… wait a minute, what was that last one? Yue Hwa Chinese Products Emporium has outlets at Jurong Point and Centrepoint. However, its most iconic location is a 1936 building at the junction of Eu Tong Sen Street and Upper Cross Street. The third floor of this emporium holds a supermarket with products from China, Hong Kong and Taiwan, including those cucumber-flavoured crisps. There are tidbits, snacks, drinks and even a freezer section with buns and dumplings. Of course, there is also the rest of the emporium to explore as well where you will find Chinese medicines, clothes, furniture and little knickknacks too.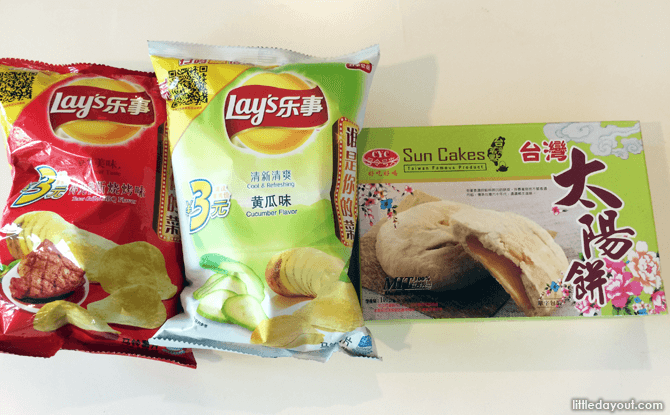 Address: 70 Eu Tong Sen Street, Singapore 059805
Tel: 6538 4222
Website: www.yuehwa.com.sg
Myanmar – Peninsular Plaza Mini-marts
Peninsular Plaza is home to Singapore's Little Myanmar. This vertical enclave has shops, restaurants and mini-marts catering to the Myanmar community in Singapore. The mini-marts stock up with produce such as fresh vegetables, dried condiments and dried fish from Myanmar. Restaurants in the basement, as well as little eating corners within the building, provide a chance to get a taste of Myanmar's cuisine.
Address: 111 North Bridge Road, Singapore 179098
French – Quartier
Tucked away in Serangoon Gardens is Quartier, a grocer stocking made-in-France, day-to-day products. There are imported French biscuits, bread and cakes on the shelves. You can also find a selection canned and dried goods, drinks and meats here. There is even a stationery section too. Visit their online shopping site here.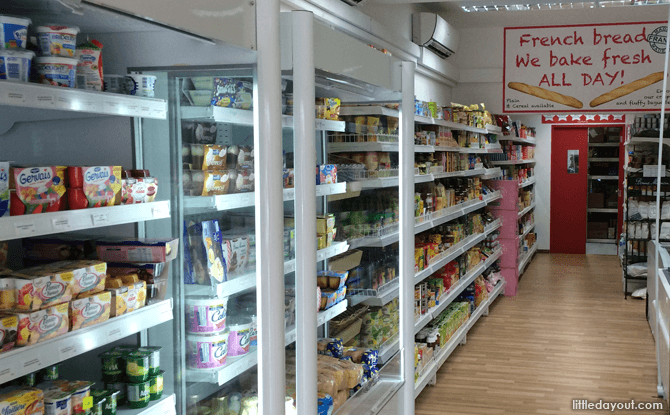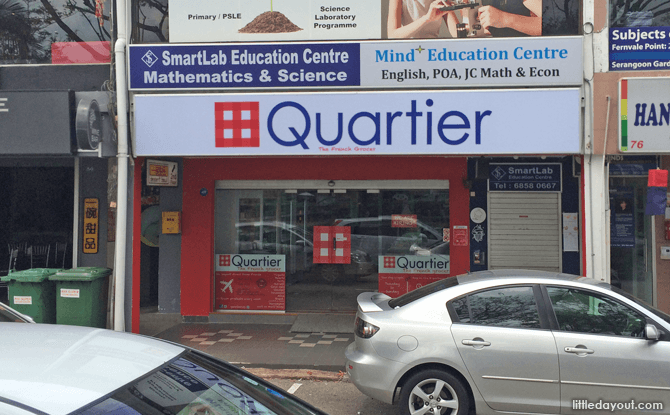 Address: 28 Serangoon Gardens Way, Singapore 059805
Tel: 6858 2540
Website: www.quartier.sg
Thai – Thai Supermarket
Yes, there is an actual supermarket called Thai Supermarket. As you would it expect, it is filled with staples and snacks from Thailand. Get your freeze-dried durian and munchies here. The supermarket also stocks up on fresh vegetables and all the condiments and spices you need for your favourite Thai dish.
Address: 5001 Beach Road #02-64 Golden Mile Complex, Singapore 199588
Tel: 6293 2780
Website: www.thaimart.com.sg
Swedish – Ikea
Ikea's food is huge in Singapore. Beyond the long queues at the restaurants, the food shop also stocks up on Princess Cakes and other sweet treats, bottled herrings and an assortment of snacks, biscuits and tidbits too! Hallå!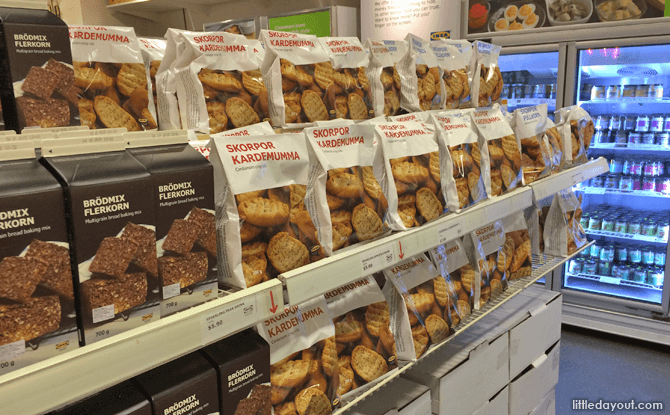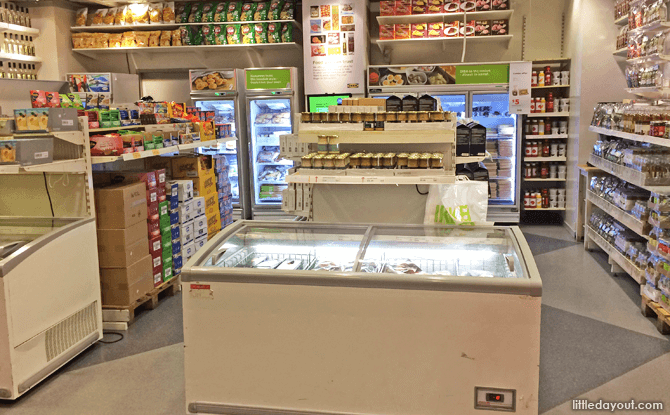 Address: 60 Tampines North Drive 2, Singapore 528764 & 317 Alexandra Rd, Singapore 159965
Website: www.ikea.com/sg
Turkish and Mediterranean – Straits Marine Supply
This place is quite far away from the rest of Singapore. Found all the way at Tuas West, in Straits Marine Supply's warehouse, is a little corner dedicated to Turkish and Mediterranean food. You can get Tahini, a spread made from ground sesame seeds, baklava, Turkish delight and various pasta here. They even sell Turkish coffee, along with the pots to make it in. Thankfully, there is no need to travel all the way out West to buy the produce because Straits Marine Supply has a website where you can shop online.
Address: 42 Tuas View Place, Singapore 637543
Tel: 6472 1241
Website: www.straitsmarinesupply.com
Happy shopping!