Nestled in the heart of Marina Bay Sands' iconic hotel lobby at Tower 1, Marina Bay Sands' all-day restaurant RISE has refreshed its dining concept to present Singapore's most iconic local delights with authentic home recipes and elevated local favourites reinvented by RISE's team of award-winning local chefs.
---
RISE Refreshed Dining Concept
The all-new menus, which are presented in à la carte and set menu styles, will be available for lunch and dinner at the former buffet restaurant. There are more than 35 timeless local classics to enjoy on the all-day menu.
All dishes are prepared by extremely capable chefs using premium and responsibly sourced ingredients and seafood from farmers locally and in the region.
---
Herb Garden at RISE
RISE also has its own Herb Garden which diners can take a stroll to and view a variety of edible plants that are harvested daily for the restaurant. There are over 100 varieties of herbs such as basil leaves, mint sprigs, and thyme which are used in both dishes as well as cocktails and mocktails.
To ensure nothing goes to waste, trimmings of the herbs are also reused as centrepieces in the dining room.
---
Iconic local dishes elevated by local chefs
The culinary stars behind RISE's new concept are none other than seven local chefs, comprising long time culinary stalwarts, a few of whom have been with RISE for over a decade. Many of these dishes are time-honoured recipes handed down from generations, and inspired by fond childhood memories.
Some recipes are refined over time in the professional kitchen. Here are some of the dishes that we tasted at RISE's refreshed dining concept.
---
Starter Dishes At RISE
Kueh Pie Tee
This rendition of the iconic Peranakan savoury snack has plump jumbo pieces of crab meat, mixed in with sautéed sweet turnip, eggs and peanuts in a crispy golden pastry cup.
Otah-Otah
RISE's take on this classic fish paste treat is made in house with mackerel for fish paste and codfish for a chewier bite. Each serving contains three otah brioche buns and three otah patties with achar.
Ngoh Hiang
A Hokkien delicacy, this Ngoh Hiang is made in-house and consists of minced pork and prawn in a crispy bean curd skin. It is made with just enough crunch without it being too greasy.
Double-boiled Kampong Chicken Soup
This dish is served as a starter in some of the curated family-sharing set menus that are available for order. Families can share a nourishing bowl of goodness containing boiled chicken, dried scallops, figs and Chinese yam.
Hokkien Popiah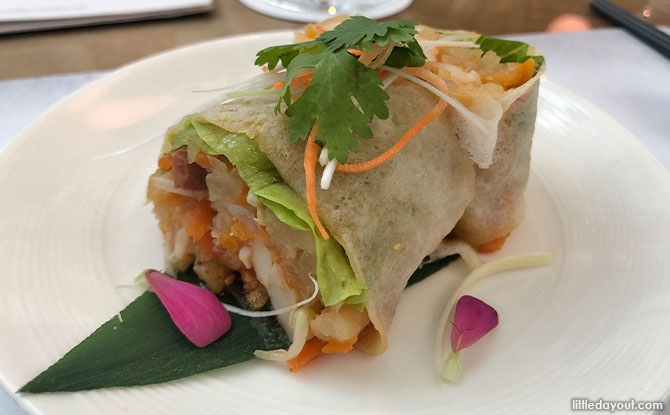 A familiar and classic rendition of this snack, the popiah contains fresh prawns, Chinese sausages, sweet turnips, eggs, sweet sauce and chilli.
Har Cheong Gai
Created out of his six-year-old son's love for fried chicken, Senior Sous Chef Danny Yong first experimented with making the local favourite Har Cheong Gai (fried prawn paste chicken) at home.
Unlike the typical Har Cheong Gai which is usually presented as chicken wings and drumlets, this version uses a whole spring chicken to result in a juicier and extra tender chicken meat. The whole chicken is marinated for two to three days to allow the rich flavours of his homemade shrimp paste to fully infuse into the meat.
---
Main Dishes At RISE
Nasi Lemak
The recipe for this Nasi Lemak is rooted in Junior Sous Chef Adam Bin Razali's Malay heritage as he follows the traditional way of making rice with a twist. Unlike most nasi lemak rice, this version is made by infusing coconut milk and freshly squeezed pandan juice, giving it a beautiful pale green hue and fragrant taste.
We were especially impressed with this dish for its unique flavour of rice which was unlike any nasi lemak rice we've ever tasted. The Nasi Lemak is served with sambal onion prawns, whitebaits, peanuts, rolled omelette, pineapple, cucumber and house-made sambal chilli.
---
Hokkien Mee
Those who are fans of the traditional savoury dish of Hokkien Mee are sure to enjoy this umami-laden noodle dish. The stock includes freshly cooked prawn heads, old hen, pork bone, lean meat and a house-made red chilli blend. Stir-fried yellow noodles and thick vermicelli are served with fresh prawns, squid, pork belly, eggs, beansprouts and chives.
This elevated version of a classic hawker dish is a treat that is great for any celebratory meal or even "just because". We liked that the sauce wasn't watery and enjoyed the dish to our very last bite.
---
Lamb Shank Nasi Biryani
One of RISE's pioneer members, Junior Sous Chef Bharat Mani Sapkota fondly recollects his love for Nasi Briayni which he grew up enjoying. Adapting from his mother's recipe, Chef Bharat steams the basmati rice for up to five hours to elevate its fragrance and braises the lamb shank for one and a half hours to retain its moisture and tender textures. He also incorporates mint and curry leaves freshly harvested in RISE's herb garden.
It is served with vegetable & dhal curry, Indian pickles, papadums, cucumber raita and naan bread. This was another memorable dish that we really enjoyed. The fragrance of the rice was wonderful and the lamb was well prepared.
---
Desserts At RISE
Bubur Cha Cha
This dish is made by Pastry Sous Chef Pang Yoon Hwa who grew up in a kampung and tended to the produce at their family farm. Every two months the harvest of sweet potatoes would be made into the family's favourite bubur cha cha dessert.
Diners at RISE can enjoy this sweet treat containing three types of sweet potatoes – yellow, purple and orange – alongside yam, colourful sago, and fresh coconut puree which gives it a lighter and more refreshing flavour.
Pisang Goreng
Enjoy some deep-fried bananas served with a scoop of vanilla ice cream and caramel on the side.
Bubur Pulut Hitam
This warm black glutinous rice with coconut milk is a classic dessert that is welcomed to finish almost any meal. This dish originated from Indonesia and is cooked to the perfect consistency and thickness.
---
Drinks at RISE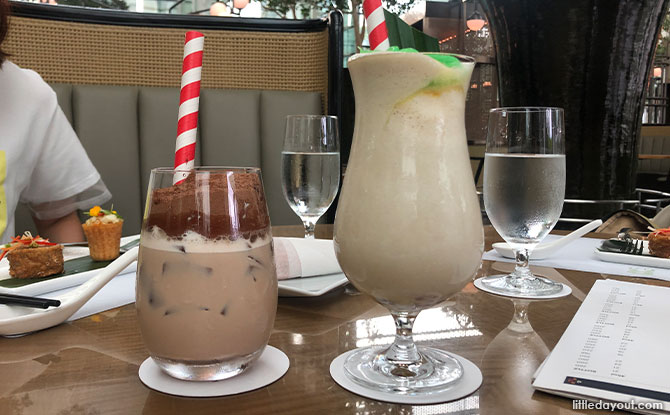 A local feast is not complete without a refreshing thirst-quencher or two. Led by the restaurant's head bartender Jacko Ng, RISE's new beverage programme features Instagram-worthy cocktails and mocktails that are a modern spin on local desserts.
We tried the Milo Godzilla which is inspired by the popular milo dinosaur. The already rich chocolate drink is elevated with three types of liquors – Tried & True Vodka, Kahlua Coffee Liqueur and Bailey's Irish Cream. We highly recommend giving this cocktail a try.
There is also the Cendol Colada which is a fusion of Cendol and the classic Piña Colada. The Cendol Colada at RISE is made with Bacardi White Rum, shaken with house-made pineapple gula melaka syrup, coconut milk and evaporated milk, and served with cendol jelly and red bean.
Adventure-seekers can try the Sambal Mary, a spicy and savoury Vodka based cocktail spiked with sambal belacan, tomato juice, and served with a side of fried anchovies and peanuts or try the Cincau Sago, an elevated version of the traditional soya milk and grass jelly drink sweetened with house-made pineapple gula melaka syrup and garnished with pandan leaves.
---
Family-Style Sharing Menus At RISE
In addition to the à la carte dishes, RISE has curated family-style sharing menus for two to six persons. Each set starts from a reasonable price of $35++ per person and features a combination of the various dishes mentioned above.
The à la carte and family-style set menus are available for lunch and dinner from 12 pm to 10.30 pm daily, while the breakfast menus are available from 6.30 am to 11 am daily.
Members of Marina Bay Sands' loyalty programme – Sands Rewards LifeStyle – can enjoy a 20% per cent discount for lunch and dinner and receive up to 10 per cent earnings.
---
RISE at Marina Bay Sands
For reservations at RISE, visit the site here or call the restaurant at 6688 5525. Website