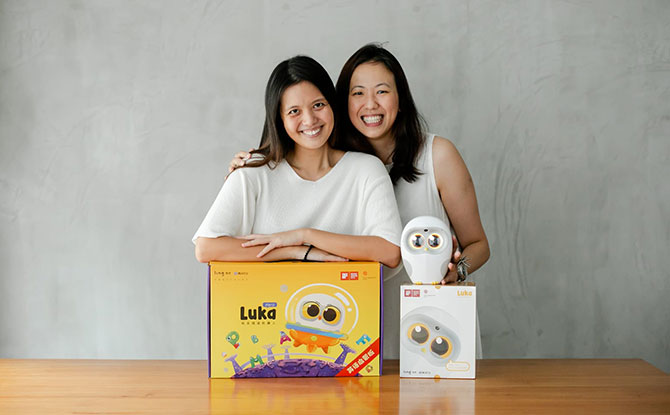 Wish the children could read more? Luka, a multilingual reading companion can help! Not only does Luka read, but Luka sings, plays and communicates as well. Luka is a reading robot that reads aloud picture books placed in front of him.
Luka reads over 20,000 English books and 70,000 Chinese titles! He is clearly a proficient reader. He resembles an owl, with huge round eyes to "read" and also flash Chinese characters.
For parents who are unable to speak in Mandarin or is not too confident about their language ability, it's Luka to the rescue. We speak to Luka, the adorable owl robot, to understand more about what he knows.
---
Interview with Luka, an Effectively Bilingual Robot
Watch the video below for Luka's responses in Mandarin. You can read the English translation below.
---
-- Story continues below --
Hello Luka! 你好!How are you feeling today?
你好!Hello! Aloha! I feel really good. I am happy on earth every day!
Luka, where are you from?
I was born on a planet, far away from Earth. It is extremely beautiful there!
What's your favourite colour?
I like blue because it is the colour of the sea. It is comforting to look at the sea.
Who's your best friend?
My best friend is YOU! Hahaha
What's your favourite book?
My favourite book is Little Red Riding Hood.
Luka, can you sing us a song?
Watch on to hear Luka singing in Korean!
---
Luka the Reading Robot's Other Superpowers
Besides communicating with its companions in perfect Mandarin, read rhymes, sing lullabies, Luka can also record your child's voice in any language. The read and record function also assesses the child's reading and your child can hear the difference during the playback.
Luka is also really intelligent and reads specific words that his companion points at. The word would also be translated and presented on Luka's eyes to show the Chinese characters.
Luka Reads is co-founded by mums Janice Tan and Dawn Lin. Janice Tan is a mum of three and Dawn is a mother of two as well as a Business Consultant in the seafood industry.
They founded Luka Reads to help fellow parents who face similar struggles teaching Mother Tongue to their kids. They hope that Luka will help build a strong Chinese-speaking community, and support parents raising bilingual children.
"With 3 young kids of my own, I genuinely feel that this product is a great educational gadget for children. My kids are struggling with their Mother Tongue, and I believe many families in Singapore can relate to this. Luka will encourage children to read more, read independently, and better their vocabularies and communication skills, in both English and Mandarin, with a strong focus on the latter," said Janice.
---
Luka Reads: The Trusty Reading Companion
Aside from parents reading to their children, Luka can complement this by being available all the time to read, sing and converse using Mandarin. His intelligence makes for good company during storytelling, school or enrichment class revision, and idle moments.
To find out more about Luka, click here.