What makes good stocking stuffers? What kind of gifts can escape the doom of (gasp) re-gifting, or worse, being forgotten on a dusty shelf in the bowels of I-forgot-land? We know how quickly kids' attention flit from one thing to another.
The low-down? Presents which are fun, quirky, and beautiful; that you can actually use; have some educational value or skill-honing powers; and rank high in the quality, durability and fun-factor departments. No, we're not talking about tuition teachers.
To save you the season-induced migraines and shrinking bank accounts, here's the LDO team's carefully curated list of 21 amazing gifts under $20, in easy-to-navigate categories.
Merry Christmas!
The Curious
1. Peaceable Kingdom Reusable Sticker Sets 
Over 80 reusable vinyl cling stickers with ample-sized background scenes. Encourages imaginative play and hones hand-eye coordination. Great for on-the-go play.
Some playfully delicious role-playing fun packed with a lesson in health eating. Makes two tasty healthy "lunches". Made of non-toxic, child-safe materials.
3.            Peaceable Kingdom Space Mobile Quick Sticker Kit ($11.90)
An all-in-one- craft kit to create a mobile that a child can hang up in his room. Put it together and decorate with glow-in-the-dark stickers, which include planets, meteors, stars and silly sci-fi aliens and spaceships. Great for on-the-go play. From BabyOnline Singapore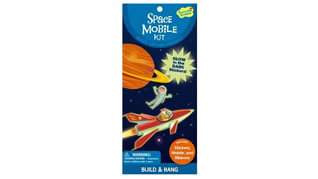 4. Hape Happy Hour Clock Puzzle 
Wood puzzle clock teaches children how to read the time, and to recognise numbers. Clock hands swivel. Helps develop numeracy, shape recognition and coordination.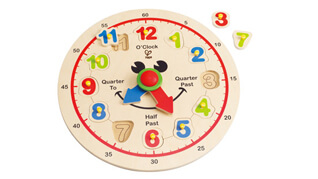 The Adventurous
5. Tomatoes Grow Kit ($8.03)
Empower a child to care for a plant and enjoy the fun of growing a pot of cherry tomatoes or kitchen herbs like basil. Comes with a pot and soil; seeds have been tested for germination. From Times Bookstores at Centrepoint
6. Spin And Draw Game from Smiggle ($14.95)
A creative sketching game. Spin to see what you get to draw. From Smiggle.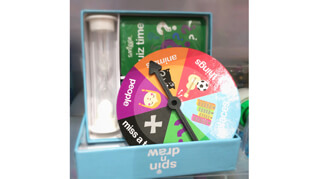 7. Flamingo Disposable Camera ($17.95)
Record your memories with this retro disposable camera. 16 photos with a built in flash & fun film prints! From Typo.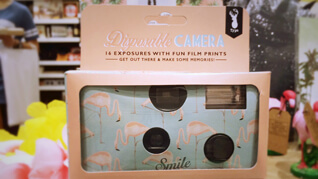 8. Sticker Picture Atlas of the World 
An interactive journey around the world, on which children can place stickers of landmarks, animals and people in the right places, learning more about the world as they go. Fresh, modern illustrations make this a lively and inviting first atlas.
9. Eco Games Pocket Games ($10.60)
This series of mini bamboo puzzles include Ludo, Solitaire, Chinese Chess, among other classic games. Great for travelling with. From Metro at Centrepoint.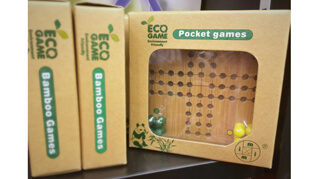 The Creative
This fun activity book is filled with hints, tips and handy tasks for writing stories. A great gift for creative, aspiring young writers. Activities come with suggestions for characters, settings and objects for story creation. Free worldwide shipping.
11. Boikido Flute ($13.90)
Let music-loving tykes develop their sense rhythm and breath control with this Boikido flute. FromRight Brain Babies.
12. RoomMates Education Station Peel & Stick Wall Decals ($18.25)
Educational and decorative! Kids can decide on their own room wall decor involving letters, numbers, animals, and even food. These wall stickers can be removed and reused, so the little ones can make a fun game out of learning. Match the design to the letter. How many balls are there? What kind of animal is that? From Amazon.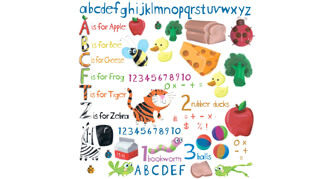 13. Angry Birds Playground ($18.95)
You mean Angry Birds is still trending? Relive the (annoying) Angry Bird madness by giving a child the chance to go analog with the smartphone game – a real puzzle with a game board and a challenge booklet. Develops logical thinking, strategic planning, and visual and spatial perception. Right, anything to avoid the maddening Angry Bird jingle! From Ho2T Playland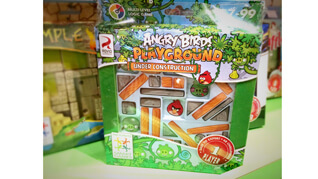 14. Chill Factor Slushy Maker ($19.90)
Even a young kid can create her own slushy with this slushy maker. Simply freeze, squeeze, and enjoy – using favourite chilled juices and drinks. This one just made it into our under-$20 list with its $19.90 price tag. From Kiddy Palace.
15. Melissa and Doug Cupcake Bank ($9.20)
It looks delish and doubles up as a piggy bank. What more could we ask for? And oh, it's a personalised art and craft kit with 8 pots of paint that a child can paint the cupcake with. Encourages creativity, fine motor skill, and saving. From Amazon.
The Tots and Bubs
16. Organic Cotton and Natural Wood Teether ($15.70)
A handmade natural wooden teething toy, for soothing a teething baby's sore gums. The fabric "rabbit ears" is made of beautiful organic cotton, while the other side is made of soft bamboo velour. A non-toxic alternative to plastic teethers. Shipping starts from $4.80. From PicoPicoShop.
17. Personalised Wooden Baby Rattle ($16.05)
Lightweight and sized at 4.5" to fit tiny hands, this handcrafted wooden rattle has wooden rings in colours that are water based, non-toxic and child safe. Helps to stimulate and develop baby's sense of sight and sound – and also and great non-toxic alternative to plastic rattles. You can personalise this gift by adding an engraved name. Each come in a gift-ready reusable cotton drawstring bag and a gift tag. Shipping starts from $14.65. From Hill Country Woodcraft.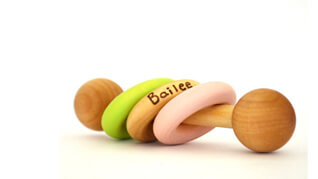 18. Cuppies by JJ Rabbit ($15)
With a hidden animal at the bottom of each Cuppies kids' cup, your little ones will finish every time to see their favorite friend. Makes weaning to cup a less traumatic experience. Made from plants, biodegrable, BPA/Phthalate/PVC-free. From Molmoos.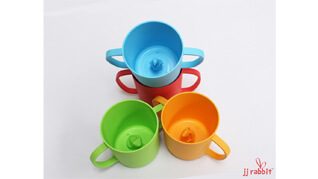 19. Re-Play Spoons and Forks 
The set of 4 spoons and 4 forks come in bright, fun colours and are made of FDA-approved recycled plastic from used milk jugs. With a generous spoon depth and poke-safe forks that can spear through the softest fruit, these BPA-free utensils make a great gift for toddlers.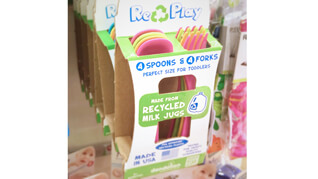 20. Munchkin Deluxe Snack Catcher 
One of the better snack cups around for tots, this well-reviewed spill-proof cup has a re-sealable cap that keeps snacks fresh. And get this – the cap is attached to the cup, so no run-away, missing caps any more! The lid flips around to double up as a cup handle. BPA-free and generously sized, small fists will find it a breeze to reach in and grab snacks, but crumbs will have a hard time sneaking out.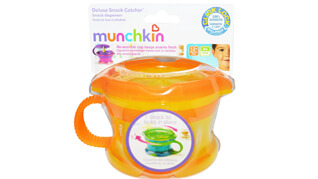 21. It's A Bibble! Bandana Bib
Step out in style with a bandana bib – everyone needs of these. Handmade in UK with 100% cotton and fleece backing, this absorbent bib comes in an assortment of designs for the dribbly little ones who are teething. Fasten with two snap buttons at the back of the bib; no fumbly tying needed. From The Little Ones In My Life.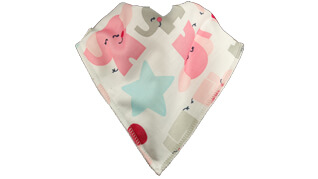 This story contains affiliate links. This means we earn a small fee if you purchase something through a link from our website. There is no additional cost to you. This helps to support Little Day Out and keeps us going.