The June school holidays are coming soon, and it's time for another Little Day Outing! This time, we'll be enjoying the sun, the sand, and having lots of fun learning how to build sandcastles at the magical Castle Beach at East Coast Park.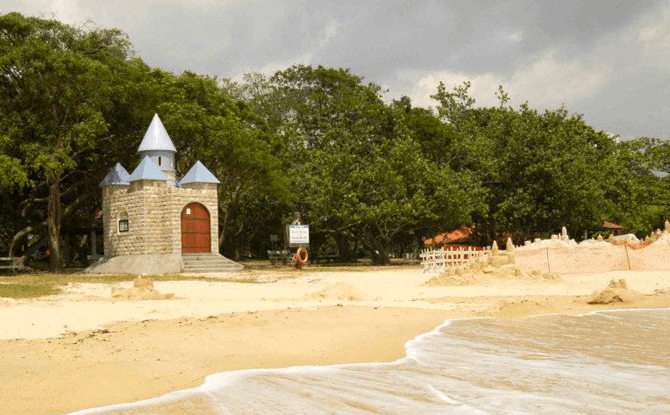 Dream Outing Cast in Sand
These aren't just cylindrical shaped blocks of sand made with a sand bucket, or small shapes created using simple toy moulds. We're talking about bona fide sandcastles, complete with brick walled towers, intricate battlements, and connecting stairways! It's going to be an exciting challenge for the whole family!
If you're afraid this may be too difficult for the little ones, rest assured that it is very achievable. Singapore's sandcastle building pioneer Alvin Lee, who will be conducting the workshop, has structured the sessions for family learning.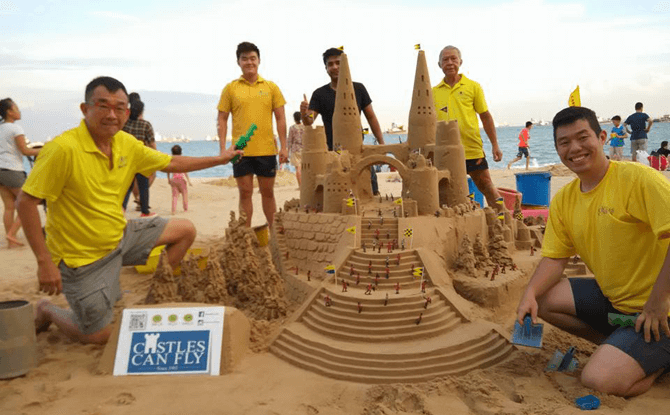 No prior experience in sandcastle building is required, and there will be lots of opportunities for hands-on practice. Parents and children will be encouraged to experiment and learn from each other as they bond over the art of sandcastle building.
Alvin will be assisted by two other instructors, each with at least 10 years of sand sculpting experience.
More Than Just Sandcastle Building
While this is a skill-based workshop, it is not just about teaching the craft of sandcastle building. Coming together to build sandcastles fosters teamwork, encourages creativity, and inspires an active lifestyle together as a family.
Alvin's vision is "for parents and children to enjoy the outdoors together through active engagement with sand, water, and creativity". The workshop also helps children to "develop spatial appreciation", while giving adults a chance to reconnect with the child in them.
Perhaps another thing that you'll learn from the sandcastle building extraordinaire is the power of dreams and the need to believe against all odds.
No, he's not going to give a motivational speech (although he is a professional keynote speaker), but building sandcastles using the award-winning sand tools that he invented together with his son and niece certainly brings the message home that dreams do indeed come true.
The story goes that Alvin was inspired to create his own sand tools while playing at the beach with his son and niece. Together, they worked out a business plan to get the tools made but were met with much rejection and ridicule when they tried to sell their idea to companies in Singapore.
As Alvin didn't want to disappoint the kids, he continued searching for investors, all the way to the United States! His perseverance paid off. Not only did he succeed in getting his BeachWorks sand tools made, his invention won the Oppenheim Toy Portfolio award at the New York Toy Fair, the Oscar of the toy industry!
Gel the Family Together, Like the Sand in Your Castle
We hope Alvin's story inspires you to spend some quality time together with your loved ones, to find your own family dream. We asked our little one if she would like to learn how to build sandcastles at East Coast, and she went, "Yes! Yes! Is it this week?"
She'll have to wait till June, when the Little Day Outing to Castle Beach: Amazing Sandcastles Family Workshop will be held. But you can sign up for the workshop now. There are three outing dates to choose from: 3, 24 and 25 June 2017. So mark those dates down, and as Alvin puts it, come and "create family bonds as well as your own personal kingdom".
Little Day Outing to Castle Beach: Amazing Sandcastles Family Workshop
Dates: Saturday, 3 June 2017; Saturday, 24 June 2017; and Sunday, 25 June 2017
Time: 4 – 6pm
Venue: Castle Beach, East Coast Park
Price: $16 for a child-adult ticket; $12 for an additional adult or child ticket
For ages 4 and above
Click here to purchase your tickets.
Photos: Castles Can Fly