Whether it is a Little Day Out or a Little Night Out or an extended adventure, you can take your pick this July and August.
We have got our popular Family Eco-Adventure to the East in both July and August, as well as Little Night Outings at various nature parks. There are a total of 13 dates to choose from, take your pick from the opportunities to learn and explore.
---
IT"S BACK! Family Eco-Adventure @ Changi Edition 3
The Family Eco-Adventure will take you to the East for tour of the Changi coast and Pulau Ubin!
Come journey to the East with us as we explore our roots, head to off-the-beaten paths in Pulau Ubin and learn about the natural and historical heritage of Changi! Here's a wonderful opportunity for you to bond with your family over meaningful activities! We will also be seeing Chek Jawa and Changi Beach at low tide. This is a rare window to spot some marine creatures exposed on the shore.
---
-- Story continues below --
Dates for Family Eco-Adventure @ Changi
26 – 28 July Monday to Wednesday <SIGN UP HERE>
Optional add-on staycation at Changi Cove available, for more details click here.
This is the third edition of our Family Eco-Adventure @ Changi and it is bigger and better! Read about our earlier two-day edition here.
---
Little Day Outing: Changi Beach Intertidal Walk
Have fun learning about marine life at the outdoor classroom at Changi Beach. Join us on 12 August 2021, a "low-tide" day that is perfect for an intertidal walk!
The intertidal zone and its inhabitants will be exposed for a rare window, for us to spot crustaceans like crabs, sea stars, sand dollars, molluscs, worms, corals and sponges! This magical zone is rich in marine biodiversity and the creatures you find are toughest of its kind as they are able to withstand heat and, wet and dry conditions.
Little Day Out's Changi Beach Intertidal Walk
Date: 12 August 2021, Thursday
Time: 7.00 am to 9.00 am
Venue: Changi Beach
<SIGN UP HERE>
---
Little Night Outings: Nature Night Walks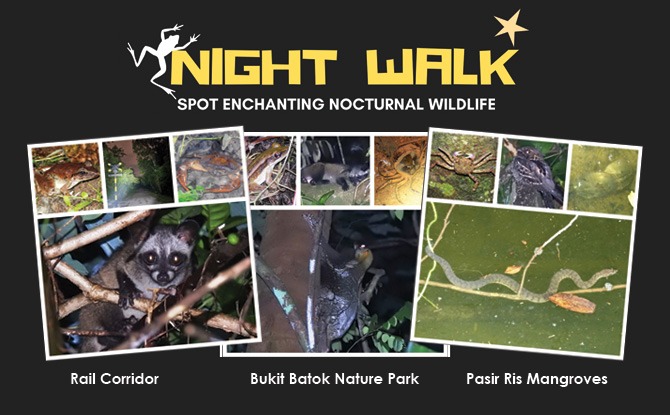 Fancy an adventure in the dark? Come join us for a Little Night Outing where we explore three parks around Singapore to spot nocturnal wildlife! Suitable for curious beings four years and above, it will be an exciting little night out!
<SIGN UP for the Little Night Outings HERE>
Bukit Batok Nature Park
23 Jul (Friday)
29 Jul (Thursday)
7 Aug (Saturday)
13 Aug (Friday)
Pasir Ris Mangroves
16 Jul (Friday)
19 Jul (Monday, Public Holiday next day)
14 Aug (Saturday)
20 Aug (Friday)
Rail Corridor
21 Jul (Wednesday)
9 Aug (Monday)
21 Aug (Saturday)
27 Aug (Friday)
For more details on what you can expect and what kind of creatures to spot, click here.
---
Love what we are offering but can't make it this time round? Keep your eyes peeled on this page or register your interest with us below for our next adventure!