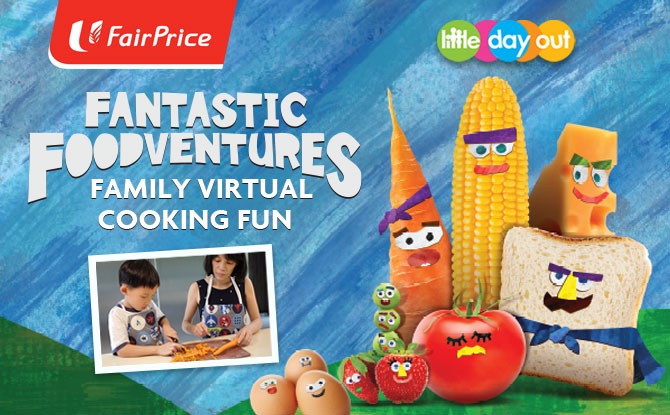 In conjunction with FairPrice's Fantastic Foodventures campaign this June, Little Day Out is inviting you to our free* online workshops which include a live cooking demo of Minced Chicken Rice Balls and Prawn Tacos by Team Little Day Out, sharing on healthy eating tips by a Senior Dietician from Mount Alvernia Hospital as well as a quiz. Two families get to win $100 worth of FairPrice vouchers!
FairPrice's Fantastic Foodventures – Ignite the Love for Cooking
Staying safe at home for the June holidays can be a fun and fantastic experience for both your children and yourself. Spark the joy in cooking and learn how to choose nutritional food for your child!
Make a date with us on 11 June, Friday, at either 10 am or 4 pm. We will be sharing two recipes from the FairPrice Fantastic Foodventures and they are guaranteed to be pocket-friendly, nutritious and delectable. Gluten-free and vegan options will also be provided. Simply get your ingredients beforehand via FairPrice stores and join us for the fun Cooking Fun via Zoom.
---
-- Story continues below --
You and your child will get to prepare either the Chicken Rice Ball or the Prawn Tacos dish with us. Snap pictures and present your dish during our Zoom workshop and the best plated dish for each session will get closer towards winning the $100 FairPrice Gift Voucher!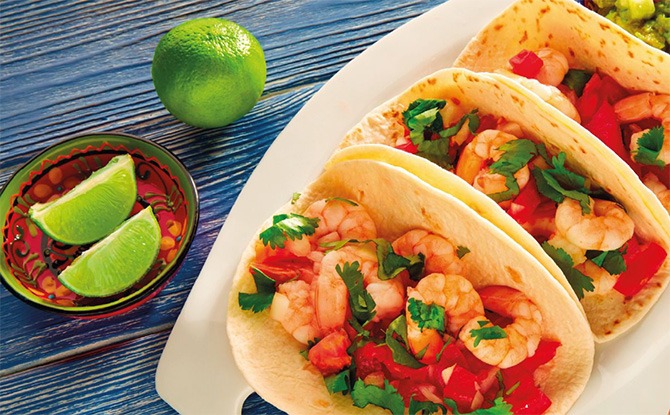 Learn too about healthy eating tips together from a sharing by Ms Tan Shiling, Senior Dietician from Mount Alvernia Hospital.
Do pay attention because parent-child pairs can enter a quiz and will win prizes! Hint: FairPrice vouchers!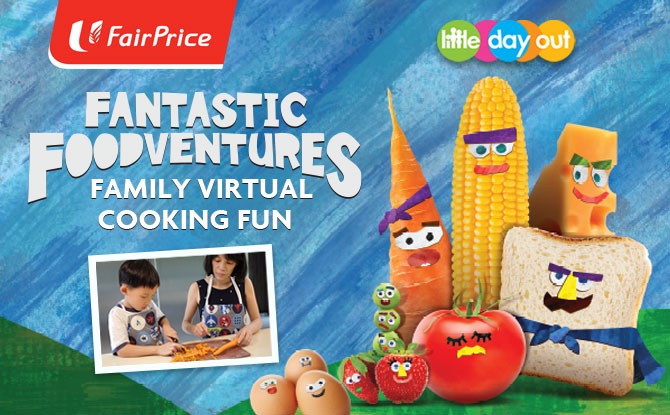 ---
---
When: 11 June 2021, Friday
First Session: 10 am to 11.30 am (Chicken Rice Balls)
Second Session: 4 pm to 5.30 pm (Prawn Tacos)
Prizes Up For Grabs: 1 x $100 FairPrice voucher per session
Fully redeemable cost*: Secure a spot at $5 per parent-child pair per session. This registration fee will be fully redeemable via a voucher which will be sent to you after you successfully complete the Fantastic Foodventures Family Virtual Cooking Fun session.
*Ingredients are not included. We will send you the list of ingredients to purchase from FairPrice. 
Sign up for Little Day Out x FairPrice: Fantastic Foodventures Family Virtual Cooking Fun here by 9 June 2021.
Cook With Your Family With Little Day Out and FairPrice
A family that cooks together stays together. Why not seize the day and the opportunity to be part of our Fantastic Foodventures Family Virtual Cooking Fun experience? There will be laughter, great teamwork and more importantly memories to enhance your relationship with your child.
Sign up here now!
The Fantastic Foodventures Family Virtual Cooking Fun is brought to you in partnership with NTUC FairPrice.
---
Stay in Touch for Future Little Day Out Adventures
If you would like to participate in future Little Day Out Adventures, do fill in the form below so we can get in touch with you!