Animal lovers will adore the LEGO Friends Dog Rescue Center 41727. It explores the theme of animal rescue, featuring three adorable dogs and three mini dolls. The set also introduces us to three new LEGO Friends characters – Autumn, Gabriela and Zac.
---
The New LEGO Friends Universe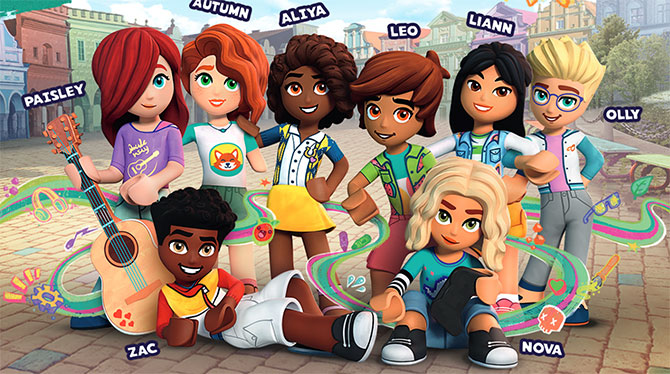 LEGO Friends was first introduced in 2012, and after a decade of success, the LEGO Friends universe has been revitalised with eight new characters, along with updated versions of the original Heartlake City characters. (Psst, LEGO characters grow up too!)
In this new generation of LEGO Friends, we are introduced to Aliya, Autumn, Leo, Zac, Liann, Olly, Paisley and Nova, who are now the main characters.
The 2023 relaunch of LEGO Friends aims to be more inclusive and diverse, with characters of different ages, ethnicities, and abilities.
---
-- Story continues below --
For those familiar with the LEGO Friends series, you will notice some changes such as the updated colour palette of purple, lavender, teal and turquoise, as well as a change from the curved-edge box design to a more typical rectangular design.
---
LEGO Friends Dog Rescue Center 41727 Build Experience
The LEGO Friends Dog Rescue Center 41727 set comes with 617 pieces and two building instruction manuals. Included are LEGO Friends characters Autumn, Zac and Dr. Gabriela Silva, along with dog characters Pickle, Dash and Grace, and plenty of pet accessories
The first manual covers the grooming station and dog exercise area. As with all LEGO sets, the intricate details that go into the build are not spared. The grooming station features all the tools you need to care for the pups such as soap dispenser, brush and scissors.
The dog exercise area, aka fun area as what my daughter calls, features several obstacle courses to keep the pups fit and healthy. There's even dog poop!
The second manual covers the main building and the kennels.
On the first floor, you have the main reception area. At the entrance, there is a disability ramp for wheelchair access.
On the second floor, there is an animal medical centre where Gabriela acts as the vet. The main building is powered by solar panels, another cool eco-friendly feature by LEGO.
There are three kennels for the three dog characters that come in the set. A slide and tree house are part of the last kennel.
Each kennel has a large push-out window for interactive play with the dogs while they are waiting to be adopted. The modular design of this set means the dog centre can be rearranged in any way to the kids want it to be and adds to the playability of the set.
The LEGO Friends Dog Rescue Center 41727 set took about eight hours to build, and my 8-year-old completed it mostly on her own.
---
LEGO Friends Dog Rescue Center 41727 Review: Sparking Fresh Conversations
As my daughter, Sophie, was building Autumn, she noticed her limb difference. This was a great opportunity for me to explain what this was to my children. Our conversation triggered their memories and my daughter shared how she remembered one of her pre-school teachers had a limb difference.
As a mum, I was delighted that LEGO had decided to include characters with disabilities into the LEGO Friends sets. It teaches children to view people with disabilities as valuable members of society and fosters empathy and understanding towards them.
Sophie also found it amusing that Autumn is the daughter of previous main character Mia! Like I told you, LEGO characters grow up too!
In this set, we also get to meet Pickles the dog who zooms around on a super cool dog wheelchair. The other two dogs are Dash and Grace, black and golden retriever pups respectively.
On a closer look, all the dog characters have their own unique expression on their faces.
For example, Grace has a sad expression on her face, along with scratches and scruff marks.
By tapping into the emotions conveyed, children can engage in imaginative play and craft their own dog-inspired stories after putting together the model. For example, in Sophie's world, Grace is a recently adopted dog and Autumn and her friends are making sure she is well taken care of.
I appreciated the new innovations, such as the expressive animal characters, Pickles the wheelchair dog, and inclusive mini dolls like Autumn. The set offers hours of building fun and imaginative play, as kids use their imagination to bring their own dog rescue centre to life.