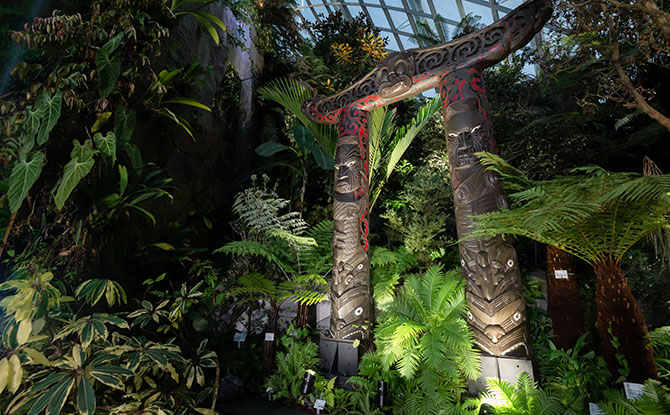 A bespoke carving was unveiled at Gardens by the Bay's Cloud Forest by New Zealand Prime Minister Jacinda Ardern on 19 April 2022 to celebrate the ties between New Zealand and Singapore.
---
Kūwaha: A Doorway Symbolic of the Ties Between NZ & Singapore
The carving is in the the form of a kūwaha or doorway.
The name of the kūwaha is Tāne Te Waiora. This translates to "Tāne the giver of life". This is a reference to sunlight and Tāne is depicted by two figures on the upright supports of the doorway.
There is also a depiction of a sea vessel on the horizontal bar connecting the two uprights, as well as a carving of Hina, a representation of the moon and symbolic of enlightenment.
---
-- Story continues below --
The kūwaha was carved at the New Zealand Māori Arts and Crafts Institute at Te Puia in Rotorua by Master Carver James Rickard together with Specialist Carver Tommy Herbert. It is made of tōtara wood estimated to be 2,500 years old and felled naturally in a storm.
Surrounding the sculpture are plants native to New Zealand such as the Tōtara, Silver Fern, Hen and Chickens Fern and the Pepper Tree.
The project supported by Gardens By the Bay, Tourism New Zealand, Fonterra and Zespri.
---
Tāne Te Waiora at the Cloud Forest
Prime Minister Jacinda Arden, who is in Singapore on a trade mission said, "Tāne Te Waiora is a bespoke carving which takes the form of a kūwaha and represents a symbolic doorway. It is a metaphor for our reconnection with Singapore, – demonstrating our intention to strengthen the 'doorway' between New Zealand and Singapore, and the rest of the world."
Adding on, she said, "The presence on the kūwaha of Hina, represented by the moon, and Tāne, represented by the crops, are also significant as they symbolise a relationship of trust and reciprocity – defining features of New Zealand's relationship with Singapore."
While in Singapore, Prime Minster Arden had also met with Prime Minister Lee Hsien Loong, President Halimah Yacob, and Singapore entrepreneurs and business leaders.