Just like a real town, KidZania Singapore will have different districts in its kid-centric city. This 'town planning strategy' was unveiled by KidZania Singapore on 26 June 2015.
Districts at KidZania include Automotive, Cultural and Entertainment, Industrial, Public Services, Private Services, Retail, Sports and Restaurants. KidZania Singapore will also have a stadium, one of the few stadiums available in KidZanias worldwide.
Learning Through Role-play
Within each district, kids can take on professions and participate in activities that challenge their physical limits and inculcate values such as healthy living and care for others.  They will earn a salary in the form of KidZania's official currency, kidZos and learn to manage their money.
There will be over 80 role-playing activities to choose from at KidZania Singapore.
At the Automotive district, kids role-play as a Petrol Station Manager. They will learn about the fuel used for different vehicles and the importance of good customer service.
Over at the Cultural and Entertainment district, children can act as a Museum Curator or Docent, learning how to share Singapore's Peranakan heritage through galleries and exhibits.
Professions available at the Industrial district including being a Health Institute Researcher, where they will learn how soap is made, or becoming an Ice Cream Maker and concocting delicious ice cream flavours.
Occupations at the Public Service district include a Surgeon, Radiologist and Junior Nurse.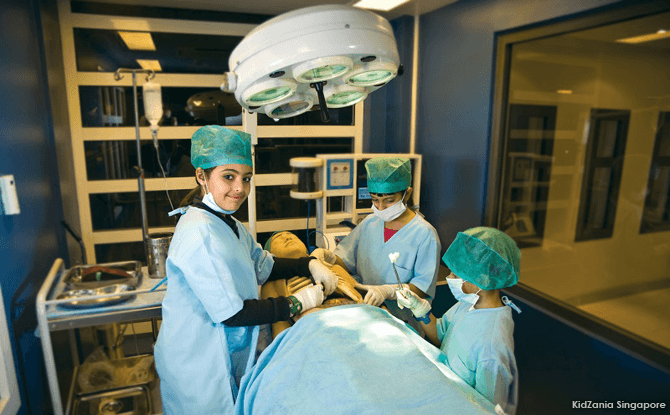 Children can also role-play as fashion gurus, traditional barbeque meat specialists, financial services consultants, sports participants, cheerleaders or sports commentators.
To make these 'jobs' available, KidZania Singapore is working with industry partners to set up establishments within the city. 10 new industry partners were announced on 26 June 2015, bringing the total number of industry partners to 32.
New partners include AIA, Camouflage, ExxonMobil Asia Pacific, Johnson & Johnson, Lifebuoy, Lim Chee Guan, Mount Elizabeth Hospital, Paddle Pop, The Intan and Toshiba Medical Systems Asia.
Singapore Children's Society Announced as CSR Partner
KidZania Singapore also announced that Singapore Children's Society will be its CSR Partner for a year, starting June 2015. Sales proceeds from 3,000 tickets will be donated to the Society and KidZania Singapore will also be supporting the Society's walkathon and carnival, "Walk for Our Childrent 2015" in September.
"In KidZania Singapore, we inspire and empower kids to pursue their dreams and pick up life skills through role-play. Through the collaboration with Singapore Children's Society, we look forward to nurture and give kids the confidence and resources to challenge themselves to explore a world of opportunities," said Mr Leong Yue Weng, General Manager of KidZania Singapore.
KidZania Singapore is scheduled to open end 2015 at Palawan Beach, Sentosa.
Related Articles