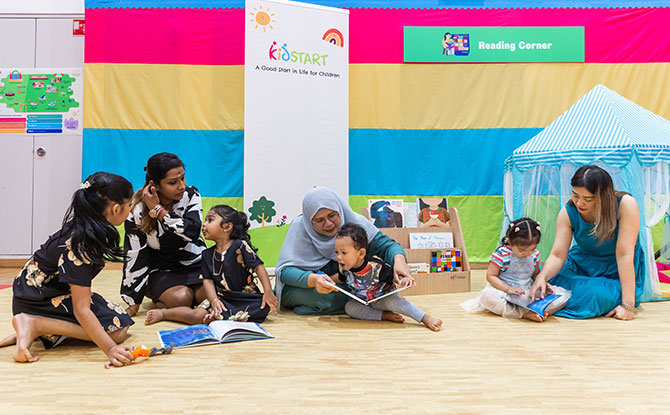 KidSTART Singapore, SP Group and EtonHouse Community Fund have launched KidSTART Stories, an initiative to equip more than 1,800 families with resources to help parents in the early childhood development of their children through storytelling and reading.
The new initiative was launched on 15 October 2022 at Keat Hong Community Club, with Ms Sun Xueling, Minister of State, Ministry of Home Affairs and Ministry of Social and Family Development in attendance as a Guest of Honour.
---
Creating Reading Spaces at Home for KidSTART Families
Under the KidSTART Stories initiative, KidSTART families will be gifted a mini-library comprising a bookshelf and a set of specially selected age-appropriate books sponsored by SP Group and EtonHouse Community Fund. This is to help families create a conducive space within the home to nurture a love for books and reading amongst children.
Parents will also have access to a series of videos produced by KidSTART Singapore to guide them on techniques for storytelling and conversational reading to infants and young children. The videos also offer ideas on how parents can inject fun and learning in the activities through pictures, songs and dance.
---
-- Story continues below --
In the future, KidSTART is will also be collaborating with partners to create video reading guides and sponsorship of new books.
The recently launched interactive play KidSTART Sea Adventures will also be restaged across different neighbourhoods around Singapore to reach out to more families.
---
Encouraging Parents and Children to Spend Time Reading Together
Mdm Jasleasha Ong, mother of a 2-year-old, shared, "Before attending KidSTART, I thought my daughter was not interested in books. I tried reading to her, but she would flip through the pages quickly. I was surprised she was so engaged when the KidSTART facilitator read books during the KidSTART Group sessions. I learnt that it was about choosing age-appropriate books and I am grateful for the set of books and the bookshelf given as part of KidSTART Stories where we now have our very own family reading corner. My daughter is now always so excited when it is reading time, and even comes up to me to request for me to join her at the reading corner. She is very imaginative and it's such a joy to see her pretend to be part of the story."
Another KidSTART mother, Madam Junaida, also shared that the KidSTART Stories resources have been useful in helping her son learn about shapes and colours. "I didn't read many books when I was young, and I was really happy to receive the mini library from KidSTART. The video guides were also very useful as I learnt different ways of telling the stories to my son. We now spend more time reading together as a family, which has been rewarding as he really enjoys looking at the colourful animals in his favourite book. I look forward to exploring more books with him," she said.
---
KidSTART Stories: Engaging Young Children in Reading Adventures
Madam Rahayu Buang, Chief Executive Officer, KidSTART Singapore said, "We want the newly launched KidSTART Stories initiative to give families the confidence to engage their young children in reading adventures that will spark their language abilities and at the same time cultivate a lifelong love for reading. We are grateful to our 'Growing Together with KidSTART' partners SP Group and EtonHouse Community Fund for their generosity in providing the books and bookshelves, as well as the volunteer manpower to distribute the reading materials to KidSTART families. We look forward to more collaborations with corporate and community partners to further sustain and expand the KidSTART Stories, so that more children can have a good start in life."