Oceans cover seventy percent of the earth's surface. They play a critical role in absorbing carbon dioxide from the atmosphere and help keep the planet's climate stable.
Oceans are also home to a rich and diverse set of marine life. They are an important food source and a shared resource for many.
Yet, marine conservation is not a topic often brought up with young kids. It seems easier to teach them about the need to plant a tree than the need to protect coral reefs.
KidsSTOP, the Children's Science Centre, aims to bridge this gap with their new exhibit, Oceans' Buddies.
At Oceans' Buddies, kids get to colour their own sea creatures on a paper template which can then be scanned and released into a virtual ocean.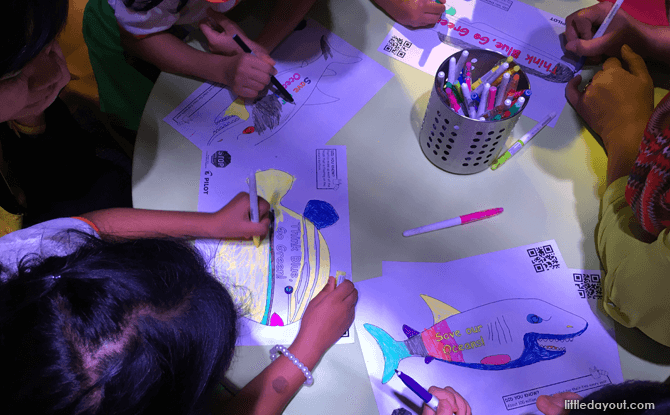 Sound similar to what can be found at other digital aquariums like those at MOSH! and ArtScience Museum's Future World? Well… it is and it isn't.
For one, the marine animals at Oceans' Buddies show up as three-dimensional animations.
Kids start off by colouring two-dimensional paper templates with the provided Pilot FriXion series pens (more on this later) and then place them under a digital scanner. The templates then get converted into well-articulated, three-dimensional creatures – swimming happily around a virtual ocean.
The immersive technology used in Oceans' Buddies was developed by the home-grown company, I-One Group, and the result looks pretty good; you may well end up doing a double-take to make sure that the 3D fish are not already "pre-populated" inside the virtual ocean.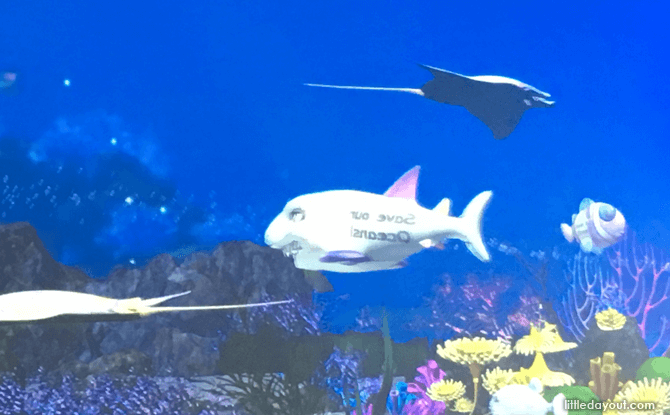 Another difference that distinguishes Oceans' Buddies is its message of conservation.
As a Children's Science Centre, the KidsSTOP staff at the Oceans' Buddies exhibit will share with kids about the need to protect and preserve the environment. There will also be on-site presentations and workshops organised to complement the exhibit.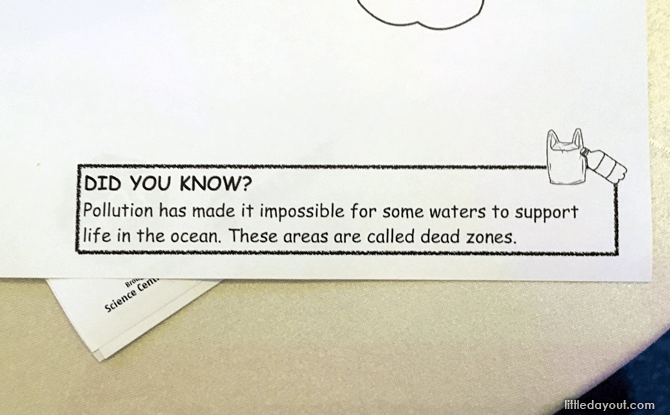 Furthermore, kids put into practice the message of conservation right away.
The Pilot FriXion series pens used at the Oceans' Buddies exhibit are the world's first pens with erasable ink. While they may appear similar to be normal markers, their ink is thermo-sensitive and disappears when subjected to heat.
Using a special ink-recycling machine from Toshiba TEC Singapore, coloured-in templates can be erased in an instant. This allows the paper templates to be re-used – up to five times per sheet of paper. This provides a tangible lesson on reducing waste and ties in well with the Oceans' Buddies exhibit's message of conservation.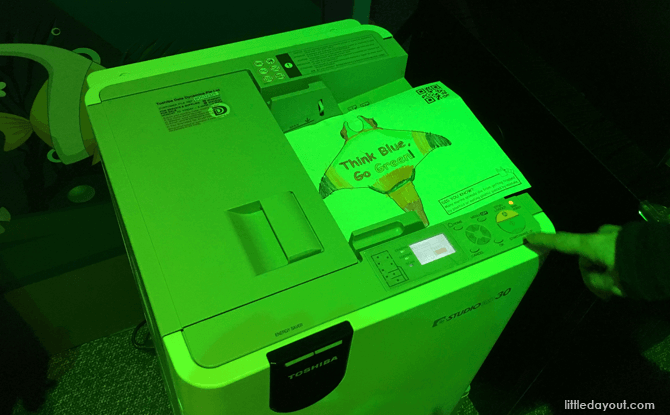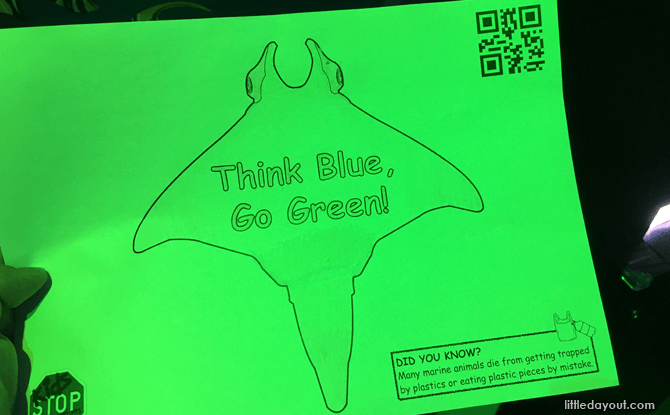 Ms. Thian Ai Ling, Deputy General Manager, My First Skool, said, "Our teachers and students at My First Skool feel very strongly about protecting the environment. Children are taught to recycle, re-use and reduce in their daily learning activities. This new Oceans' Buddies exhibit at KidsSTOP is perfect for our children to learn more about conservation as they play and interact with the exhibit."
KidsSTOP's new Oceans' Buddies exhibit was made possible by a $180,000 sponsorship from Pilot Pen (Singapore).
Together with the official launch of KidsSTOP's Oceans' Buddies exhibit, KidsSTOP also announced that an Oceans' Buddies Show-and-Tell Competition will be held for pre-schoolers. Based on the theme of protecting the environment, more details about the competition will be announced at a later date.
The Oceans' Buddies exhibit is now open at KidsSTOP, the Children's Science Centre, and is part of the normal admission fee.