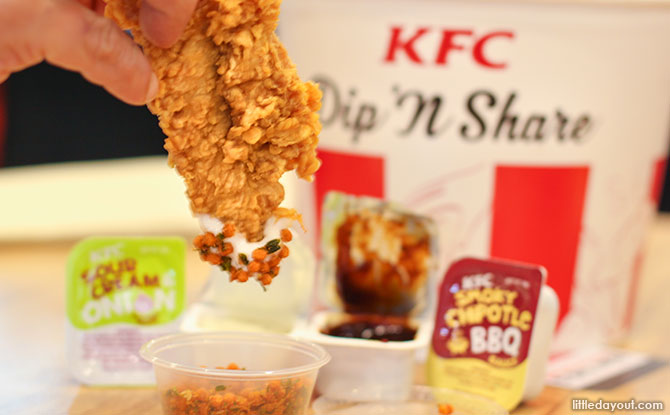 KFC is offering the Dip, Dunk 'N Share bucket from 14 December 2018! Juicy crispy chicken tenders, golden nuggets, and hot fries done to perfection all in one bucket. It comes with 2 types of sauces – Sour Cream & Onion Sauce and BBQ sauce – along with their new Spicy BBQ Pops.
We gave the KFC Dip, Dunk 'N Share Bucket a try at a media tasting and liked it!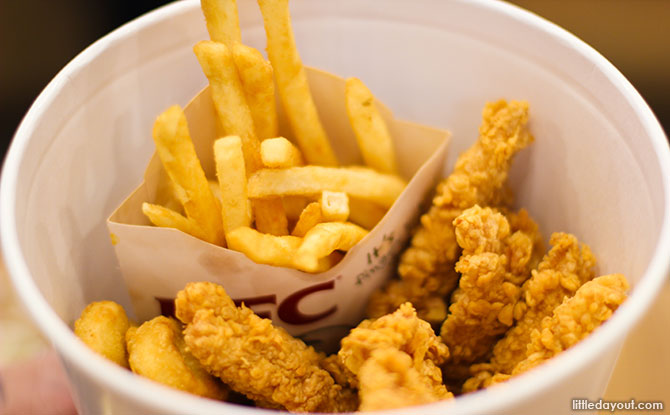 The Chicken Tenders were crispy on the outside, with tender and juicy thigh-like meat on the inside. They were a tiny bit spicy like KFC's Crispy Chicken, but nothing spice-lovers can't handle. The nuggets were well-seasoned and you can feel the tender texture of chicken meat on your tongue, unlike the usual mashed processed meat in nuggets.
If the meat and the fries aren't enough for you, try dipping them into the sauces. The Sour Cream & Onion had a tangy kick with a good balance of sour and savoury. The BBQ sauce was smoky, sweet and went well with the BBQ Chicken Tender.
---
-- Story continues below --
KFC has also introduced a new Spicy BBQ Pops that you can dunk into after coating the meat with either of the sauces. This gives an extra crunch, coating the Sour Cream & Onion Sauce with a spicy kick, while giving the BBQ Sauce an amazing savoury finish.
For the spice lovers out there, here's a tip, dip your meat into the BBQ sauce and the Spicy BBQ Pops to get that extra spice kick, it gets spicier with every dunk.
The Dip, Dunk 'N Share Bucket from KFC costs $15.95 and feeds about two to three people! If you are craving for some good old-fashioned fried chicken goodness, you can order the Festive Feast Bundle that includes the Dip, Dunk 'N Share Bucket with an additional nine-piece Chicken at $38.85.
Both options are available for Dine-in and Takeaway from 14th December 2018 onwards.
New KFC Singapore App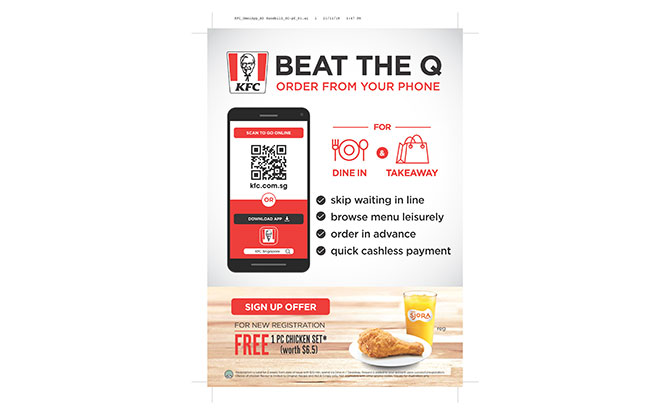 To make ordering easier, KFC has also launched their new KFC Singapore App where you can order to dine-in, takeaway, or for delivery all in one single platform.
Browse the menu at your own leisurely pace and pay with the app's fuss free cashless payment. Forget the tissues packets or name cards to 'chope' your lunch space, you won't have to leave your table until your order is ready to be collected.
What's more, KFC has a sign-up offer. Register an account to receive a FREE 1 pc Chicken Set (worth $6.50), redeemable via Dine-in / Takeaway with a minimum $10 spend. Plus by signing up, you will receive notifications on all of KFC's latest promotions and get exclusive member's rewards!
Media Invite