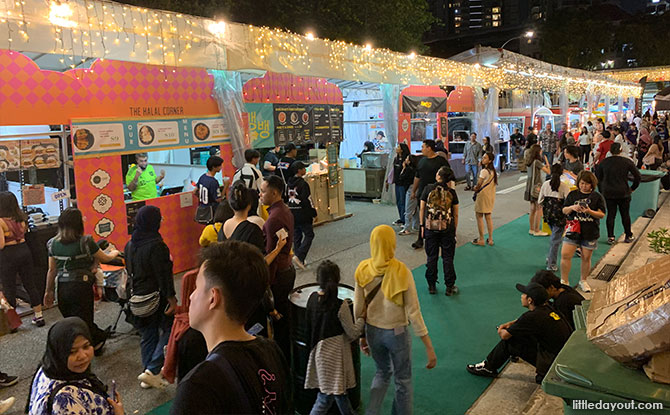 The historic Kampong Gelam precinct is bringing back the annual Kampong Gelam Ramadan bazaar and entertainment programmes with Raikan Cahaya Ramadan from 15 March to 16 April 2023. This year's festivities features a variety of booths along with light projections and a charity drive.
---
Kampong Gelam Ramadan Bazaar
The Kampong Gelam Bazaar traces its roots back to the 1960s where people would gather for prayers, post-fast meals and shopping for Eid-related goods around the Masjid Sultan.
This year's Kampong Gelam Ramadan Bazaar will see a return to the grander scale of the 1960s with various activities around the precinct.
Raikan Cahaya Ramadan, which translates as "celebrating the light of Ramadan", combines the bazaar with light displays and an exciting roster of performances that close with a 10-day charity drive.
---
-- Story continues below --
"While Ramadan is a period of introspection, it is also a month of communal celebrations and empathy – both of which form the key pillars of Raikan Cahaya Ramadan," says Mohammad Zaki Ma'arof, Chairman of One Kampong Gelam. "We hope visitors will enjoy the many facets and experiences of Kampong Gelam at our biggest activation yet, but also leave with an understanding that the Kampong spirit is a value and attitude that one can bring into their everyday lives."
---
Highlights of Raikan Cahaya Ramadan
Here are some of the highlights that visitors to Raikan Cahaya Ramadan can expect over the 33 days from 15 March to 16 April 2023.
Food
Visitors can look forward to Kampong Gelam's biggest food line-up yet with up to 86 stalls along Baghdad Street, Kandahar Street and outside Sultan Gate.
The F&B stalls at the Kampong Gelam bazaar include a mix food trucks and booths.
Some of the food stalls to check out include smoked beef brisket (along Baghdad Street),
Dutch baby pancakes (along Kandahar Street),
torched hotdogs (along Kandahar Street),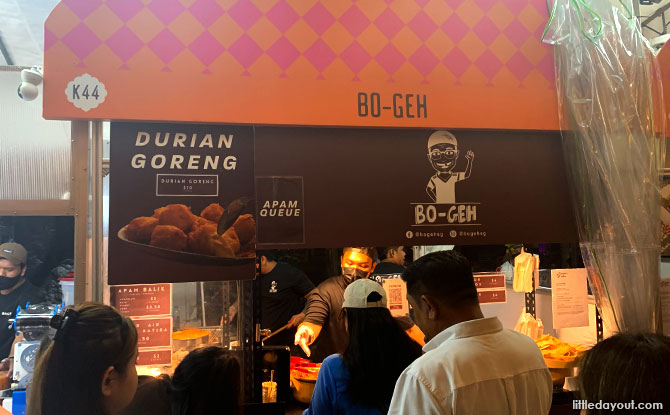 Durian goreng (along Kandahar Street), along with kebabs and more.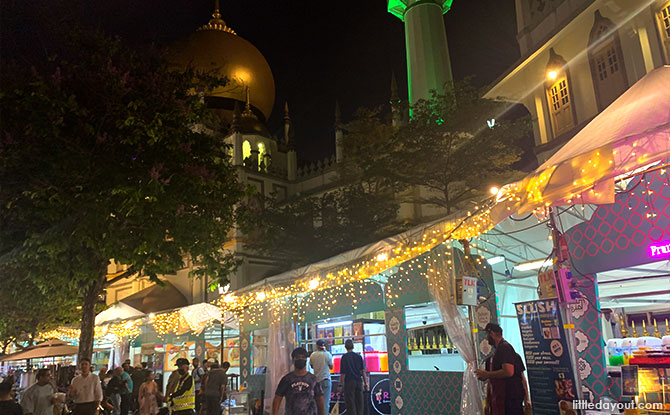 Stalls selling food like Indian rojak can also be found in front of Masjid Sultan along Muscat Street.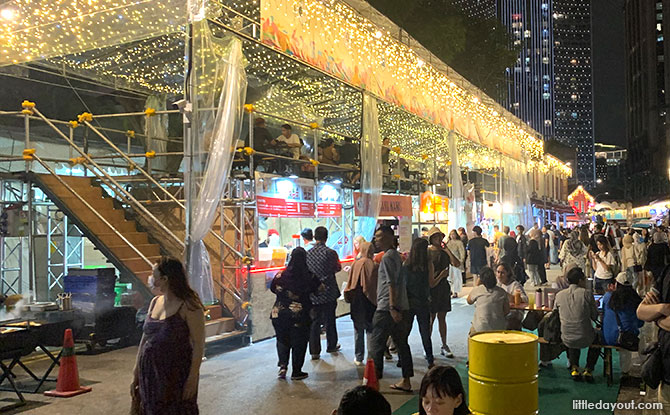 There is a two-storey mezzanine dining space along Baghdad Street and additional seating at Sultan Gate Park.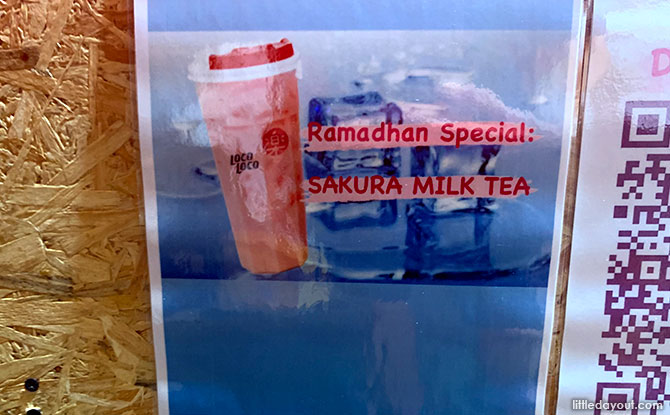 Under the mezzanine dining space, you can find a stall selling sakura milk tea, which has a nice floral scent and flavour and is a nice alternative to the ubiquitous Thai milk tea.
---
Retail
There will be 23 retail booths selling crafts and clothes. Many of these are located with an air-conditioned tent set up at the Baghdad Street car park.
---
Projection Lighting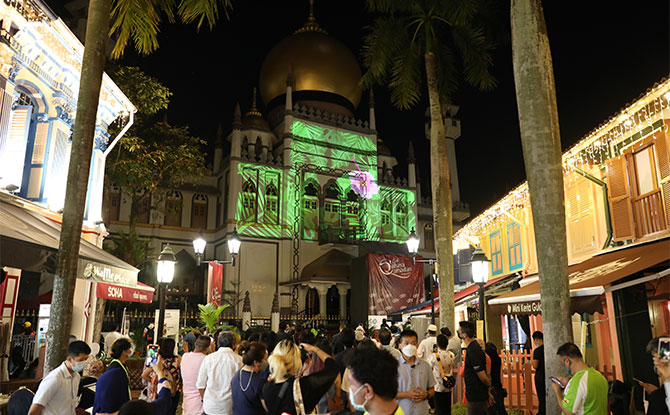 Visit from Fridays to Sundays to see the facade of Masjid Sultan illuminated with light projections. These depict the evolving arts and culture of the Kampong Gelam precinct.
---
Aerial Light Show
On Fridays and Saturdays, view an aerial light show where drone-controlled LED kites will brighten up the atmosphere along with micro light installations.
---
Entertainment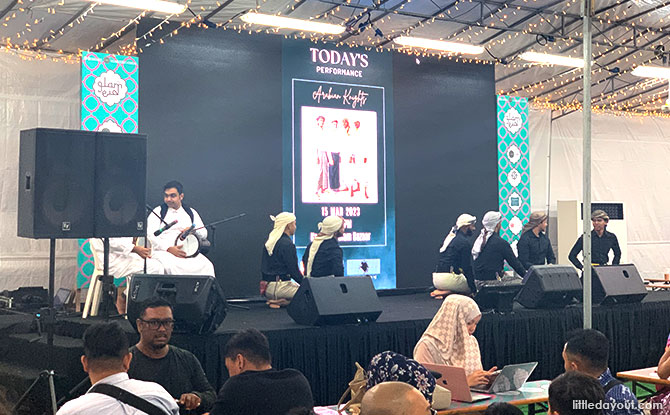 At the Baghdad Street carpark, visitors can enjoy a live performances with singers and dancers as part of the evening entertainment in an air conditioned tent as part of the Kampong Gelam Ramadan Bazaar.
---
Mass Iftar at Arab Street
On 1 April, One Kampong Gelam will be holding a Mass Iftar or breaking fast. This is done in a communal setting with the belief of sharing Ramadan's blessing with others after evening prayers.
---
Charity Drive
From 7 to 16 April, 4 pm to 8 pm, Helwa's Gourmet and Enniche to take over collection spots at 45 Sultan Gate for visitors to donate pre-loved clothes, non-perishable foods and home essentials. All items will be consolidated, then distributed to less fortunate beneficiaries at the end of Ramadan.
Stay in touch with the latest updates on Raikan Cahaya Ramadan and the Kampong Gelam Bazaar at the One Kampong Gelam Instagram page.