Fresh prawns taste great on their own when steamed, but might be a little too plain for some. Here's a Juicy Steamed Big Prawns Recipe to bring it to the next level. It's with lots of tasty gravy and you'll want to slurp up every drop.
Recipe for Steamed Big Prawns
Servings: 5
Ingredients
Marinade for prawns:
A few strips of ginger
2 tablespoons of rice wine or "Hua Tiao Jiu"
A dash of pepper
Ingredients for the sauce, mixed in a bowl:
---
-- Story continues below --
5 thick slices of ginger, minced
1 small fresh chilli, sliced (less spicy)
6 cloves of garlic, minced
3 sprigs of scallions (mix the white parts with the above. Keep the green parts aside for garnishing later)
2 tablespoon of hot oil
1 teaspoon of salt
2 tablespoons soya sauce
A little oyster sauce
Method
Wash the prawns and with a pair of scissors, snip off the sharp ends of the prawns. Slit the side of the prawn and remove the veins. Squeeze out the blob of dirt from the head.
Marinate the prawns for 15 minutes.
Prepare the ingredients for the sauce and place the sauce on top of the marinated prawns.
In a pot of boiling water, steam the prawns for 10 minutes.
Remove the plate from the pot and sprinkle the green ends of the scallions on top of the steamed big prawns.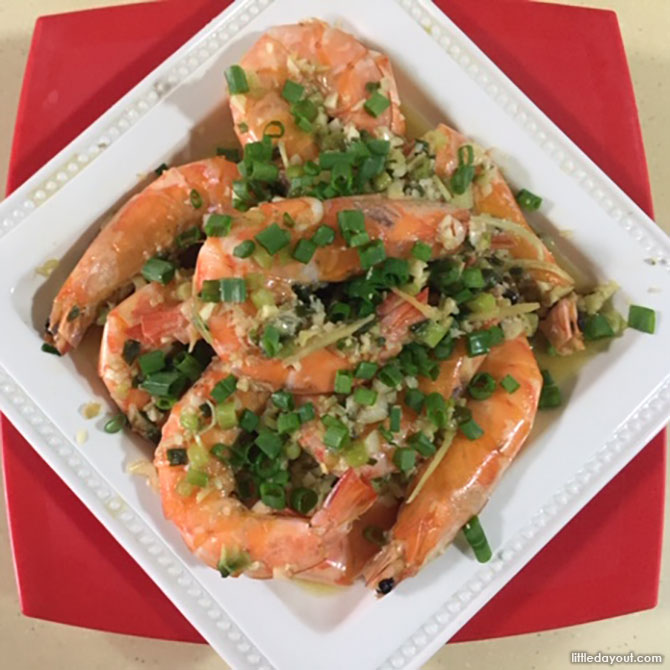 Click here for more recipe ideas.