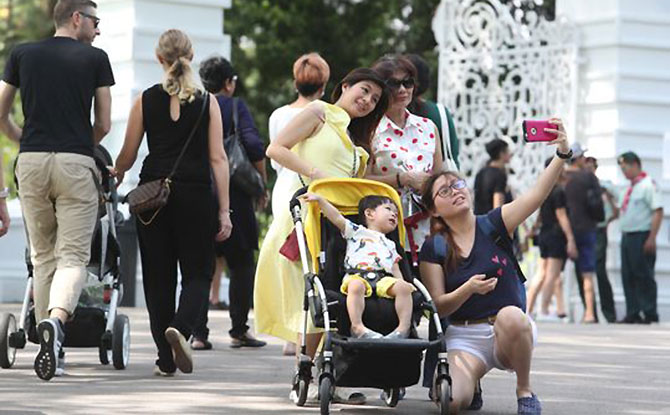 The Istana Open House 2020 is a chance for the general public to pay a visit to the residence of Singapore's President. On five days each year, visitors are welcomed to explore the extensive and verdant grounds of the Istana, enjoy performances and participate in various organised activities.
Istana Open House 2020 Dates
The Istana Open House 2020 will take place in conjunction with the following holidays and following dates:
Chinese New Year: Sunday, 26 January 2020 (Second day of Chinese New Year)
Labour Day: Friday, 1 May 2020 (Actual day)
Hari Raya Puasa: Sunday, 24 May 2020 (Actual day)
National Day: Sunday, 26 July 2020 (Two weeks before National Day)
Deepavali: Saturday, 14 November 2020 (Actual day)
The opening hours for each Istana Open House 2020 will be from 8.30 am to 6 pm.
Entry to the Istana grounds is free for Singaporeans and Singapore Permanent Residents. All other visitors are required to pay an admission fee of $2 per person.
The Istana Open House entrance is along Orchard Road, next to Plaza Singapura. The entrance is opposite of Istana Park.
Activities at the Istana Open House 2020
Visitors to the Istana grounds can look forward to Istana Open House 2020 activities which include exhibition and tours.
Those who wish to enter the main Istana building can do so on a tour which will bring them to various function rooms within the building. On display are collections of State Gifts which have been received over the years.
Entrance fees are applicable to main Istana Building. To enter without a guide, it costs Singaporeans and Permanent Residents $2 each. Guided tours led by the Preservation of Sites and Monuments division of the National Heritage Board are also available. These are priced at $2 for children aged 4 to 12 and $4 for adults, for Singaporeans and Permanent Residents.
National Parks typically conducts tours of the ground. These tours highlight the natural heritage of the Istana flora and biodiversity. Fees apply to these Guided tours.
All fees collected are donated to charity.
In addition, during each Istana Open House 2020, there will be performances by school grounds and other artistic groups throughout the day. Three of the five Open Houses are held in conjunction with major ethnic holidays. During these Open Houses, you can expect to find various cultural performances taking place throughout the day.