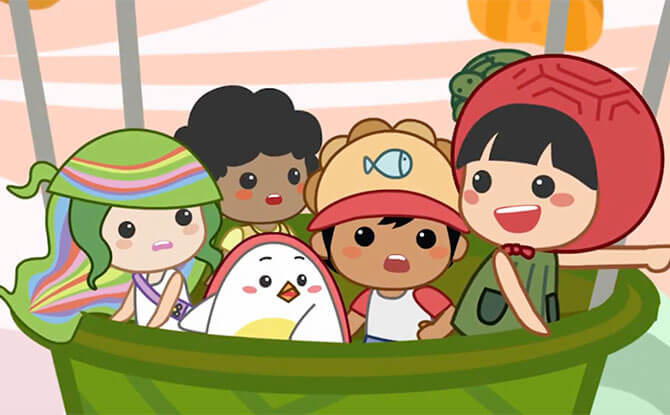 ION Sky, 56 storeys above Orchard Road, is known for its sweeping views of Singapore. But, those views are not the only things the observatory showcases. High above Singapore's shopping street, visitors can get down with a topic that is close to every Singaporean's heart during Adventures in Food Wonderland by Ang Ku Kueh Girl and Friends.
Adventures in Food Wonderland is Ang Ku Kueh Girl's first animated show.
In the ION Sky animated show, the character created by Shijia Wang goes on a foodie adventure with her friends like Kueh Lapis Girl and Curry Puff Boy. It features many favourite and familiar Singaporean dishes.
Little Day Out Interview with Shijia Wang
We speak with Shijia to find out more about the Ang Ku Kueh Girl animated show which premiered last November.
Little Day Out: Was the inspiration behind the Adventures in Food Wonderland?
Shijia: When working on this story, I was inspired by Singapore's spirit and rich culture. I wanted to portray the strength and resilience of our nation, whilst also putting a spotlight on our diverse culture.
In the story, the blissful lives of Ang Ku Kueh Girl and her friends in Food Wonderland are disrupted by an invasion. Crabs come to their land in droves and their leader captures her brother, Ang Ku Kueh Boy.
After making their own ketupat hot-air balloon, the friends arm themselves with specialty food weapons to battle the invaders. While their weapons fend off the minion crabs, they are no match for the formidable King Crab.
Thinking quickly on their feet, the friends come up with another idea and defeat the King Crab successfully, thereby protecting Ang Ku Kueh Boy, the Ice Kachang Mountain, the Pink Bandung River and all that they hold dear.
The story highlights that our culture cannot be broken down into dishes – it is meaningful only as a holistic unit, rich and diverse. This "overcoming-the-monster" narrative is a chance to put a twist on a popular local dish, while showcasing the Singaporean spirit of resilience, just as our forefathers did in building the nation.
Do you have any favourite moments during the animated show?
My favourite part of the animated show is the local twist in this "overcoming-the-monster" narrative.
Chilli Crab is a beloved national dish that is popular with locals and tourists alike, which is why I thought that it would make for a cute villain in the show. The reflection of real-life details in our creation makes the show interesting as well. The Crab turns from blue to red when it is cooked, just like in real life, and I feel that the inclusion of this real-life detail makes the animated show seem slightly more realistic and fun to watch!
At the end of the day, I also hope that we can all be reminded about the spirit of resilience and grit. If at first a plan doesn't work but the goal is worth fighting for, try again!
What did you enjoy most about working on the Adventures in Food Wonderland project?
For me, the most enjoyable part would be infusing Singapore's very own local delights and watching them come to life in the story. I saw this story as an opportunity to spotlight the diverse food culture in Singapore, and the love and pride we have for it. Injecting life into the delicacies and coming up with an interesting narrative was a fulfilling and enjoyable experience.
How does it make you feel to have an Ang Ku Kueh Girl animated show at ION Sky?
I was excited to receive the opportunity to have the characters animated. This was the first time we had the chance to showcase local characters and traditional Asian food together in the heart of Orchard Road.
It would also be a chance for tourists to see another side of Singapore and the creations of Singaporeans. I am very thankful to ION Orchard for the opportunity to work on this amazing project!
Adventures in Food Wonderland by Ang Ku Kueh Girl and Friends at ION Sky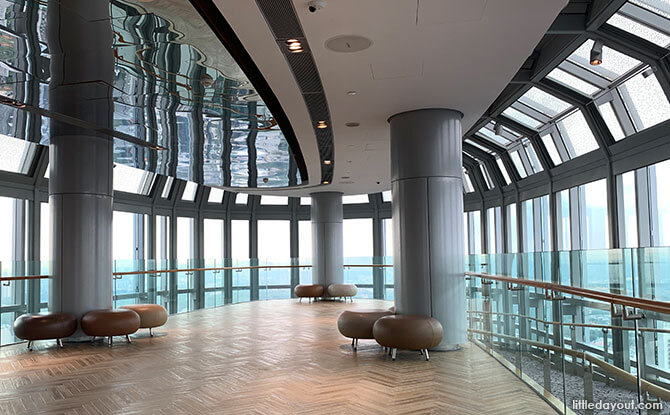 To visit ION Sky and view Adventures in Food Wonderland by Ang Ku Kueh Girl and Friends, spend $20 per receipt at ION Orchard to redeem one admission ticket.
Adventures in Food Wonderland by Ang Ku Kueh Girl and Friends screens at 2 pm, 4 pm and 7 pm.
Another show, The Transformation of Orchard Road by Dick Lee, screens at 3 pm, 5 pm and 8 pm.
Be sure to stay back after the screening, which lasts around three minutes, when the blinds are lift up to reveal the panoramic views at ION Sky.
Get more details here.