Nowadays, mooncakes have become a vehicle for culinary creativity and you can definitely find quite a few unusual flavours of mooncakes in Singapore which are changing up the mooncake game. Some of these unique mooncake flavours and fillings in Singapore 2018 include ice cream, liquor and even mochi!
If you are on the lookout for unusual and unique mooncakes in Singapore 2018, we have a list below which is sure to tickle your taste buds.
Don't forget to look out for the collectable packaging boxes that many of these mooncakes in Singapore come packed in too!
Unusual and Unique Mooncake Flavours in Singapore 2018
---
For Those Who Want To Revisit Chinese Roots – Feng Shui Inn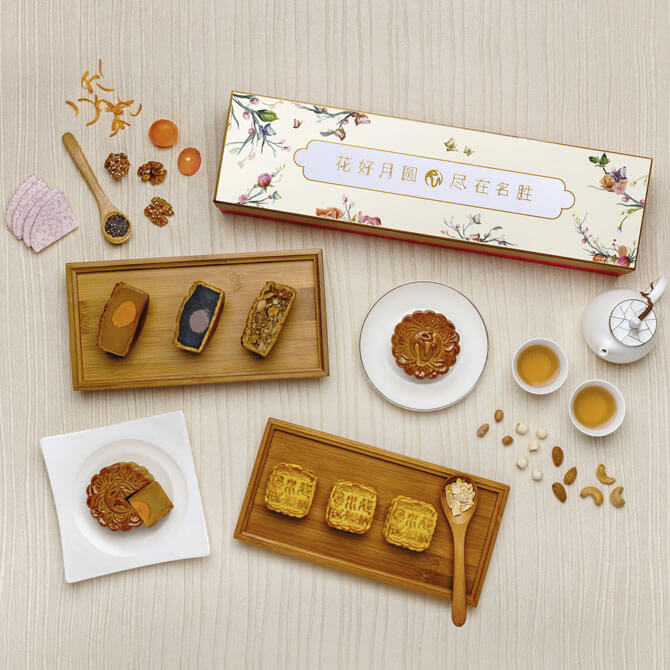 American ginseng has long been looked upon as a helpful herb to boost immune systems and vitality and is commonly used in Traditional Chinese Medicine as a remedy for stress and exhaustion. You've probably had it in a drink, but have you ever had it in a mooncake?
Feng Shui Inn presents their 'Mid-Autumn Star' mooncake, a Baked Ginseng Custard Paste Mooncake.
Instead of traditional mooncake skin, this mooncake is baked in a crisp and buttery crust made from premium ingredients – American ginseng blended with custard and white lotus paste, and chocolate pearls for a crunch in each bite!
The mooncakes are priced at S$78 per box of six.
Get more information here.
---
For Those Who Like It #Aesthetic – Goodwood Park Hotel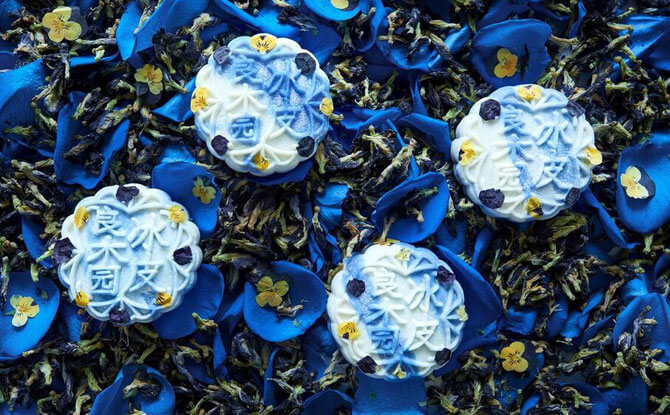 Goodwood Park Hotel is introducing Blue Pea Flower with White Lotus Seed Paste and Melon Seeds mooncakes for 2018. ($64 for four pieces; $42 for two pieces)
This beautifully coloured masterpiece is a work of art in itself and bound to be a head-turner at any gathering. The hotel has also brought back popular flavours such as Almond Beancurd with Longan, Soursop with Calamansi as well as our the evergreen D24 and 'Mao Shan Wang' snow skin mooncakes, alongside traditional baked favourites, all freshly made with no preservatives.
These mooncakes in Singapore are available from 18 August to 24 September 2018. They come in a newly-designed exquisite gold box adorned with a bold and elegant peony too. Orders need to be placed online.
Get more information here.
---
For Those Who Like Desserts First – Swensen's
A huge favourite among both the young and younger, Swensen's is bringing an ice cream twist to mooncakes with six flavours: its signature Sticky Chewy Chocolate, as well as new creations, Sedap Chempedak, which is the sweeter version of the jackfruit; the tangy and cool Feel Good Passionfruit; Wild Floral Honey Crumble which has floral notes as well as bits of cookie crumble; Salted Butterscotch Crumble; and Mao Shan Wang.
Each oval-shaped mooncake is filled with one of the restaurant's delicious ice-cream flavours, then wrapped in a unique pastry skin embossed with Swensen's iconic 'sundae glass'.
Swensen's mooncakes are on sale from 1 August to  24 September 2018 at all Swensen's and Earle Swensen's outlets and are available for dine-in and takeaway. These mooncakes for 2018 are sold at $39.80 for a box of four pieces (mix-and-match flavours as you please) or $10.90 for a single piece.
Get more information here.
---
For the Snowskin Mooncake Lovers – Grand Mercure Singapore Roxy
This year, Grand Mercure Singapore Roxy is showcasing a new range of snowskin mooncakes, available from 30 August to 24 September 2018.
The Yin Yang Snowskin marries the bittersweet taste of dark chocolate, the sweetness of white chocolate and the aroma of champagne. Those who like a citrusy aftertaste can try the Lemongrass Snowskin mooncake. There is also the Signature Lychee  Martini which has the natural sweetness of lychee infused with a hint of vodka, and Durian Mooncake that is made from the popular "Mao Shan Wang" variant of durian.
Mooncakes are on sale at the hotel's Mooncake booth at the Lobby, Wave Café and Jia Wei Chinese Restaurant.
Get more information here.
---
For Those Who Like It Kawaii – Hello Kitty Orchid Garden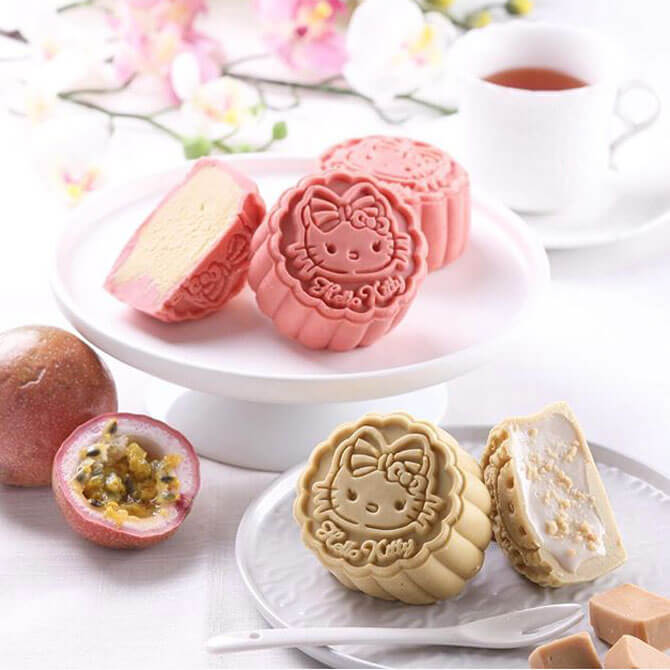 Fans of the world's most iconic feline can celebrate the mid-autumn festival 2018 with what is probably one of the cutest mooncakes on the market!
The 24-hour themed cafe located at Changi Airport Terminal 3 has introduced two delicious ice cream mooncakes: Pink Passionfruit Punch — made with tangy passionfruit ice-cream, and Butter Me Up which consists of rich Salted Butterscotch Ice-Cream filled with tasty cookie crumble bits.
Hello Kitty Orchid Garden also have traditional baked mooncakes for sale, such as the crowd-favourite, Over the Moon – a signature salted egg yolk in silky smooth lotus seed paste, dotted with lotus seeds.
Hello Kitty Orchid Garden's ice cream and traditional mooncake varieties are available at a special early-bird price of $29.80 for a box of 2 pieces from 15 August to 7 September 2018. Thereafter, the mooncakes will be available at $33.80 for a box of two pieces.
Customers may choose to enjoy them at the restaurant or purchase them for takeaway. The kitty mooncakes for takeaway will be packaged and presented in the cafe's Hello Kitty Secret Treasure Box, featuring a dainty white and gold Oriental floral design.
Get more information here.
---
For Adventurous Taste Buds – Sofitel Singapore
Entering the mooncake scene with a bold statement, Sofitel Singapore City Centre is releasing a unique French Foie Gras & Truffle Oil with Assorted Nuts Mooncake amongst other relatively tamer, yet equally unique, flavours such as Green Tea Paste with Melon Seed and Red Date Paste with Slivered Almonds.
They have a variety of promotions which you can view on their website.
---
For Those Who Like Chinese Desserts – Cherry Garden at Mandarin Oriental, Singapore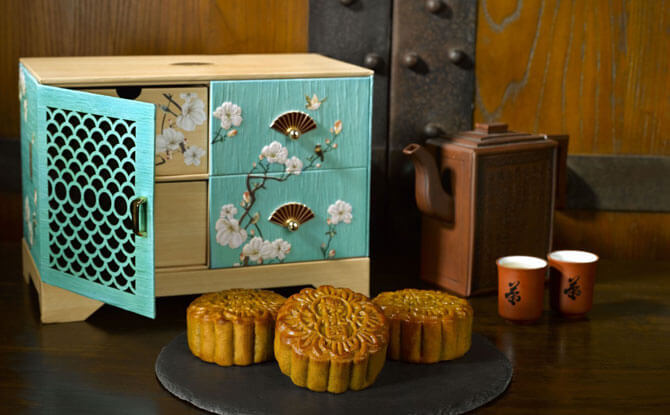 What do ingredients such as red bean, taro, pandan, mango and Osmanthus have in common?
According to Cherry Garden at Mandarin Oriental, Singapore, these are the ingredients they have used to put a twist on traditional baked mooncakes while highlighting pairings often found in Chinese cuisine.
Their creation of the Sea salt caramel with taro and shredded coconut mooncake and Pandan with red bean and melon seeds mooncake are the newest additions to the menu this year.
For purists, the low-sugar silver lotus paste with single or double yolk are also available.
In the artisanal snow skin mooncake collection, the newest mooncake addition is the Mango Puree with macadamia nuts. This can be purchased as part of a set with other snow skin mooncakes such as the signature Lychee Martini with chocolate truffle, Custard Paste with rose petals and chestnuts, and Osmanthus and Walnut.
More information available here.
---
For the Fashionistas – Crowne Plaza Changi Airport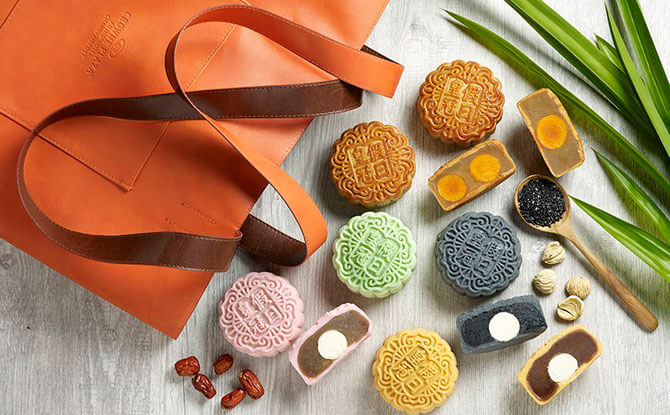 Be a trendsetter this mid-autumn festival season! Instead of picking up mooncakes in boxes, get a limited edition reversible shopper tote in bold orange and classic tanned brown at Crowne Plaza Changi Airport.
Among the mooncake flavours available are choices like Black Sesame, Chestnut, Pandan and Red Date Snowskin Mooncakes and Low Sugar White Lotus Paste Baked Mooncake options, it's food and fashion together, just what the Fashionista needs!
You can order the mooncakes at their website here.
---
For Those With Exotic Taste Buds – Grand Hyatt Singapore
Try saying "Basil, Green Apple and Trigona Honey" three times fast.
That's one of the many exotic and unique mooncake flavours that Grand Hyatt Singapore is bringing to this year's mooncake festival celebration.
Some of the mooncake flavours have been inspired by the hotel's famed martini bar. These include Champagne Truffle Snowskin and Lychee Martini Truffle Snowskin. They also have Acai Berry Truffle, Strawberry, Lime and Tequila Truffle and of course, Teh Tarik and Chocolate Truffle, which we personally think sounds absolutely delicious.
Grand Hyatt also offers traditional mooncake flavours and you can order all of them at its website.
---
For Those Who Like It Luxurious – Singapore Marriott Tang Plaza Hotel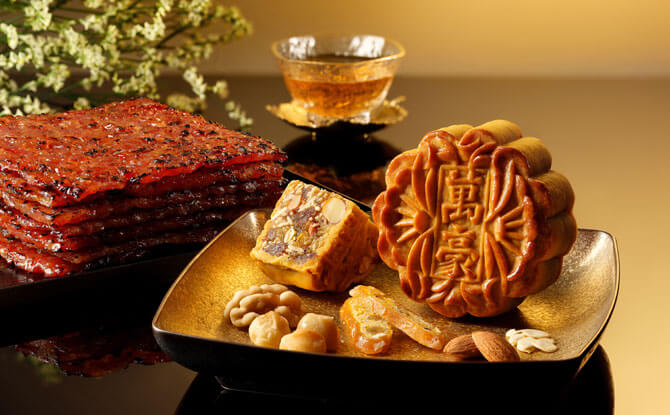 For the Mid-Autumn Festival 2018, Singapore Marriott Tang Plaza is offering unusual mooncake flavours such as Cempedak Paste Baked Mooncakes with Pumpkin Seeds, Chicken Bak-Kwa Baked Mooncakes with Assorted Nuts, and Mango Yoghurt Snowskin Mooncakes with Lime Margarita Truffle and Mocha Snowskin Mooncakes with Milk Chocolate Royaltine.
Get more information here.