It was a fantastic start to the school holidays with a SIA Heritage and Training Facilities tour! We were thrilled to be given the opportunity to find out more about how the cabin crew of Singapore's national airline are trained. In addition, the children can get first-hand experience being a pilot or a stewardess! Pluses for trying out in-flight cuisine, with an educational learning about Singapore Airlines – a pride all Singaporeans can share.
While the tickets for the tour and add-on experiences have been sold out, we share our experience with readers are interested in what it is like inside Singapore Airlines.
---
"Boarding" the SIA Training Centre "Flight"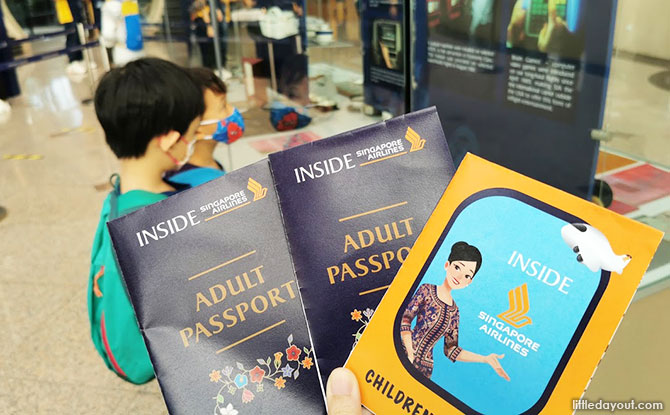 We were greeted with plenty of bright smiles hidden behind masks and cheery "Good mornings", "Welcome" as we stepped into the building. Wow, this was like boarding an SQ flight. Each participant was handed a passport as well as a goodie bag comprising a sanitising kit and toiletries kit. Our special passport was for the recording of activities done, with rewards given when four to five activities are completed.
---
-- Story continues below --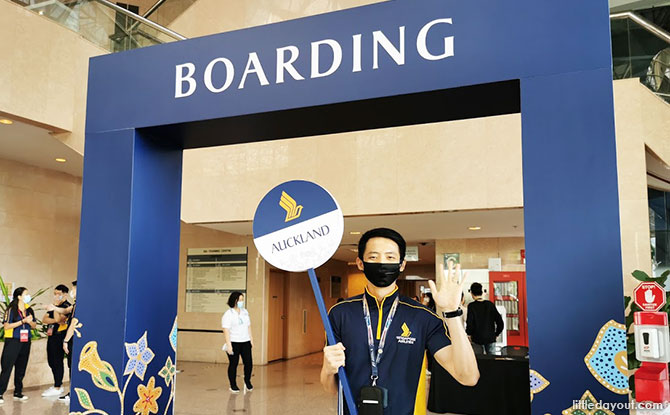 We then took a brief tour at the foyer at the entrance where we could see old SIA memorabilia, older uniforms while waiting to start our tour. The tour takes two hours and gave an insight into the training of the cabin crew and pilots of Singapore Airlines. Our friendly and warm guides – Travis and Betsy confidently shared as we walked through the various rooms.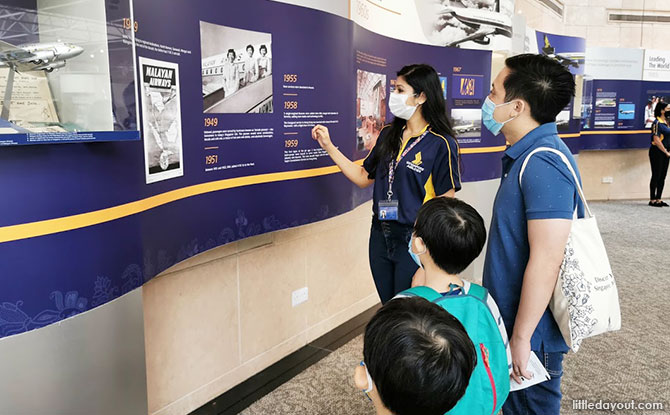 The first gallery we went to was the Heritage Gallery. We could see the story behind the birth of Singapore Airlines and technological changes in the types of aircraft used. We also saw the kinds of accolades Singapore Airlines have won over the years – and clearly an airline ahead in its echelon in the airline industry.
---
SIA's Training Facilities for Grooming and Serving
Did you know that aspiring cabin crew members require 14 weeks of intensive training? From grooming like make-up that matches the uniform, hairdo to learning about food and wine, social etiquette and walking down the aisle as well as up and down staircases – all these have to be learnt well before they start serving passengers on flights.
We toured the various "classrooms" and training facilities to get a glimpse of how rigorous training is. Various areas such as skincare, lipstick colour, eyebrows, hair length, hair style, speech, gait, are covered at length during lessons. Practice sessions get trainees seasoned to be part of the SQ crew. Apart from that, types of meals, crockery types, wine pairing sessions are also included.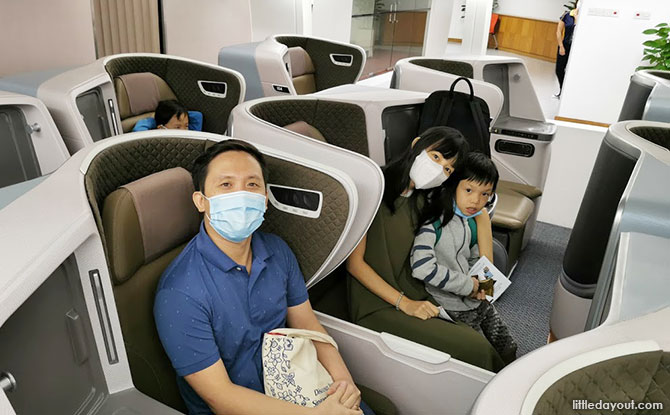 We got to see mock-ups of airplane interiors – which also serve as training venues. We sat on Business Class seats while the Inflight Manager gave a brief introduction about the plane and saw the new A380 suites – a comfortable sanctuary for two up in the skies.
The "ooohs" and the "aaaahhhs" continued as we saw the different kinds of serviceware and amenities used in Singapore Airlines. The range was huge, differentiated by cuisine type and types of seats and it would certainly take a well-trained crew to set the right "tray table" for the right meal.
---
SIA Tour Highlight – Safety and Emergency Procedures Training Tour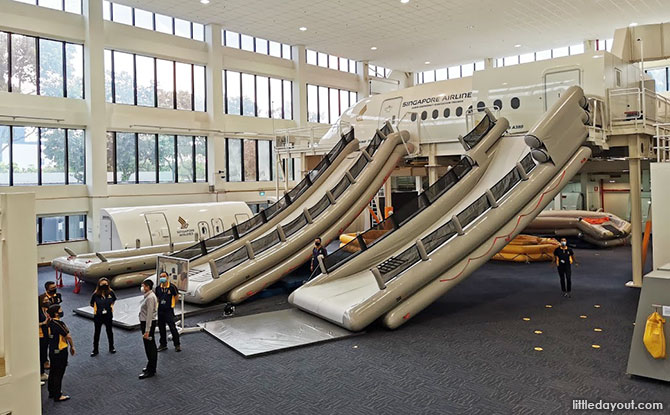 One huge factor in determining the quality of an airline is its safety record and emergency preparedness. Apart from an excellent safety record, cabin crew have to be prepared for any emergencies. With cameras ready, we entered the Safety and Emergency Procedures training centre.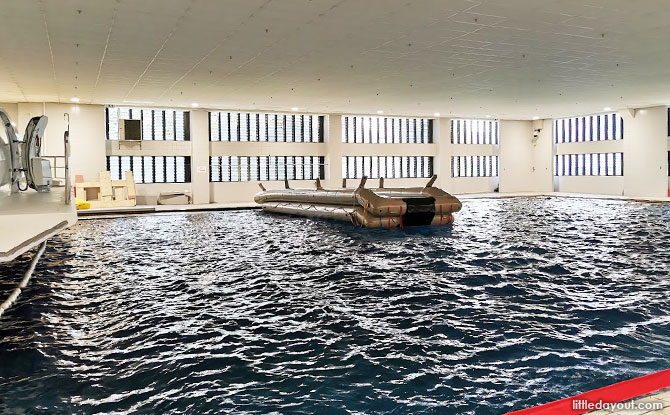 Part of a plane's fuselage and two gigantic slides greeted us. Wow, was this a real bouncy castle? The inflated slides were for emergency use and quick escape which was necessary. The slides can be inflated within eight seconds and used as a raft as well. SQ cabin crew trainees had to use these slides while training and jumping on to it safely while wearing their kebayas (for ladies) with life jackets.
There are also other scenarios the crew would need to train for. For instance, if fire broke out in different parts of the plane, the cabin crew had to know what they needed to do – how to open the doors, how to evacuate safely, using the fire extinguisher and so on.
A place where applicants to be cabin crew members have to visit is also a wave pool. To simulate the waves in the sea, the wave pool is where the crew jumps into, with life jackets on, as a test of water safety.
Assessments for safety and emergency procedures were conducted once every two years to facilitate an up-to-date knowledge of the procedures for each different aircraft. I felt assured that the Singapore Airlines crew was so well-prepared in any scenario.
---
SIA's Flight Simulators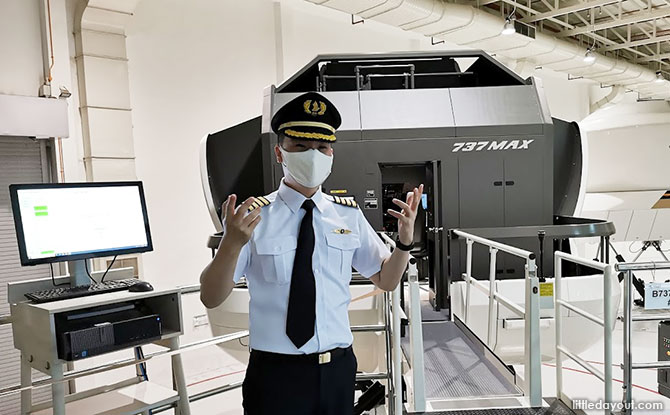 The focus turned to pilots on this segment of the tour. We went into a room filled with flight simulators –aviators' favourite "consoles". It felt rather futuristic like stepping onto a movie set of "Star Trek", with moving simulators which jerked back and forth. For the first time, we were surrounded by numerous pilots – captains and first officers. Were we really about to fly somewhere?
Although we could not enter the simulators across the bridge, it was really cool to see how pilots trained. There was also an add-on experience of trying one out – which was just like being in a cockpit without the passengers on board. These were important training devices for the pilots as the simulators were able to simulate different weathers, scenarios for the pilots to practise in safely.
---
Focus on Sustainability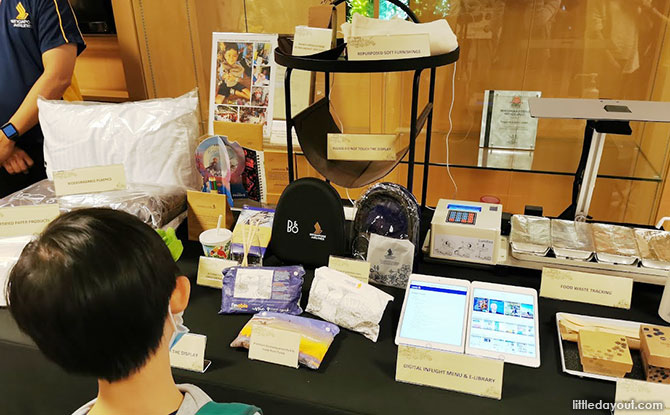 It could be an oxymoron to term air travel as a eco-friendly experience. However, the staff of Singapore Airlines shared how they have various ways to make air travel sustainable. Apart from helping to develop sustainable aviation fuel, they have developed eco-friendly materials on board such as paper straws, paper meal boxes and upcycled plane seat materials for various purposes.
Singapore Airlines has also joined hands with Harapan Rainforest Initiative to restore ecosystems through tree planting, supporting biodiversity and educational efforts about wildlife trafficking.
---
The Junior Pilot Experience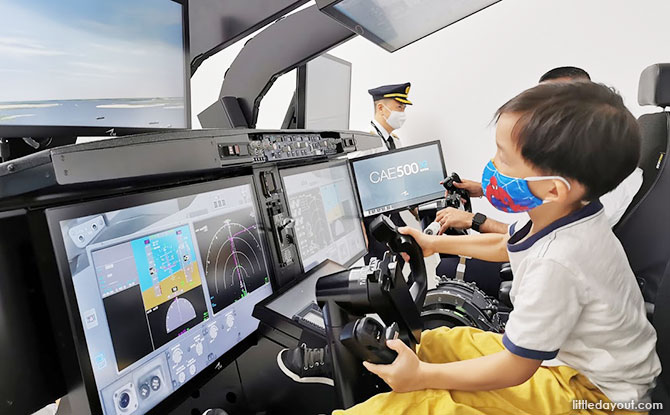 Even if we couldn't take to the skies, trying a flight simulator firsthand is exhilarating. We had the opportunity to speak to the SIA pilots, ask them any burning questions we had while they guided us on steering an aircraft.
Our little aspiring pilots had the chance to fly with controls, dials, multiple screens over Singapore. They experienced day and night take-off, landing, taxi-ing seated next to an experienced pilot who safely steered the master controls. This was a great insight into how the controls work and the kinds of weather conditions to expect.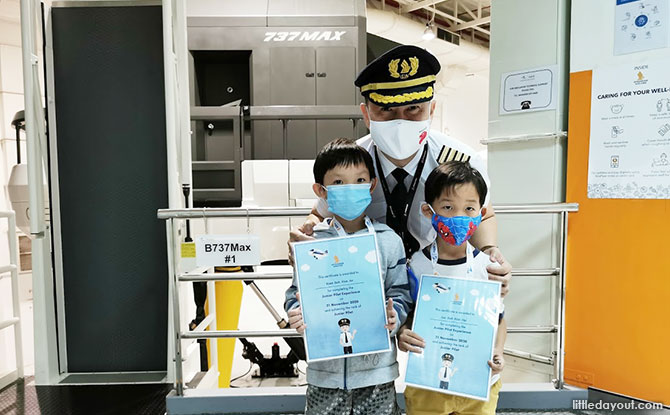 The Junior Pilot Experience lasts for 30 minutes and there was a comfortable amount of time given to try and navigate through the skies. Certainly, this was the best part of the tour and I was asked when "the aeroplane game" could be played again at the end of it. To remember the experience, the children were presented certificates by a real pilot.
---
In-Flight Meals at the SIA Staff Canteen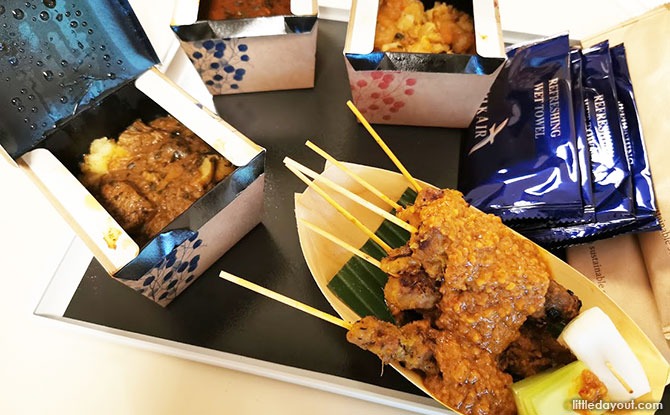 Airplane food might be perceived as unappetising for many, but not for passengers with Singapore Airlines. Our passports could be used to redeem one main each, and we also tried the famous satay. There were many options to choose from – all served in eco-friendly paper containers. Insidertip: The mee siam is touted to be sumptuous. We tried Nasi Lemak, Beef Ragu, Beef Goulash, Carrot cake and Satay which were all delicious options. Kris+ App users can also redeem a Gongcha bubble tea and enjoy it alongside their lunch.
---
Other Activities at SIA Training Centre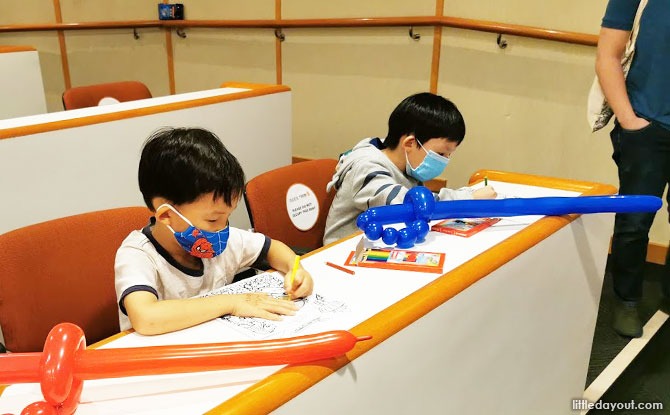 There were several activities specially for the children to participate in – balloon sculpting, folding of Batik roses, colouring with a movie screening. The balloon sculptors would happily accede to requests for various kinds of animals, toys. The activities were also good breaks for parents who are waiting to join tours or simply wanting to chill.
---
An Awesome Treat by Singapore Airlines on Ground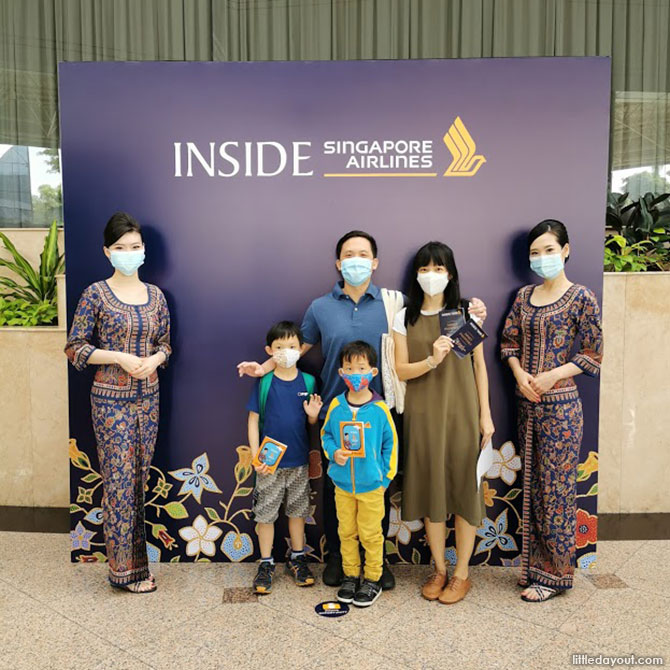 We left the SIA Training Centre as if we left a Singapore Airlines carnival – armed with goodie bags and little thoughtful gifts and memorabilia. The amount of detail and service-orientedness was akin to travelling on Singapore Airlines. Even though we did not leave the country, it felt like we did go on short flight behind-the-scenes of SQ. We agreed whole-heartedly we would recommend the tour to anyone – if more spots open up in the future. For now, we look forward to taking a Singapore Airlines flight soon!
For more on SIA's Inside Singapore Airlines tours, visit this site.
Media Invite.