Ichiran Ramen has gained quite a following among ramen-lovers. In 2016, Forbes magazine went far as to claim it was the best ramen in the world and when it opened its first outlet in Taipei, the queue outside the restaurant lasted for 240 hours or 10 days.
So, when we were in Tokyo, we had to pay the legendary ramen chain a visit.
Join The Order
Thankfully, we arrived just after the Ichiran Ramen outlet at Shinjuku opened. Already, there was a nucleus of a queue forming in front of the shop's basement entrance. But it was nothing like the queue that extended all the way up the stairs just 20 minutes later.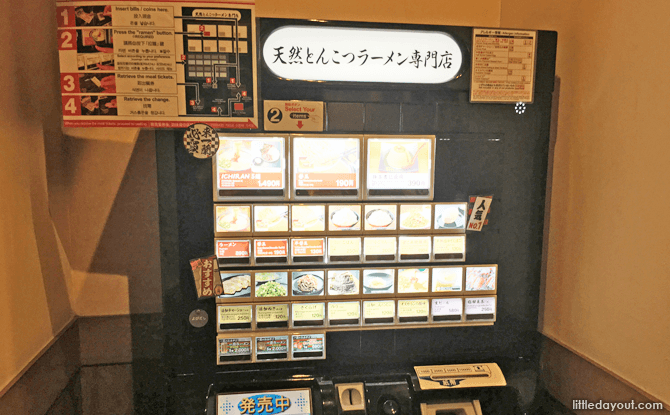 The first order of business is to place an order at a typical Japanese ramen ordering machine. Press a button, insert the requisite money and pick up a ticket.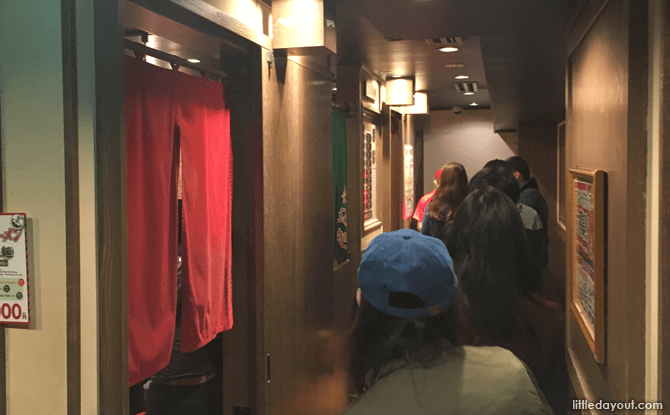 Once that is done, join a second queue along a narrow corridor. This one had the advantage of bum seats for eager ramen-eaters in waiting.
Here, you will need to complete a second form to customise the order. Pencil down your preference of noodle firmness and broth thickness.
Cloistered Dining
Seating at Ichiran Ramen is at individual stalls. Available stalls are denoted by coloured lights on a board.
Once your seat is available, you will get ushered into the dining area and seated at your own cloister. This is your ramen-eating haven. On the left and right are partitions, blocking you out from your neighbours.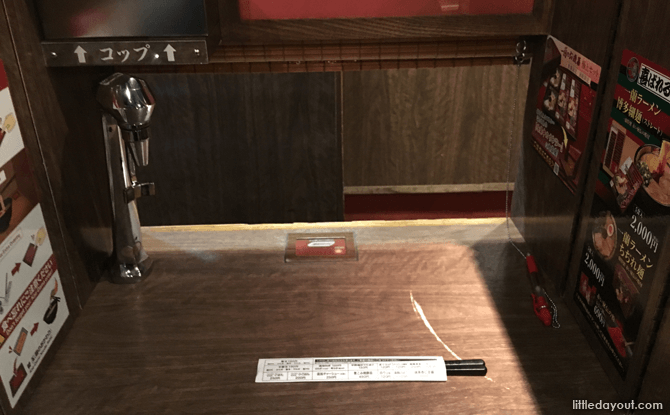 A tiny window in front of you is where you submit your preference sheet to a mysterious ramen-preparer whose lower-torso is all you can see.
Before long, lower-torso lad will appear again and deliver the food through the window. Once that deed is done, he drops down a bamboo shutter to give you and your ramen some privacy.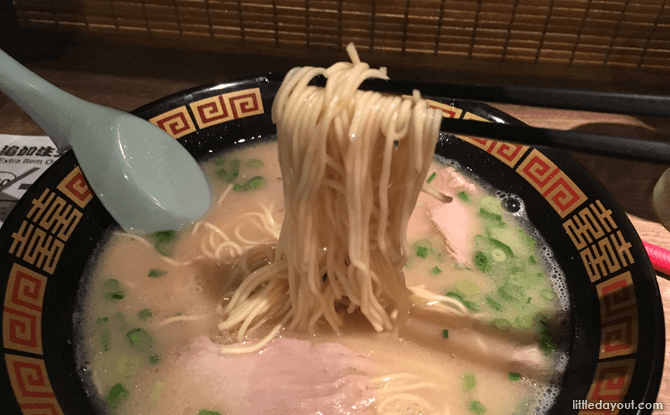 Ichiran Ramen is as good as it is claimed to be. The tonkatsu broth is extremely flavourful, noodles nice and firm (if you like it that way) and the slices of pork were to die for.
Once you are done with your private time with a bowl of ramen, you can press a little bell built into the table to ask them to clear it or to ask for dessert if you have ordered it.
Family Affair
If Ichiran Ramen sounds too much like a solo affair, don't despair. In fact, the partitions between the stalls can be opened up. This means that families who are dining seated next to each other can still have a family meal together.
However, you may wish to take note that seats are limited and if your family wants to sit all together, you may have to wait for a bit till the right configuration is available.
Overall, Ichiran Ramen is a must-try for ramen-lovers. It is an interesting experience – and one that is truly interested in helping you cut out all other distractions and focus on taste.
Ichiran Ramen