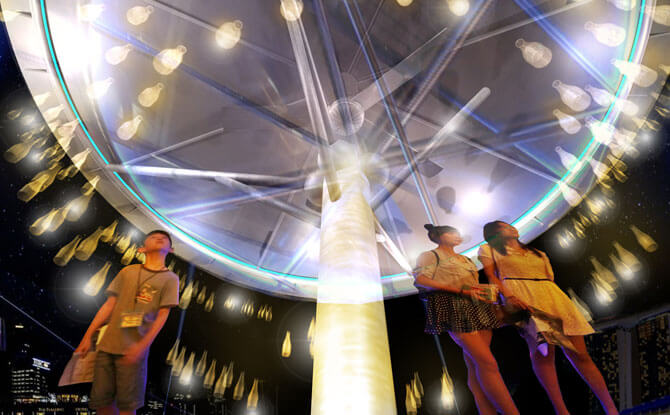 i Light Marina Bay 2018 lights up the Marina Bay precinct from 9 March to 1 April 2018. This sixth edition of the sustainable light festival, organised by the Urban Redevelopment Authority, will feature light art installations from both local and international artists.
These light features have been designed with energy-saving lighting or made from environmentally-friendly or recycled materials. They aim to highlight and convey the message of conservation and need to adopt sustainable habits among festival-goers.
Beyond simply being a showcase of sustainable light art, i Light Marina Bay 2018 will encompass many other activities around the Marina Bay precinct. Here are 10 things to know about i Light Marina Bay 2018.
#1. When To Head Down To i Light Marina Bay 2018
Between 9 March to 1 April 2018, i Light Marina Bay 2018's light art installations will be lit from 7.30 pm to 11 pm. On Fridays and Saturdays, the festival hours will be extended until midnight. Admission to the festival is free.
#2. Number of Light Art Installations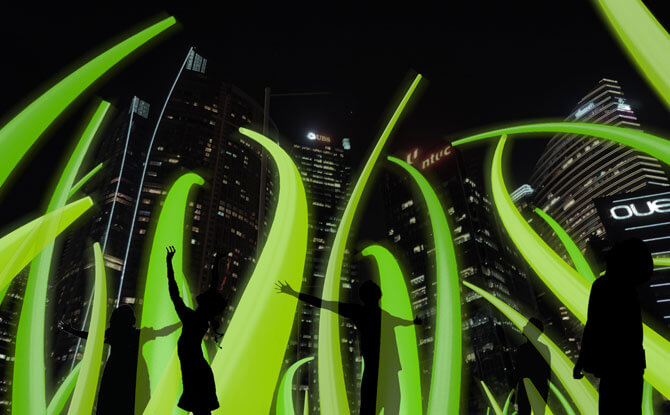 i Light Marina Bay 2018 will showcase a total of 22 light art installations. These have been created by artists from Singapore and around the world. A total of 14 countries are represented at i Light Marina Bay 2018, making the festival a truly international affair.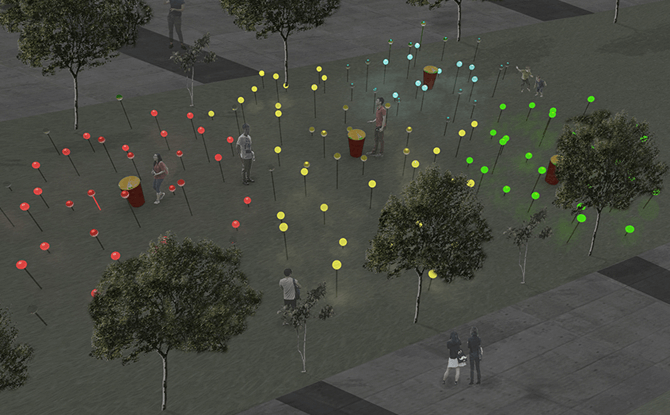 Among the artworks you can look forward to seeing at i Light Marina Bay 2018 include The Butterfly Effect by The Caterpillars. Created by a team of 18 from Singapore, The Butterfly Effect is a take on the relationship between individual responsibility and the ripple effect it has on the collective. The light artwork makes use of drums and a field of lights. When a drum is struck, light propagates through across the rest of the field.
Another example of an interactive artwork at i Light Marina Bay 2018 is MailboX. This installation, which comes from Australia, allows participants to send a tweet to MailboX by tweeting with hashtag #iligthmarinabay. The installation also captures the ambient sound around it and visualises the amplitude of the sound on its facade.
If you want to hear the heartbeat of the city, stop by With Love… by Franck Pelletier. This work of art is a giant, red heart that glows and beats. Its pulse rate is based on light, temperature and atmospheric pressure, providing an interpretation of the pulse of the city.
#3. i Light Marina Bay Is Not Only At Marina Bay
This year marks the first time that i Light Marina Bay's will extend beyond Marina Bay. Be sure to venture from Marina Bay to Esplanade Park where six light art installations will be on display.
#4. Community Involvement
This year has seen greater community participation in the creation of the light sculptures. Three of the 22 light artworks have been fabricated from used bottles and containers contributed by community and corporate partners.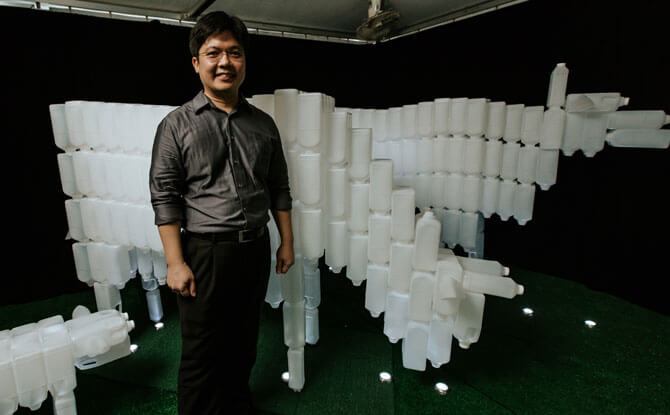 The three artworks are Milk Bottle Cow by Singapore-based artist BP Loh, Chandelier of Spirits by Living Spirits from Thailand and Transistable Plastic by Luzinterruptus from Spain. Transistable Plastic is the largest of the three and makes use of about 20,000 PET bottles to create a walkthrough art installation.
Chandelier of Spirits makes use of cold brew coffee bottles to create an installation that illuminates brighter with more people around. Cold brew coffee bottles were chosen as they symbolise an essential beverage for many of the office workers in Singapore. The cold brew coffee bottles used in Chandelier of Spirits were donated by Chye Seng Huat.
#5. Time for Students to Shine
i Light Marina Bay 2018 will feature six artworks created by students from local institutions. These installations include Urban Rice Fields by Raffles College of Higher Education and Kloud by Nanyang Polytechnic.
Urban Rice Fields is inspired by Singapore's development and features a rice field with a pathway that festival-goers can walk through.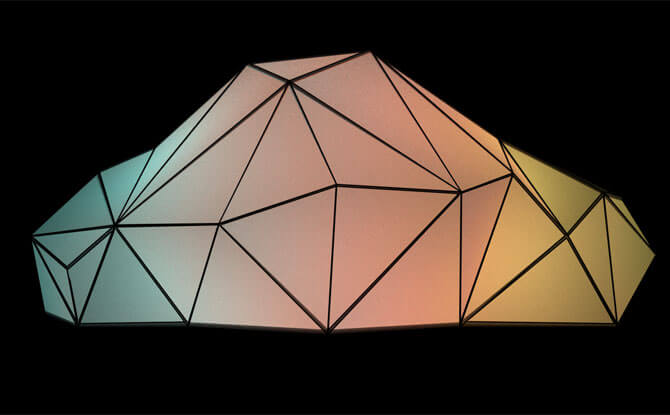 Kloud is a light installation that festival-goers can interact with through touch and an accompanying web app.
Other Singapore institutions represented at the festival include Nanyang Technological University, School of the Arts and LASALLE Colleague of the Arts.
#6. i Light Sustainability
i Light Marina Bay is not just about pretty light sculptures. The festival also encourages the public to adopt environmentally sustainable habits. To help drive home this message, there will be series of talks and workshops that the public can participate in to learn more about sustainability. As part of its efforts, the Switch Off, Turn Up campaign will encourage corporate organisations to turn off non-essential lighting and increase air-conditioning temperatures to conserve energy.
#7. Lights Go Off For Earth Hour on 24 March
i Light Marina Bay 2018 coincides with the Earth Hour initiative on 24 March. In support of Earth Hour, the festival's light art installations will be turned off for an hour in the evening.
#8. ILLUMI Bar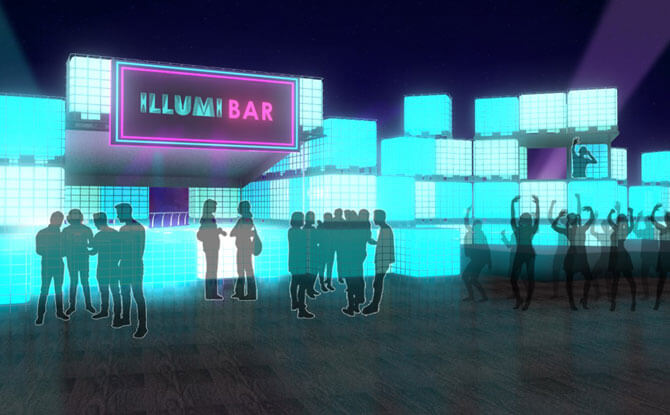 ILLUMI Bar is a new addition to i Light Marina Bay. Located at the Marina Bay Sands Event Plaza. This LED-lit pop-up lifestyle space will have furniture made from reusable plastic tanks and serve as an illuminated space to for festival-goers to lounge around, have some food and watch performances. ILLUMI Bar is one of the festival hubs of i Light Marina Bay 2018.
#9. GastroBeats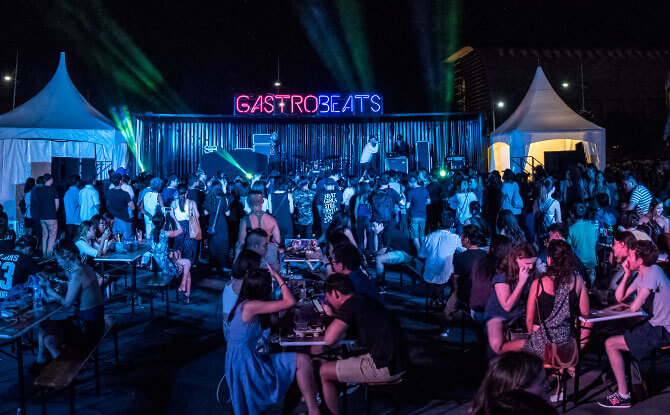 LED-lit hula hoop stations, music, art workshop and, of course, food! That's what you can expect at urban lifestyle park, GastroBeats, another of i Light Marina Bay 2018's festival hubs. GastroBeats will occupy The Promontory at Marina Bay and be open from 4 pm to 11 pm during festival days. It will also be the site for the ILLUMI FEST RUN on 31 March.
#10. Art-Zoo Inflatable Park @ i Light Marina Bay 2018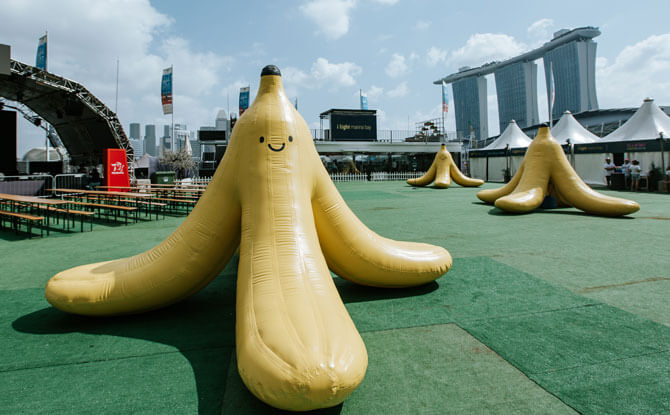 Art-Zoo Inflatable Park returns to The Float at Marina Bay from 9 March to 1 April. Expect a bouncy time with new inflatable and colourful creatures at the bouncy park. Art-Zoo Inflatable Park is a ticketed event.
Lighting the Way
Mr Jason Chen, Festival Director and Director (Place Management) of URA, said: "i Light Marina Bay has grown to become one of Singapore's signature events, gathering people from all walks of life and bringing greater vibrancy to the precinct. This year, we are involving the community further by inviting them to co-create i Light Marina Bay 2018 with us – be it through the creation of artworks, or supporting the festival by presenting sustainability-themed activities."
The different light art installations at i Light Marina Bay 2018 was curated by a panel comprising professionals and practitioners from the arts, architecture and urban planning. On the panel were Ms Chou Mei, Group Director (Conservation & Urban Design), Urban Redevelopment Authority of Singapore, Mr Daan Roosegaarde, artist and Founder of Studio Roosegaarde, Ms Honor Harger, Executive Director of ArtScience Museum, Ms Peggy Leong, Deputy Director of Arts and Youth at the National Arts Council, Mr Peter Sim, architect and Director of FARM and Mr Stephen Gough, lighting designer and Director of Project Lighting Design (PLD).
i Light Marina Bay 2018
When: 9 March to 1 April 2018
Where: Marina Bay and Esplanade Park