It's said that out of all our senses, smell is the one that most triggers emotions and memories. (It's something to do with the layout of our brain and how the nose is wired to it, but we don't need to go into that here.)
That is why the best – and easiest – way to create a certain ambience or set a mood isn't to go on a decorating spree but to infuse the right kind of aromas. The scent of pine needles, fir wood and smoke, for instance, immediately calls up images of snowy winter forests and cosy fireplaces. Food-ish scents like sweet apple, cinnamon and cookie dough, on the other hand, will have you dreaming of yuletide sweets and family bake-outs.
---
Home Scents for Christmas
So with Christmas round the corner and as the time of the year for cosy gatherings with family and friends approaches, we've curated some marvellous scented candles that will inject a big dose of festive cheer into your home. Some look so good they even double as décor.
Prepare for a serious case of warm fuzzies and holiday bliss.
Gourmand
Clara Hill Collection Baked Apple & Cinnamon, $63.18
Key notes: baked apple, cinnamon, nutmeg, caramelised sugar, vanilla
Burn time: 50 hours
Made with: pure soy wax and essential oils
Home Lights Luxury Scented Candle in Rosewood Macaron, $92.26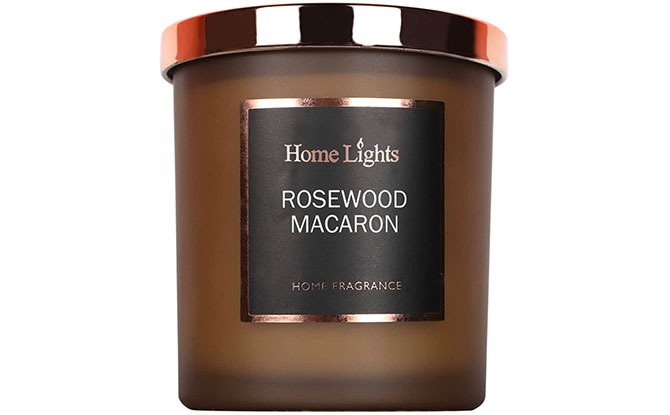 Key notes: lemon peel, strawberry, peach, rosewater, violet, caramel, toasted tonka, rosewood, amber, vanilla, musk
Burn time: 35 hours
Made with: 100% soy wax
Gratitute's Soy Candles, 2 for $45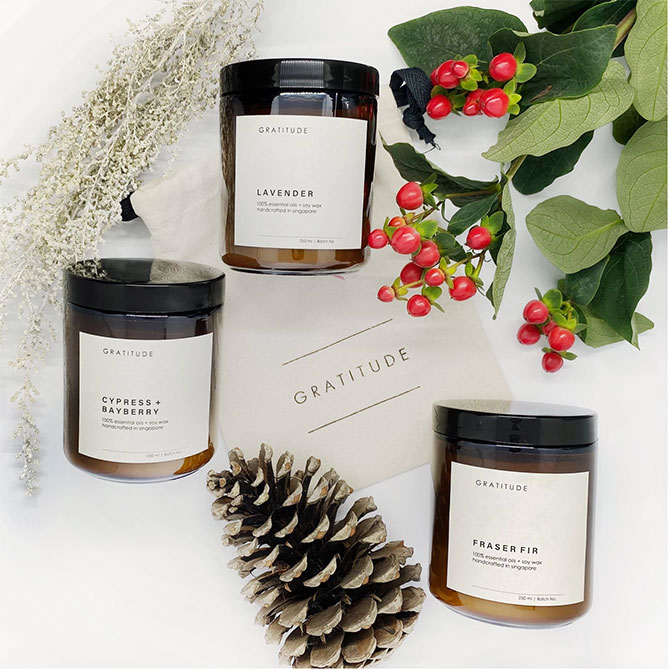 Local brand Gratitude has introduced eco-friendly soy candles just in time for Christmas gifting. Handcrafted n Singapore, the candles burn cleanly. You can choose to buy gift sets of 3 candles in Lavender, Cypress & Bayberry and Fraser Fir or choose to purchase them separately.
All candles come with cotton bags with complimentary gift cards added upon request.
Key notes: Lavender, Cypress & Bayberry, Fraser Fir
Made with 100% Soy wax, plant-based natural essential oils, 100% cotton lead-free wicks
Yankee Candle Large 2-Wick Tumbler Candle in Red Apple Wreath, $52.36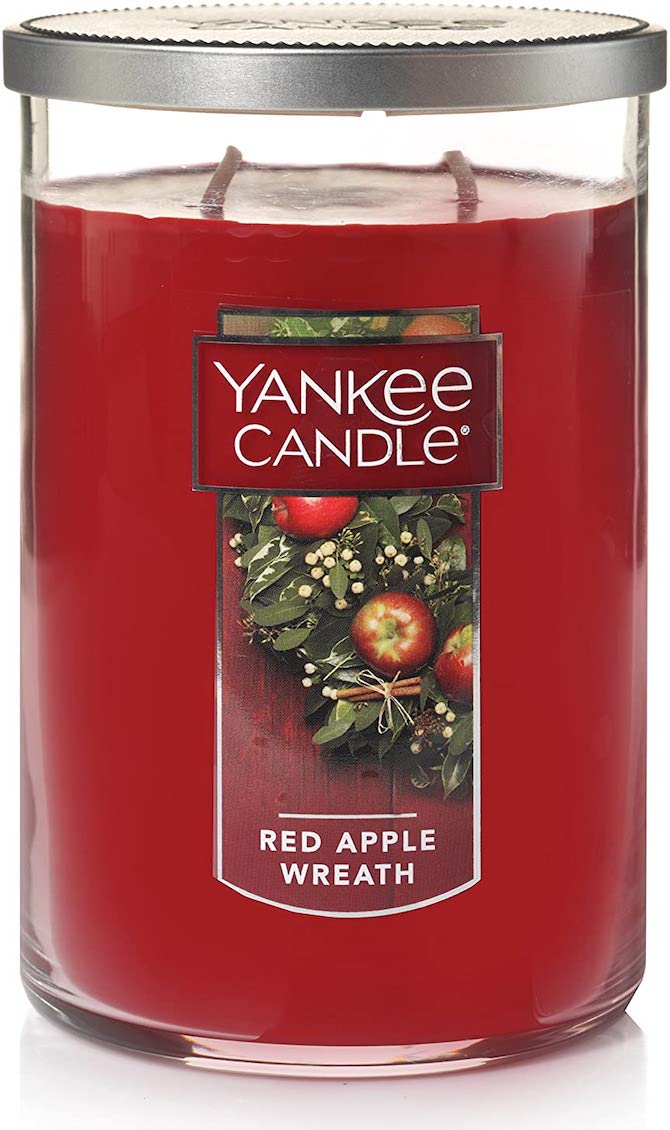 Key notes: sweet apples, cinnamon, walnuts, maple
Burn time: 75-110 hours
Made with: mineral wax, natural extracts, fragrance oils, 100% natural fibre wick
To Be Calm Peace Luxury Large Soy Candle, $80
Key notes: fir, blackcurrant, nutmeg
Burn time: 80 hours
Made with: natural soy and coconut wax, fragrance and essential oils, all-natural cotton wick
---
Fresh & Green
Thymes Frasier Fir Aromatic Candle, $73.75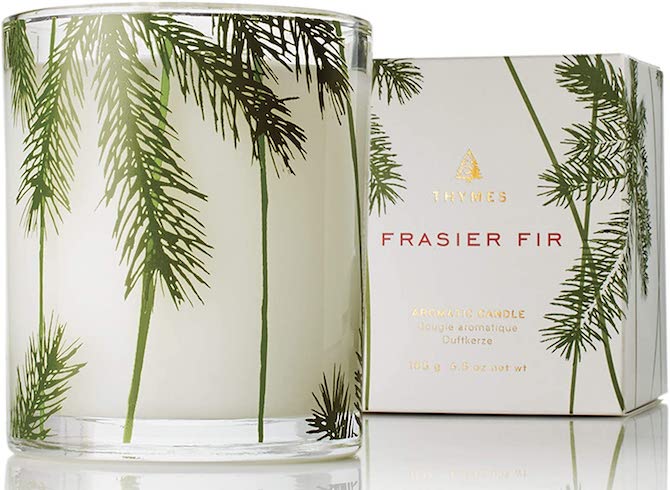 Key notes: Siberian fir needles, cedarwood, sandalwood
Burn time: 50 hours
Made with: food-grade paraffin wax, non-metal wicks
La Jolie Muse Balsam Fir & Cedarwood Scented Candle, $76.60
Key notes: cedarwood, balsam fir, pepper patchouli
Burn time: 90 hours
Made with: 100% natural soy wax, wooden wick
Yankee Candle Large 2-Wick Tumbler Candle in Sparkling Snow, $39.03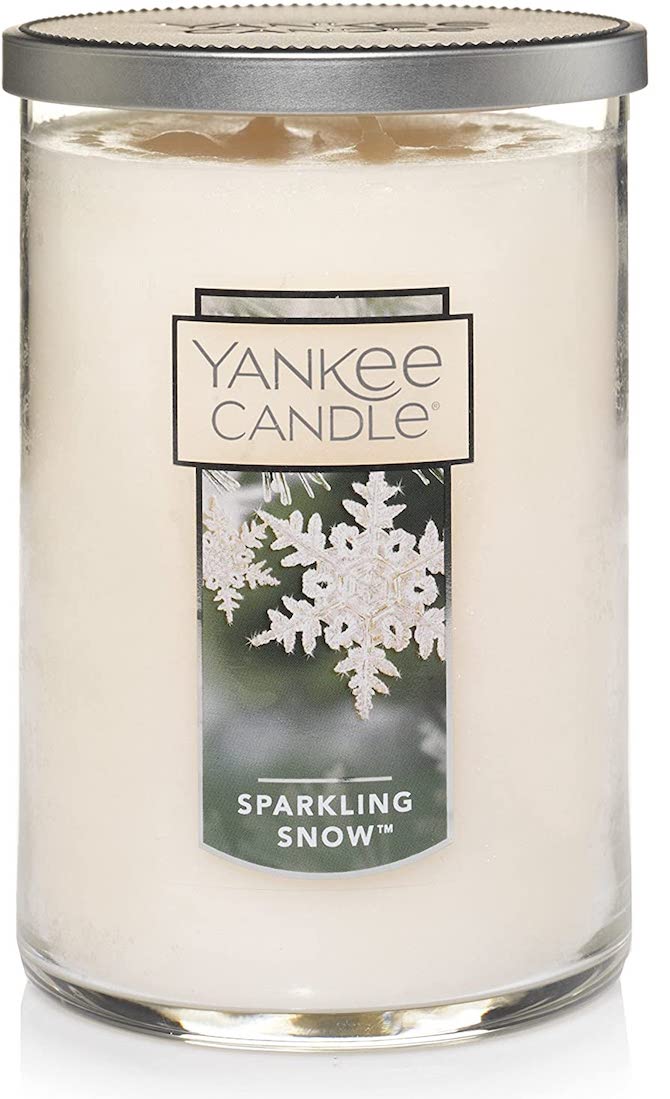 Key notes: snowy pines, patchouli, fruit
Burn time: 75-110 hours
Made with: mineral wax, natural extracts, fragrance oils, 100% natural fibre wick
Artisan of Sense Winter Wonderland Glass Dome Soy Candle, $70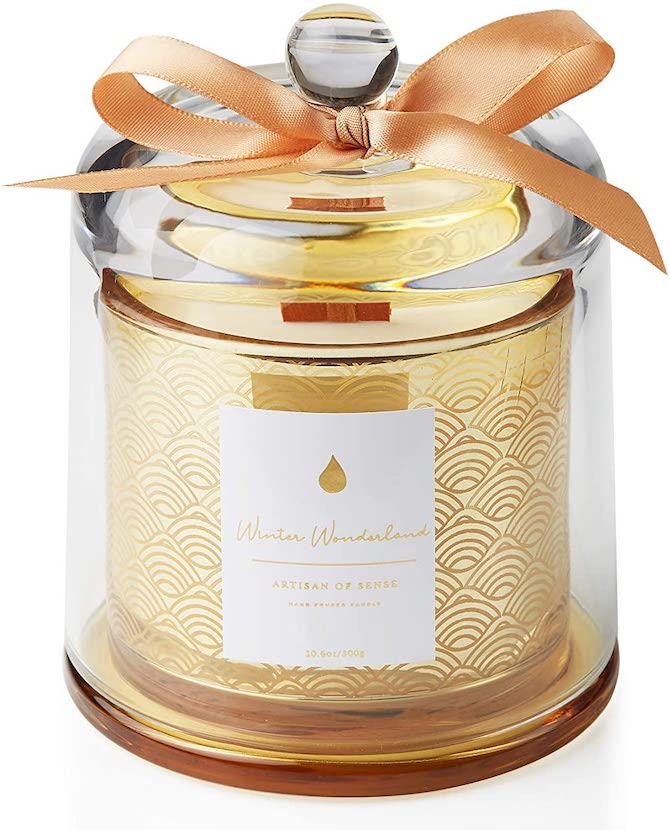 Key notes: pine, spruce, fir
Burn time: 65+ hours
Made with: eco-friendly soy wax, 100% pure essential oils, wooden wick
---
Warm & Woody
Chesapeake Bay Candle in Spiced Myrrh, $27.12

Key notes: grapefruit, mandarin, bergamot, nutmeg, clove, ginger, myrrh, white amber
Burn time: 70 hours
Made with: natural soy wax blend, natural essential oils self-trimming wick
WoodWick Aura Charcoal & Amber Scented Candle in Amber, $54.27
Key notes: vanilla, smoked woods, amber, sweet raspberry
Made with: wooden wick with Pluswick technology which creates a soothing crackling sound, 100% recyclable materials
Manly Indulgence Black Sandalwood Scented Jar Candle, $27.13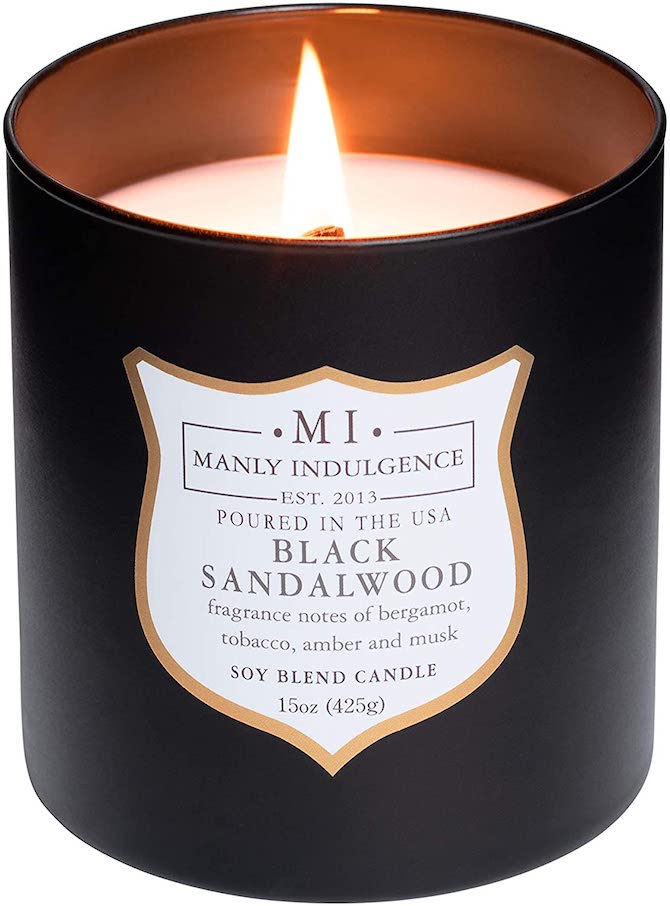 Key notes: tobacco leaf, bergamot, sandalwood, amber, patchouli, oak moss, leather
Burn time: 60 hours
Made with: soy wax blend, wooden wick
Illume Holiday Large Tin in Woodfire, $25.70
Key notes: cedarwood, smoke accords, patchouli, vanilla
Burn time: 60+ hours
Made with: soy wax blend, essential oils and synthetic fragrances, metal-free wick
---
Assortment Sets
Old Factory Scented Candles Winter Wonderland, $39.30
The scents: hot cocoa; roasted nuts; fresh pine and mint
Burn time: 25-30 hours each
Made with: all-natural soy wax, self-trimming cotton wicks, fragrance oils, lead-free materials
Wax & Oils Holiday Kitchen Soy Aromatherapy Candles, $27.01
The scents: ginger, nutmeg, anise seeds, fennel, sugar, vanilla; eucalyptus, pine needles, wood and earth accords; cinnamon, cream, nutmeg, rum
Made with: biodegradable soy wax, pure cotton wicks, 100% recyclable packaging
Our Own Candle Company 4 Pack Christmas Assortment Mini Mason Jar Candles, $47.46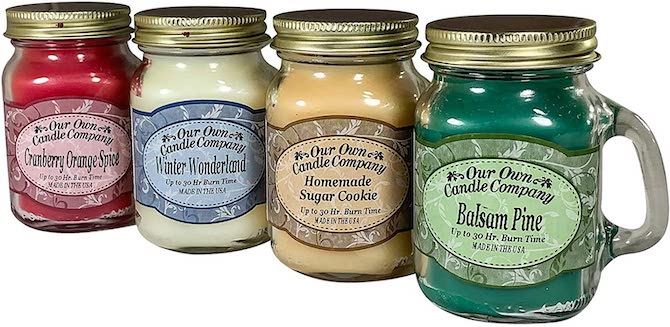 The scents: balsam pine; cranberry orange spice; sugar cookie; winter wonderland
Burn time: up to 30 hours each
Made with: paraffin and soy wax blend, lead-free wicks
*Prices correct at time of publishing.
This story contains affiliate links. This means we earn a small fee if you purchase something through a link from our website. There is no additional cost to you and goes towards supporting Little Day Out's efforts to deliver the best news and reporting for families.