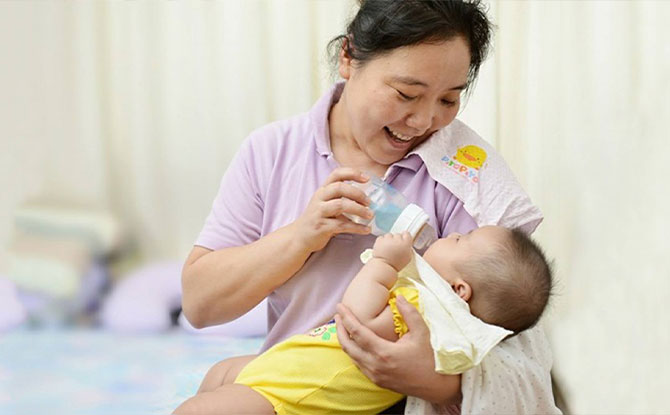 Confinement nannies are a popular option for the care of newborns and post-partum mums. Their duties include cooking nourishing meals, feeding of the newborn, preparing the baths and ensuring the baby has needs met in the night so mums can rest and recover. The confinement period in Asian tradition is a critical period for recuperation post-pregnancy. Personally, I have had confinement nannies and have found their services very helpful. 
There are two ways to engage a Confinement Nanny, through an agency or word-of-mouth recommendations. The agency handles all paperwork and also can offer choices of nanny or replacements should you need one. 
Tips for Selecting a Confinement Nanny
Find a Confinement Nanny aligned with your values and beliefs
Some nannies can have differing opinions about milk, sleep patterns and so on. It is best to find one you can communicate with well, and one who believes the same philosophy of raising a baby. For instance, if you prefer to breastfeed the baby without any formula milk, make that clear that no formula milk should be fed to the baby without your permission. These days, breastfeeding is a lot more prevalent and preferred compared to the past. 
2. Communicate your expectations clearly
Expectations such as choice of milk – breast or formula, types of meals preferred, expected duties of the nanny, sleeping arrangements should all be raised before engaging a nanny to reduce potential areas of conflict. After all, both mother and nanny will be strangers living together temporarily. Adapting to life with two new beings in the home can take some adjustment. Write all expectations down so that they are stated clearly with no misunderstanding nor miscommunications. 
3. Decide on the key decision-maker
There should be a person making the main decisions – be it mother or father of baby, with advice from the confinement nanny. Third parties such as grandparents or well-meaning aunts may give conflicting and confusing instructions to the nanny. Based on personal experience, it is best to let the confinement nanny handle the food and soups if she has the expertise to do so without more "cooks spoiling the broth". 
Here's a list of 13 agencies to enquire at if you are searching for Confinement Nanny. 
Confinement Nanny Agencies
Super Nanny Services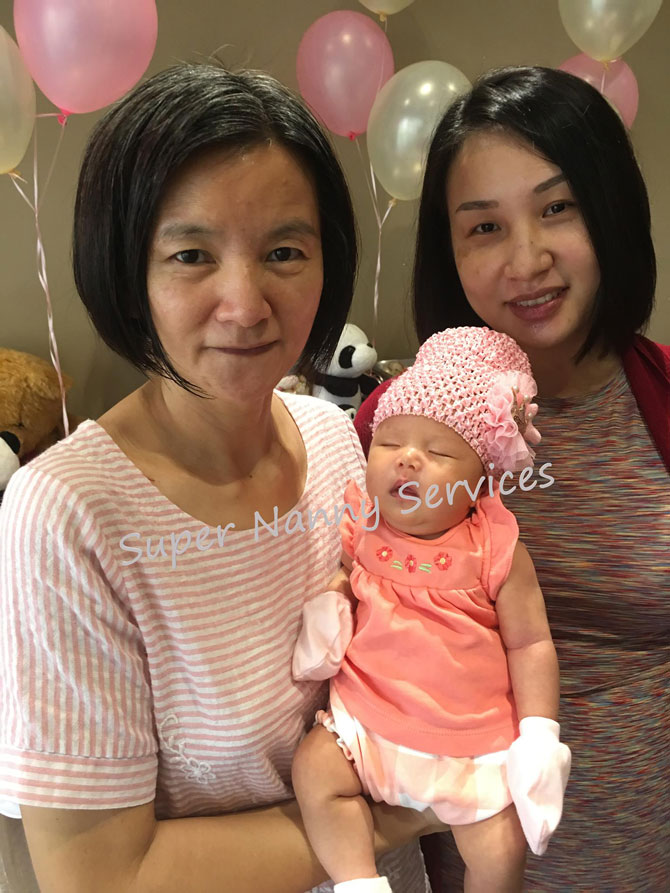 Super Nanny's confinement nannies, like most agencies, are local or Malaysia. It also has Malay Muslim confinement nannies, as well as a Japanese translator for Japanese families. All the nannies are above 50 and have at least three to five years of caring for newborns.   
Send your enquiry here. 
PEM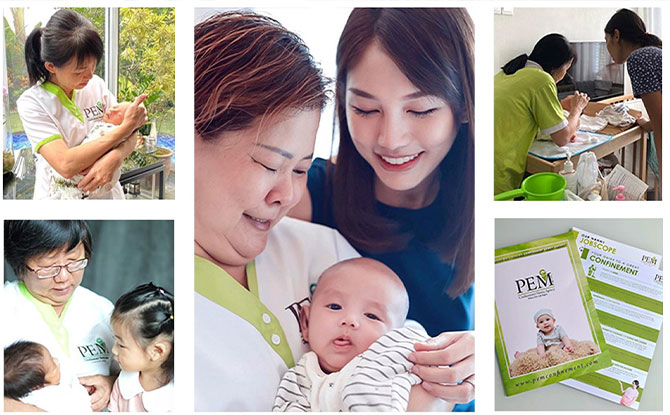 PEM has a pool of around 300 dedicated nannies to serve clients. It is one of the largest Confinement Nanny agencies in Singapore. It lists a clear scope of the nanny's duties including cooking Confinement herbal tonics, laundry, chores, breastfeeding guidance are part of the scope. 
Ask for a quote here. 
Confinement Nanny SOS
Nanny SOS confinement agency has a team of pro-breastfeeding nannies who cater to the needs of locals and expats. Apart from confinement nanny services, Confinement Nanny SOS also provides babysitting services for families and babies, day nanny and part-time babysitters. 
Nanny SOS, click here. 
Confinement Angels
This agency has a confinement nanny training syllabus in baby care, baby hygiene and baby safety SOPs that all its nannies are well-versed in. Confinement Angels applies this syllabus in an 88-hour in-house training centre with a stringent audit at the end of the course. 
More on Confinement Angel's services and rates here. 
STAR Confinement Nanny
STAR Confinement Nanny has a team of nannies selected based on good working records and reference checks. It believes in customer feedback and assures parents of providing nannies with good attitudes and track records.
Find out more here. 
Thomson Medical – Thomson Baby Confinement Nanny Service
Thomson Medical also offers Confinement Nanny services, with nannies trained by Parentcraft specialists. There are also options to hire Stay-in and Stay-out nannies for either 14 days or 28 days. There are also nighttime nannies who can care for the baby from 9 pm to 8 am. 
More details here. 
Homey Confinement
Homey is another agency that supplies stay-out confinement nannies. It also sends agents to the homes of clients for a free consultation, a 12-hour hotline and takes charge of sending nannies right to your doorstep. 
Find out more here. 
Newlife Confinement Services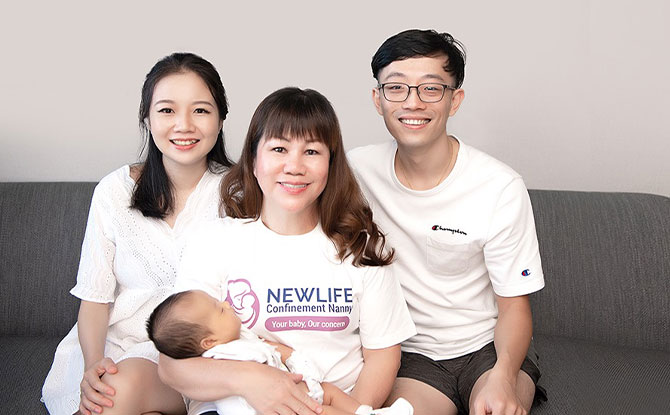 If you are looking for something more than just a Confinement Nanny, Newlife includes a Stay-in Confinement Apartment package for new mums. Apart from mum-care and newborn care, Newlife also includes TCM Physician consultations and treatments to help with recovery. 
See Newlife's services here.
Baby's Whisperer
Baby's Whisperer also provides professionally trained nannies, trained by Thomson Medical Centre plus services like maternity and baby photoshoot, dessert table and event planning. Its suite of services are perfect for busy mums who prefer leaving the first month celebrations to professionals. 
More details here. 
Caregiver Asia
Whether it's a confinement nanny, babysitters or caregivers you are searching for, you can use the services of Caregiver Asia. View profiles on the site, and book available timeslots directly for short-term babysitting. 
Check out Caregiver Asia here. 
JIA Employment Services
JIA Employment Services has provided confinement nanny services for more than 15 years. It has stringent checks on confinement nannies with screening in baby care, cooking skills, confinement food knowledge and hygiene habits. 
Get in touch here. 
Gladys Care 1987
The founder of Gladys Care – Gladys is a certified lactation consultant and provides lactation services, Javanese post-natal massage, infant massage and other treatments. Her team of Confinement Nannies can meet live-in or live-out requirements as well as serve as babysitters. 
Find out more here. 
TSM Maid & Confinement Nanny Agency
TSM Nanny agency provides confinement care with flexible packages of 14 or 28 days as well as options for day-care nannies. Pre-natal and post-natal confinement herbal packages and confinement consultancy can also be arranged. In addition, the company supplies foreign domestic workers to families. 
Check out the testimonials and send in your enquiry here. 
Get Help in your search for a Reliable Confinement Nanny
The benefit of using an agency when searching for a confinement nanny is the hassle-free process, free replacement, training processes and other add-on services. Remember to communicate your expectations right at the start and engage someone you can trust so that the confinement will be less stressful and a period of restoration of health. All the best!