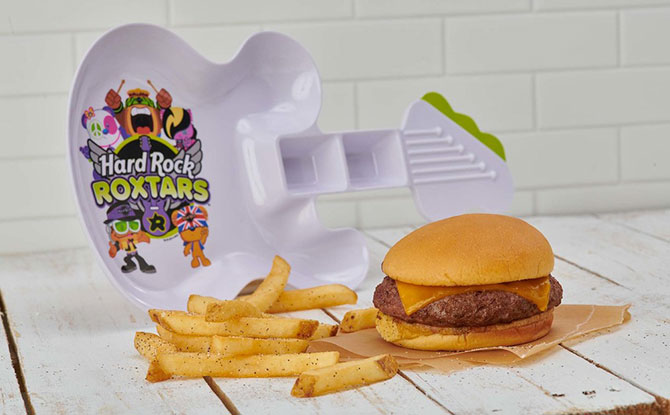 Pamper little rockstars this September holiday with a delicious meal at Hard Rock Cafe Singapore for free! Hard Rock Cafe Singapore's "Kids Eat for Free" promotion lets children aged 12 years and below enjoy a complimentary Kids Meal with every purchase of an adult main course ordered from the regular A-La-Carte Menu at Hard Rock Cafe Singapore.
---
Hard Rock Café's Kids Eat Free Promotion
Hard Rock Café's Kids Eat Free promotion is available for all weekends (Saturday and Sunday) from 12 pm to 5 pm and during the September school holidays from 6th to 10th September from 3 pm onwards. It's yet another great reason to visit Hard Rock Café!
---
Hard Rock Café's Kids Eat Free Menu
Some highlights of dishes on Hard Rock Cafe Singapore Kids Menu that kids can look forward to enjoying include a Buddy's Bangin' Burger With Cheese, which is a kids version of the famous Hard Rock Cafe burger, some of Razzi's Redonkulous Chicken Tenders, The Mac-Daddy Mac & Cheese or Skiddely's Not-So-Diddly Chicken Breast which comes with grilled chicken breast.
---
-- Story continues below --
Other options include Twisted 'N Tasty Cavatappi Pasta, which is twisted cavatappi pasta topped with marinara sauce and served with broccoli or a Kid's Salad Chillin' With Chicken which consists of Mixed greens with diced chicken, Monterey jack and cheddar cheese. It is served with carrot sticks.
To read more about Hard Rock Café's Kids Eat Free promotion, click the link here. You can also make reservations at the link here.