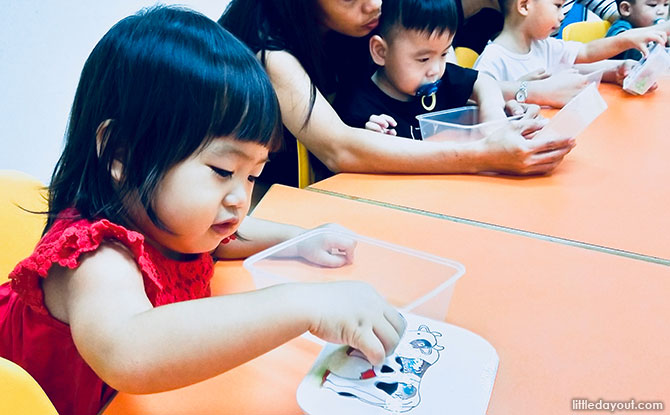 A former educator, I consider myself to be fairly open when it comes to "teaching" my child. I don't believe in hothousing at this early age – I mean, she's only 22 months old – but I also don't think I should simply leave it to her, or genetics for that matter.
So, what do we do as parents? We expose them to different experiences as much as possible and, short of taking them to a different country every other month, we sign them up for various activities and programmes.
When I heard about whole brain activation language classes at Happy Train, I was intrigued, and decided a trial class was in order. An English Language teacher once upon a time, I was personally interested to learn how Happy Train would "teach" a toddler languages.
Happy Train: Brain Stimulation in a Bilingual Environment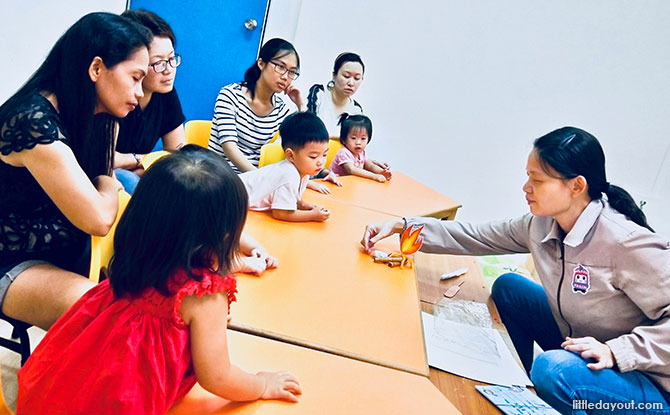 ---
-- Story continues below --
Happy Train is a development programme for babies, toddlers, and pre-schoolers which is conducted in English and Mandarin to create a bilingual environment from an early age. It is designed to develop a child's memory skills, and abilities in numeracy and literacy.
Each class at Happy Train only has a maximum of 6 children. A low student-to-teacher ratio ensures that each child gets the attention that he or she needs from the teacher.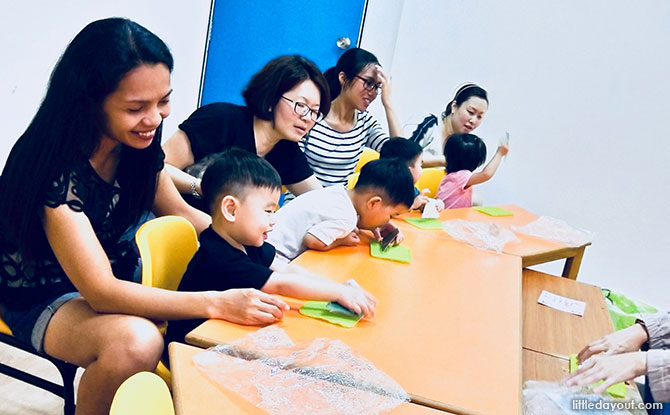 Happy Train believes that children need the support of their parents or caregivers throughout the learning process which is why classes are parent-accompanied. This also gives parents the opportunity to observe their child's learning style and more importantly, to allow for quality parent-child bonding time.
Classroom Activities that Engage the Child
On the week when we attended the trial class, the lesson was being conducted in Mandarin. The teacher started the lesson with a quick "Hello" song and from thereon, the pace of class was rapid-fire to say the least.
The lesson was packed to the brim with activities that lasted between five to ten minutes – pretty much the standard length of a toddler's attention span!
Every activity was preceded by an introduction or explanation by the teacher; the children would then get busy, with some assistance from their caregiver. The classroom activities focus largely on developing a child's fine motor skills and include exercises such as using a marker pen to trace out numbers.
Stories, Songs, and Images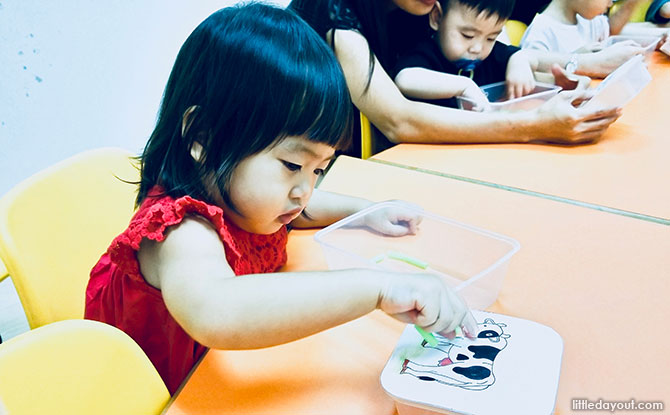 Of course, it's important to capture and hold a young child's attention. I liked that our activities were accompanied by stories – in our case, one was about feeding a cow by first cutting a long straw of grain into little pieces, then pushing the straw stalks through a little hole (and to the cow).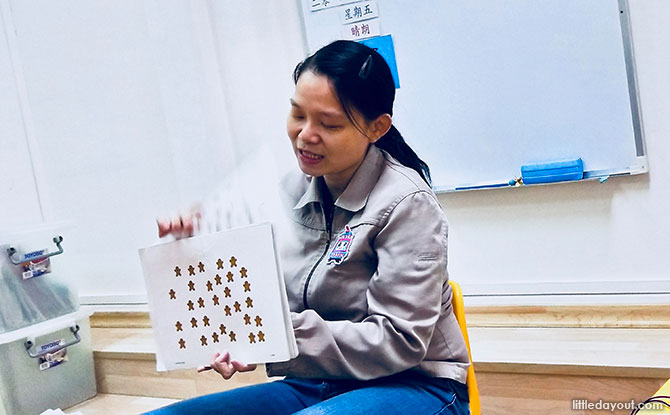 What was particularly interesting was the use of flashcards in class.
As I later found out, the reason the children are shown a whole bunch of flashcards – at least 200 in one segment – at less than one second per card is for purposes of whole brain activation. The speed at which the flashcards are shown will stimulate the child's left and right brains, thus optimising whole brain function.
Together with the use of song and vivid images, my daughter was captivated needless to say.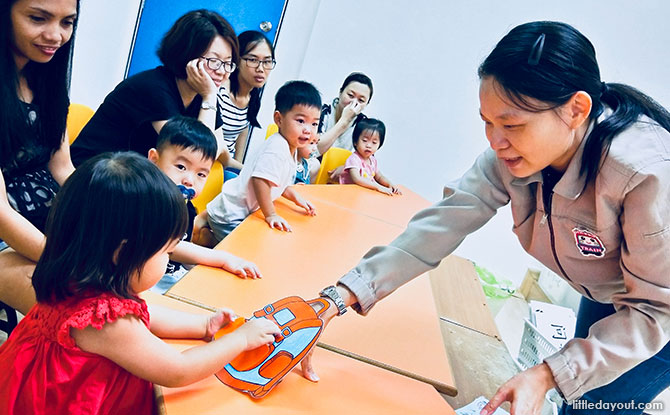 The 60-minute lesson ended in the blink of an eye, but not before the teacher collected the previous week's "homework", and proceeded to dole out the takeaways from that day's class. It was a highly-stimulating class that my daughter thoroughly enjoyed which made it easy for us to decide on returning for more!
Find Out More About Happy Train's Programmes
Happy Train has two centres, one centrally located in Bugis and another in Tampines. To find out about Happy Train's classes or to arrange a trial class, call 63365080 or email enquiry@happytrain.com.sg.
You can visit also Happy Train's website here.
Happy Train – Whole Brain Development
Happy Train Centre (Bugis) – 87 Beach Road, Chye Sing Building, #06-02, Singapore 189695
Happy Train Centre (Tampines) – CPF Tampines Building, 1 Tampines Central 5
#03-14, Singapore 529508
This feature is brought to you by Happy Train.