An 18m-long double-headed serpent and a 4.5 metre tall reproduction of the Mayan's Chichén Itzá pyramid are among the highlights of Hanging Gardens – Mexican Roots at Gardens by the Bay.
This latest floral display at the Flower Dome, which will run till 25 September 2022, provides a glimpse into some rarely seen aspects of Mexican culture. It is a collaboration with the Embassy of Mexico in Singapore and supported by Bloomberg.
---
Food Plants and Ancient Civilisations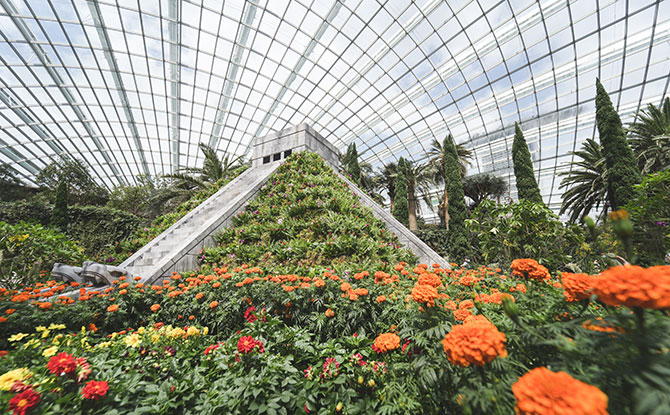 Amongst the displays are food plants native to Mexico including tomatoes, chillies and corn.
These can be found amongst reproductions of icons of Mesoamerican civilisations, the indigenous cultures that existed before the arrival of the Spanish.
---
-- Story continues below --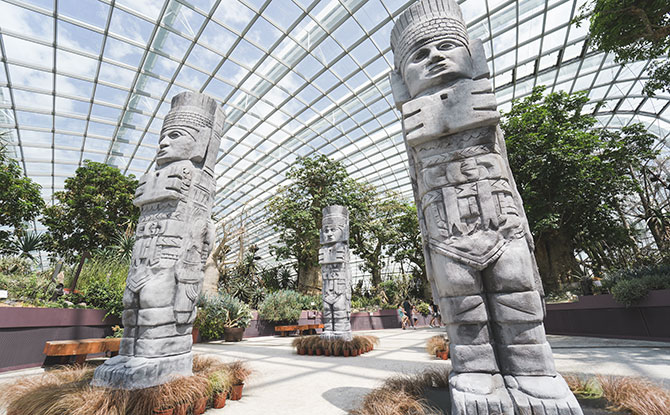 Look out for reproductions like a colossal Olmec head, the giants of the Temple of the Morning Star, the head of Quetzalcóatl, the feathered serpent god of the Teotihuacan civilisation and Chac Mool, or a sculpture of a reclining male balancing a bowl on his belly, which is associated with the Mayans.
---
Activities at Hanging Gardens – Mexican Roots at Gardens By The Bay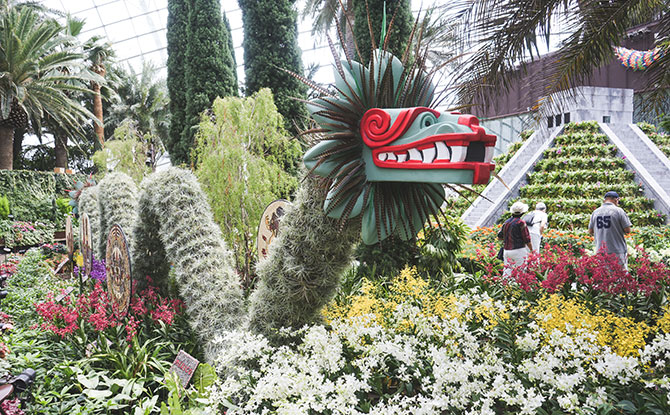 Other activities taking place as part of Hanging Gardens – Mexican Roots include a Mexican film festival, culinary demonstrations by Latin chefs, as well as Mexican cultural performances at Gardens by the Bay. There will also be craft activities held in collaboration with the Mexican Association in Singapore.
The Ambassador of Mexico to Singapore, His Excellency Agustin García-López Loaeza said, "The botanical and cultural exhibition Hanging Gardens – Mexican Roots is an enormous cooperation effort between Gardens by the Bay and the Embassy of Mexico, and the Mexican community led by La Jacaranda, coordinated extraordinarily by Mrs Lidia Riveros, showcasing Mexican cultural and botanical heritage and long-standing historical and cultural linkages among our countries and regions. Prime Minister Lee Hsien Loong's official visit to Mexico in 2019 gave a major boost to bilateral relations on all fronts, especially in the economic, educational, scientific and cultural fields. The exhibition showcases keystone elements of Mexican culture, tracing back to our roots in the ancient Mesoamerican world, one of the six cradle civilisations in humanity's history. The legacy of the Mesoamerican world not only entails their magnificent architecture and cities, art, languages, scientific and astronomic advances, among others, but also their great agricultural knowledge, and techniques and products, which the entire world continues to benefit from in the present."
Admission charges to the Flower Dome apply. Get the latest details of culture programmes and activities here.