It is the Olympic season and, while Tokyo may only be a dream for most of us, Google has brought the thrill of competition to a screen near you with Champion Island, a 16-bit game.
---
Interactive Google Doodle for the Olympics Tokyo 2020
The Google Doodle Champion Island Games has popped up on the search engine's main page, enticing players to join a team and face off in an island adventure with sports like table tennis, climbing and running.
Entry into the Doodle Champion Island Games will bring you through a cut-scene that looks like it has been ripped right out of an anime sequence. You will get to meet some of the cast of characters on Champion Island. The cutscene animations and characters for Doodle Champion Island Games were created by Tokyo, Japan-based animation studio, STUDIO4°C.
The game play of Google Doodle Champion Island Games makes use of the arrow keys to navigate through the 16-bit world which exudes retro vibes.
You play as a ninja cat named Lucky who explores the world, making its way from one sporting event to another. You can join either the Blue, Red, Yellow or Green teams and contribute towards the a real-time global leaderboard.
---
Google Doodle Champion Island Games Face-off
There are seven mini-games which have been built into Doodle Champion Island Games. These are table tennis, skateboarding, archery, rugby artistic swimming, climbing and the marathon.
Get ready for a test of coordination and timing, and a test of how much time you have to spare, whiling away the time in front of screen while WFH.
It is like playing old school Pokemon while pretending to be working. ("I'm googling something")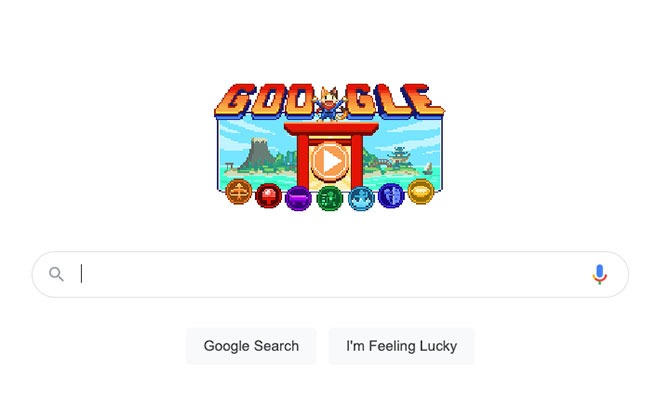 If you have been itching to feel the Olympic spirit, perhaps it is hidden in plain sight on your computer desktop.
Check out a behind the scenes of Champion Island in the video above.