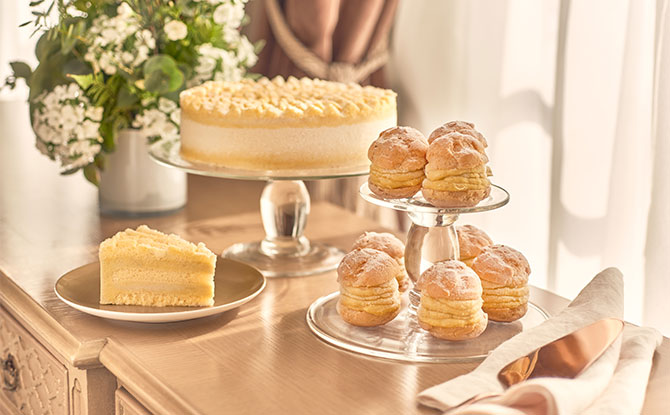 Goodwood Park Hotel is celebrating the 40th year of its annual Durian Fiesta which started off with the introduction of the Durian Mousse Cake in 1983 and Durian Puffs in 1984. The annual Goodwood Park Hotel Durian Fiesta is back this year from 6 March to 6 August 2023 with more durian-themed pastries and desserts.
Goodwood Park Hotel Durian Fiesta
For the Durian Fiesta 2023 at Goodwood Park Hotel, the Hotel's pastry chefs will feature both well-loved favourite and new creations made with quality D24 and Mao Shan Wang varieties.
Among the new unique durian creations are D24 Pandan Coconut Gula Melaka Cake, D24 White Chocolate Raspberry Enchantment and D24 Pineapple-Lime Zest Dome awaits.
Time-honoured 'Mao Shan Wang' Signatures.
---
-- Story continues below --
D24 Pandan Coconut Gula Melaka Cake
This is an elevated version of the popular Durian Pandan & Coconut Cake which the hotel launched in 2005.
The new D24 Pandan Coconut Gula Melaka Cake will feature coconut mousse and decadent D24 mousse sandwiched between layers of pillowy-soft pandan sponge that uses pandan leaves to achieve its vibrant green hue and aromatic flavour.
The cake is covered in desiccated coconut cooked with pandan leaves in gula melaka to add texture and depth in flavour. It will be available at $20 nett per slice or $120 nett for 1.2 kg cake.
D24 White Chocolate Raspberry Enchantment
The D24 White Chocolate Raspberry Enchantment boasts a pleasant tanginess from the raspberry jelly paired impeccably with the luscious D24 mousse, enveloped in a velvety white chocolate mousse with a touch of liquor. It also looks as enchanting as it sounds.
Mao Shan Wang Indulgences
Durian lovers can also look forward to Goodwood Park Hotel's signature Mao Shan Wang indulgences – the Mao Shan Wang Power Puff and Mao Shan Wang Mousse Cake. These will only be available for a limited period from 1 May to 6 August 2023.
40th Anniversary Flash Deals
In addition, in line with the 40th anniversary of the Durian Fiesta, Goodwood Park Hotel will be unveiling progressively a total of 40 attractive flash deals during this period to celebrate the delicious milestone. More details will be released on Goodwood Park Hotel's Instagram page.