The first-ever Civic District Outdoor Festival takes place this weekend, 4 to 5 August, and next weekend, 11 to 12 August, from 5 pm till midnight. See Singapore's Civic District and its buildings in new light as a multimedia extravaganza and festivities takes over the heritage district for two weekends.
When Time Stood Still
While most people say time flies when you are having fun, the organisers of the Civic District Outdoor Festival are attempting the opposite with the creative theme "When Time Stood Still".
Drawing inspiration from the theme is the largest outdoor multimedia projection circuit ever set up in Singapore. Taking place across National Gallery Singapore, The Arts House, Asian Civilisations Museum, Victoria Theatre and Victoria Concert Hall, Hemera's Dream is a whimsical projection trail that turns heritage buildings into tableaux.
The story goes that Hemera and her brother are in charge of keeping the Cosmic Clock running so that the Eternal City stays awake. However, after a heavy feast, they end up falling asleep and the Cosmic Clock stops. Follow Hemera on an adventure around the buildings as she attempts to save the day.
The projection mapping trail is inspired by Spanish artist Francisco Goya's 1799 etching "The sleep of reason produces monsters".
Food, Song & Bunnies (Huh?)
If walking around the Civic District works up your appetite, head over to St Andrew's Road where you can join in Hemera's Feast, the Civic District Outdoor Festival's Food Street. Tuck into delicious treats from &Sons, Courtyard Cafe, Kerbside Gourmet and others.
Once you've picked up your nosh, head over to the Padang and lay back to savour your food while being surrounded by the magnificent city skyline and projection images on the building facades.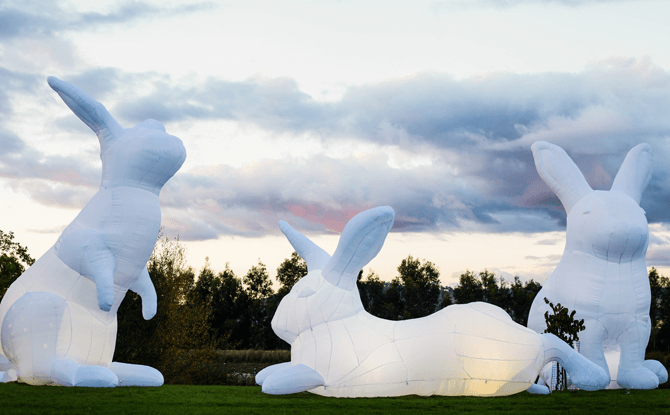 In case you need company, Australian artist Amanda Parer's bunnies will be at the Padang too. This light art installation showcases sculptures of feral creatures frozen in time.
Local musicians will be present from 6 pm onwards to entertain the crowds. Look out for performances from artists likes Inch Chua, Jack & Rai and Micapella (who did a great job with their mash up that showed the evolution of National Days from 1963 to 2017).
If you are looking for something to do this weekend and next, perhaps it is time to visit the historic heart of Singapore and the Civic District Outdoor Festival.
Civic District Outdoor Festival
Date: 4 to 5, 11 to 12 August
Time: 5 pm to Midnight
Venue: Civic District