The Garden Community Park in Tampines is a small community park that provides a welcome break from the surrounding buildings. There are various benches and rest points in the area that resident can gather to relax. There is a large overhead bridge that spans across most of the Garden Community Park. From here, visitor can get a different view of the park and surrounding greenery.
---
Playgrounds at Garden Community Park
The small playground offers kids a chance to have some fun without having to travel too far. The playground is split into different sections. The playground has a simple central structure with slides and wide stairs that make it easy to climb.
There are different shapes and prints embossed into the blocks on the play structure. There is also a climbing net that kids can use as well as a red open slide. Children can also go under the tower as there are empty spaces below the structure that are suitable for hiding.
Fitness Area at Garden Community Park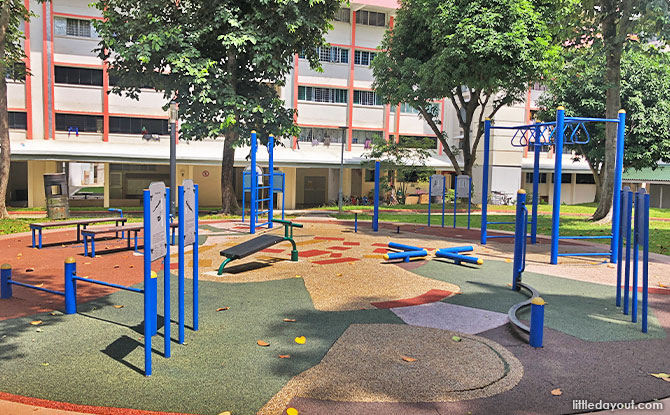 A few minutes walk away is the fitness area. This fitness spot has bars of different levels to do inclined push-ups as well as sit up benches. There is also an incline sit-up bench and a ladder-like structure which is suitable for a variety of exercises.
There are also monkey bars and beams that residents can test their strength, dexterity and balance at.
The last section of the playground has an obstacle course like structure that is similar to the one at Tampines N8. It has metal bar structures with a mini green see-saw and climbing bars that lead from one end of the structure to the other. There is also a ramp that kids can either climb up or slide down from.
---
SuperTree Look-Alikes At Garden Community Park
Standing amidst the various flora and fauna at the Garden Community Park in Tampines is a group of trees that are supported by a wooden structure. The structure reminded us a little of the Super Trees at Gardens By The Bay. All that was needed was an hourly light show.
---
Garden Community Park
The Garden Community Park is located near Block 940 at Tampines Ave 5.