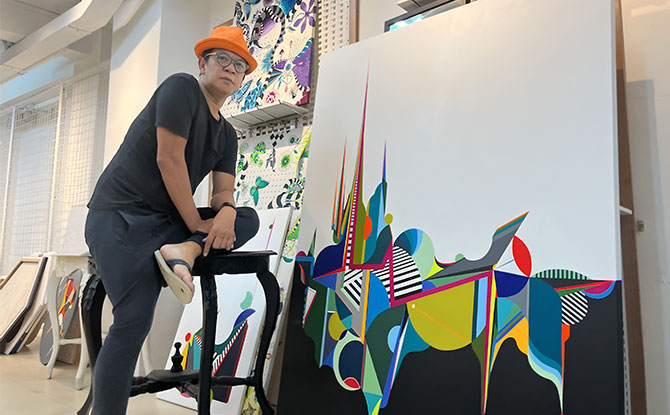 Many will be familiar with the numerous colourful iconic murals at Haji and Bali Lane, but lesser will know the artist behind these works. Singaporean artist Idris Johor, better known by his moniker PrettyFreakyFantasy (PFF), is the talent behind these iconic murals with psychedelic colours used on the iconic chain of F&B outlets. He will be opening his first solo exhibition from now till July 2 at Studio Neon.
---
Freaky Metamorphosis art exhibition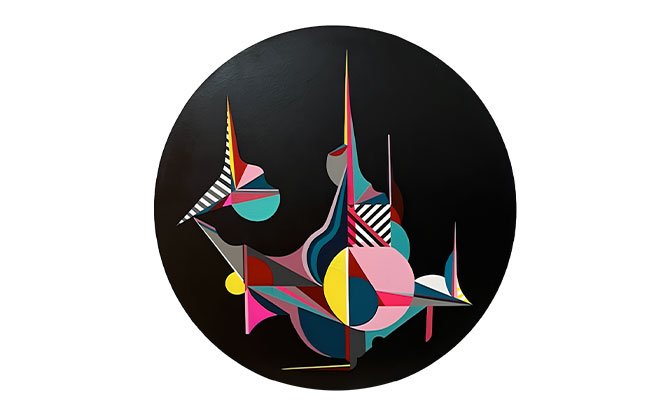 The exhibition titled Freaky Metamorphosis comprises 16 mixed-media acrylic paintings with an abstract geometrical theme. The collection is inspired by the artist's family members, in particular, 16 of his nieces and grand-nieces aged between three and 38 years old. The paintings took at least six months to complete.
He says: "I'm close to all my nieces and they became the point of inspiration for each painting, which is named after them. I expressed their personalities using shapes and colours." This will be the first time that fans of Haji Lane's wall murals can purchase a canvas painting from the artist himself.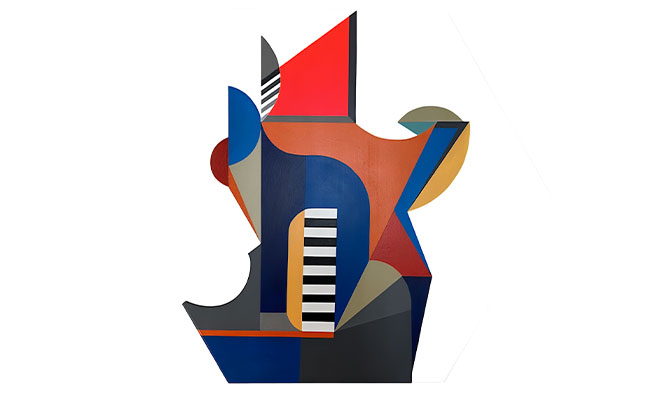 The works of Freaky Metamorphosis is a PFF signature. The Singaporean artist explores the geometrical theme and re-constructs cylindrical, modular forms and linear lines in bold colours. The art uses subtle gradients to achieve depth and vibrancy that yield a 3-D effect for each work. The bright colours are juxtaposed against stark black, white and grey backgrounds. Compositions are framed in 4×4, circular and hexagonal triple-primed linen canvas in various sizes priced from $900.
The Freaky Metamorphosis exhibition will also have PFF's new and quirky collection of intricately-painted recycled bottles, each priced from $25. A firm believer and practitioner of recycling, Idris says: "I picked up the glass bottles from the nearby F&B outlets. I'm always looking for old or unwanted stuff to recycle!"
---
How PFF came to be
Idris shared that the moniker PFF was inspired by how he used to see his mom in printed baju with bright colourful flowers and motifs, and "thought it was freakin' pretty". 'Fantasy' was added because of the surreal elements in his works.
"It was 17 years ago when I found my style – the same time I moved into Bali Lane shophouse to live. A neighbour left a half-body mannequin outside the house with a note saying, 'I know you can do something to it'. It all started from there."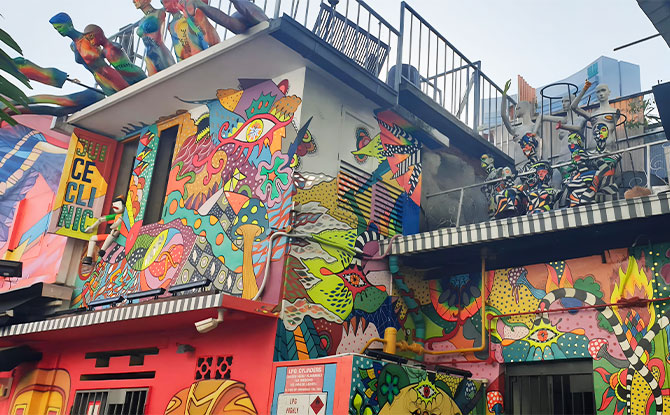 The artist painted his first mural in Bali Lane in 2006 when he was first hired by the Blu Jaz Cafe as an artist to spruce up the interior and exterior of the shophouse outlet. It led to a series of PFF murals that we now see at Bali and Haji Lane.
---
Where to see the Freaky Metamorphosis exhibition
The Freaky Metamorphosis exhibition is located at Studio Neon, 32 Haji Lane from Tuesday to Friday, 12 pm to 8 pm and Saturday, 11 am to 8 pm. It is closed on Sundays and public holidays.