At the corner of the Alexandra Road and Commonwealth Avenue stands the turquoise-coloured Forfar Heights Playground, one of several playgrounds at the housing estate.
---
Former Forfar House
Forfar Heights stands at the site of the former Forfar House, part of the new Queenstown housing estate, the HDB's first satellite housing estate. The 14-storey Forfar House was famous for being Singapore's tallest public residential building when it opened in 1956.
Colloquially, it was known as Chap Si Lau or 14 storeys in Hokkien.
---
-- Story continues below --
The old residential blocks would be dwarfed by the 30 to 40 storey Forfar Heights cluster which has been built in its place.
However, the towering blocks hide a rather cute and small corner playground.
---
Turquoise Forfar Heights Playground
The Forfar Heights playground, which looks out towards the car showrooms at Leng Kee Road, has several unusual looking pieces of play equipment.
There is a low netted structure which looks like a miniature version of the playground found at Jem.
Other play structures which encourage climbing include a little ladder-like structure.
There are also rubber hammocks at the Forfar Heights playground for kids to swing away.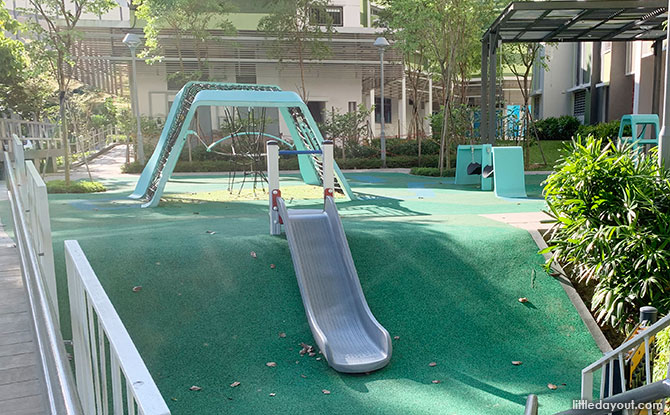 Interestingly, the playground also makes use of a dip in the terrain for its short, grey slide.
This cozy, corner playground is one of several playgrounds at Forfar Heights.
---
Forfar Heights Ship Playground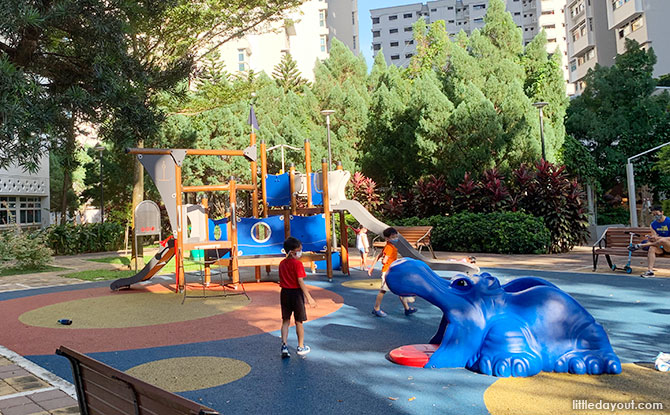 A larger playground with a ship-themed play structure can be found at the centre of series of apartments. There is even a big blue hippo with a gaping mouth at the playground too.
The Forfar Heights playgrounds are just a short distance away, across the street, from the Alice in Wonderland playground at Dawson Vista.