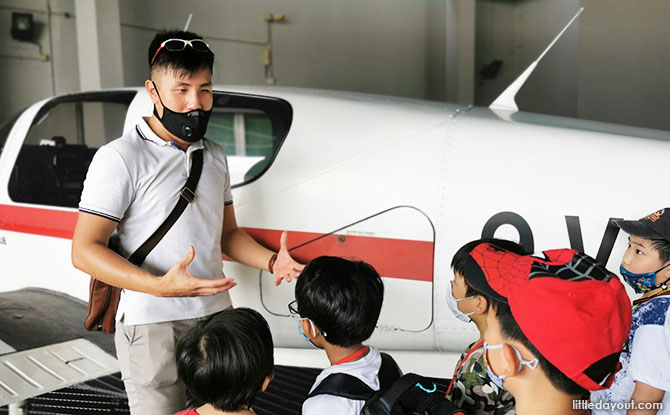 Our recent Fly High Air-venture Camp ended on a high note, and that has left most of us armed with so much more knowledge about aviation and an awe for the aviation folks. We learnt about the science of flying, real-life sharing by pilots and aircraft engineers, visited a hangar and Seletar airport, went on two simulators and even witnessed a fire put out by the Airport Accident and Emergency fleet!
From hands-on learning, seeing real planes, meeting aviation experts of their various fields to flying using simulators and learning control tower commands, our air-venturers had so much fun they did not want their camp to end!
---
Day One: Meeting Pilots, Learning the Science of Flight and Visiting a Hangar
Campers reported bright and early to Wildseed Café at The Summerhouse, headquarters for the first one-and-a-half days of camp.
Wildseed Café is situated at The Oval @ Seletar Aerospace Park. It was once home to Royal Air Force's Tech Wing Commander and the two-storey conservation bungalow was a fitting venue to kick off our Air-venture!
Campers were split into groups, including one named after Amelia Earhart's plane – Lockheed Electra.
Did you know that Amelia Earhart landed in Seletar in 1937 during her round-the-world flight attempt? Other groups were named after British military planes – Supermarine Spitfire, Vickers Vildebeest, Bristol Beaufighters, Gipsy Moth and Fairey Albacore.
First up was learning the job of the pilot, survivor training and learning to build a rubber-powered glider.
---
Frontflight Aviation's Simulator, Survivor Training and Learning Directions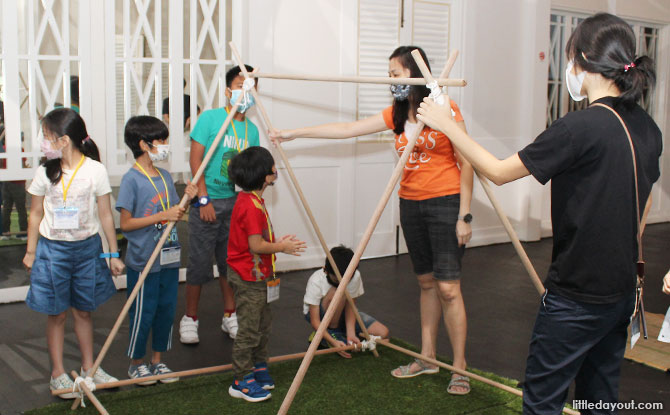 Bryan from Frontflight Aviation showed us the equipment used for emergencies, including a vest packed with plenty of small yet useful equipment.
Campers got to learn how to build an A-frame for shelter, tie cross-stitch knots and signal "Mayday" or "hijack" on the plane controls. Next, they tried a F15 simulator and practised landing the plane, after performing some loops in the air. What an exhilarating experience!
The introduction to the world of aviation was made even more interesting when a lady pilot Ray shared her journey to becoming a pilot.
---
Just Fly It's Science of Flying and Making a Rubber-Powered Glider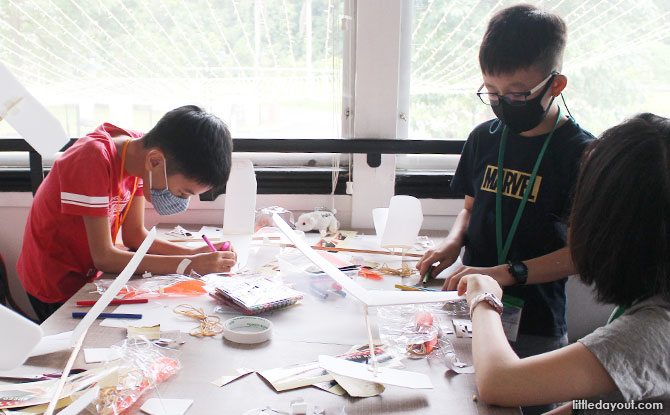 To learn about flying, first we have to learn the science of flight.
Instructor Joyce from Just Fly It took on the task with flying colours. Campers learnt how the plane flies, parts of the plane, and terms like thrust and drag.
Next came the fun bit of building a rubber powered glider! Campers put together a glider with a propeller, powered by rubber bands then took turns to practise flying it. The children were thrilled to see their own creation flying. If you would like to try making your own gliders, check out Just Fly It's site!
---
MAJ Aviation's Hangar and Plane Carousel, Lessons by Aircademy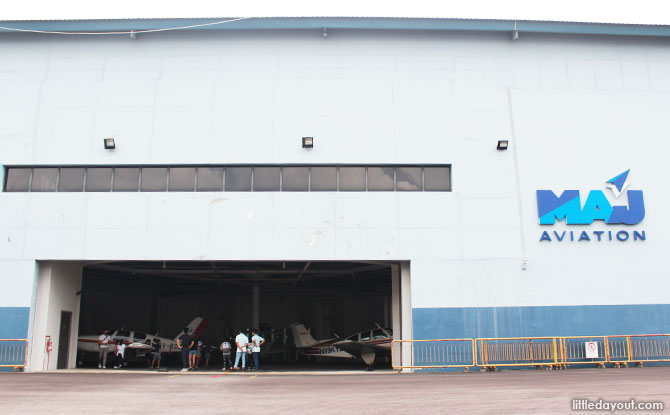 After lunch, we set off to MAJ Aviation, just a stone's throw away.
MAJ Aviation's General Aviation Centre consists of hangars with direct access to the Seletar Airport runway. Campers got to see the world's first double-storey rotating carousel which can display and park aircraft. We saw private jets up close and where aerospace engineers keep their tools and how they overhaul planes.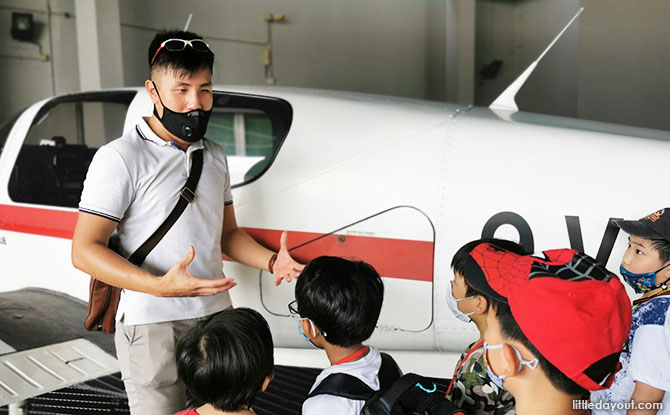 Our friendly hosts, as well as pilots from Aircademy, an aviation enrichment company, also reinforced what was learnt in the morning by pointing out the different parts of the aircraft and sharing more about them.
The MAJ Aviation Aerospace engineers also talked about what led them to become engineers – out of a love for planes and hands-on work. This talk highlighted that there are many other roles behind the scenes in aviation.
The day ended with a visit to The Oval's aeroplane-themed playground where the children went on slides, swings and climbed around the playground, it was a carefree time of fun just as the school holidays should be.
---
Day Two: Birdwatching, Orienteering and a Visit to Seletar Airport
Day two of camp was spent mostly outdoors!
Bird-watching with Birding SG
The best way to see flight in action was to watch wildlife take flight.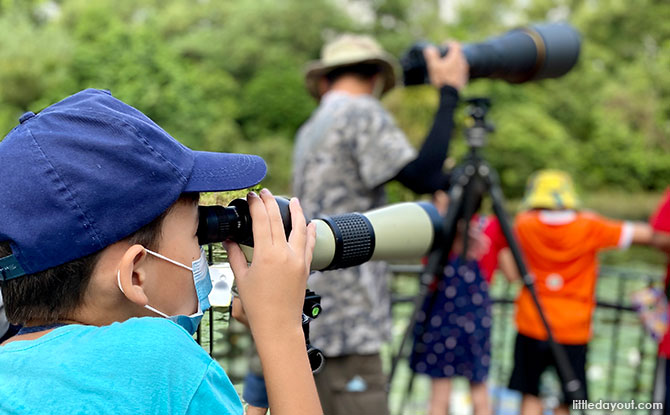 In the morning, it was a quick stroll to Hampstead Wetlands Park for a bird-watching extravaganza. Many serious birders were already waiting to capture shots of the creatures.
Two veteran birders – Lim Kim Seng and Sunny Yeo – greeted us and brought us to observe the fowls of the air. Lim Kim Seng is also an author of 5 books about birds and an avid natural history enthusiast. Did you know that there are over 300 species of birds native to Singapore?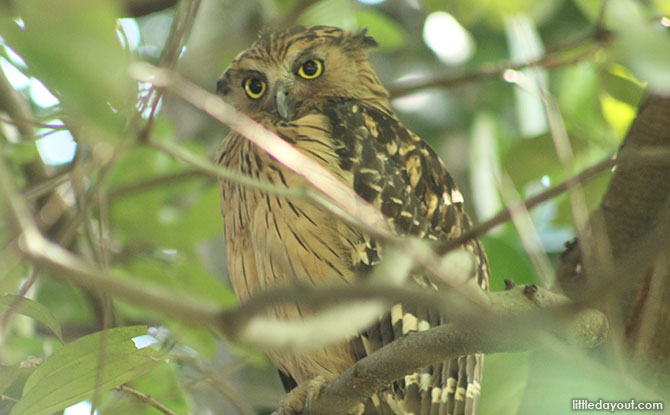 We spotted the Oriental Dollarbird, Blue-tailed Bee Eater, Coppersmith Barbet, Scarlet-backed Flowerpecker, Sunda Pygmy Woodpecker, Yellow-vented Bulbul, Rock Dove, Spotted Dove, White-throated Kingfisher, Buffy Fish Owl, Oriental Pied Hornbill and a White-breasted Water Hen.
---
Orienteering at The Oval @ Seletar Aerospace Park with Orienteering Federation Singapore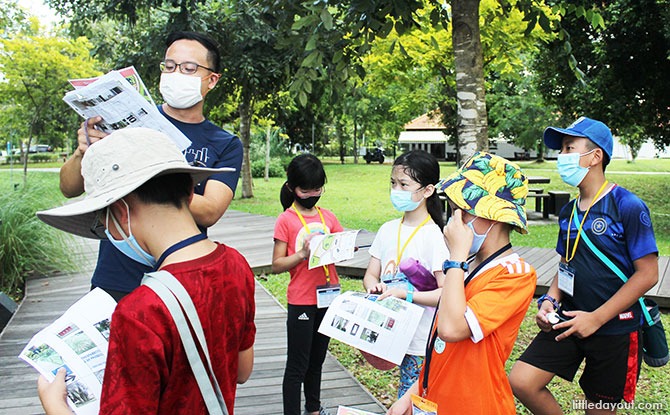 To be successful aviators, having navigational skills is vital. The campers got to practise map-reading skills as they attempted a photo hunt around The Oval with Singapore's Orienteering Federation.
As they navigated their way around, they got to see various parts of Seletar Aerospace Park including some former living quarters of the Royal Air Force base.
---
Aircademy's Science Fair Style of Learning about Aviation
At the second run of our Fly High Air-venture camp, the Aircademy team facilitated a Science Fair with various stations. Teams were pitted against each other to learn about timezones, read maps, gain knowledge about drones, land a drone on a designated spot, identify different parts of an airport and aircraft, fold and fly their own paper planes.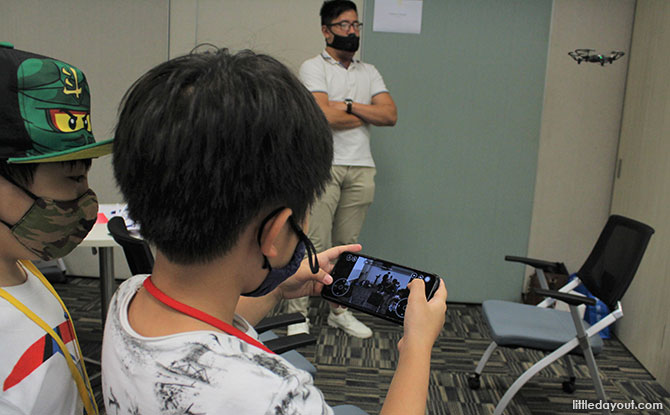 Campers had a great time honing their navigational awareness and expanding their knowledge about flying. The drone station was particularly exciting and challenging! Apart from knowledge, the campers learnt to work together as a team which was a vital skill for any aspiring aviators.
---
Up Close with a Scoot Pilot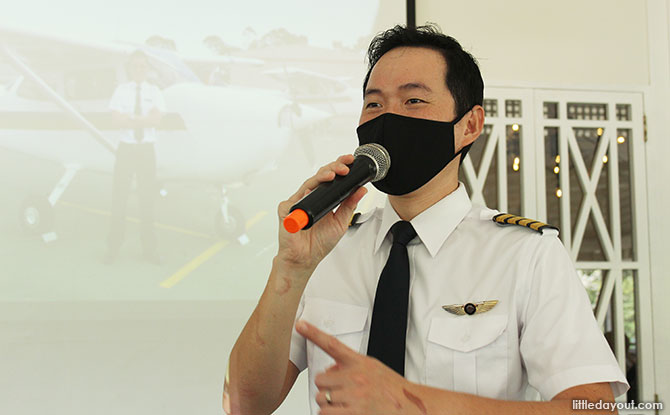 Captain Andrew Tan from Scoot visited the camp and answered some of the questions by curious campers. One camper was so enamoured he asked "is he real?" as he walked into the room in uniform.
He shared about his training experience, anecdotes about flight school and the number of examinations that will need to be taken before one becomes a pilot (The answer is 13!!!).
One key takeaway the children had was to do their best in school and be serious about pursuing knowledge about aviation to get a headstart in the industry.
---
Insider's Tour at Seletar Airport and Plane Emergencies
The highlight of the Fly High Air-venture Camp was definitely the insider's tour at Seletar Airport.
Seletar Airport was built in 1928 as a British Royal Air Force Base. It is also the oldest civil airport in Singapore that is still operating. There have been famous visitors like American aviation pioneer Amelia Earhart.
We were first given a briefing by Seletar Airport staff about the various parts of the airport, jobs at the airport, the Airport Accident and Emergency Services (AES) and the only commercial airline operating out of Seletar Airport – Firefly.
What we saw next was mind-blowing. We were driven to the Aircraft Fire Training Ground located at the north-east corner of the airport where a mock aircraft is used for Aircraft Rescue and Firefighting.
Campers all stood in the training shed and watched firemen start a huge fire.
Seconds later, two huge fire trucks – also known as foam tenders – sped towards the scene with sirens blaring. These trucks had such large tyres the size of an average human being and could hold 12,000 litres of water.
The fire was quickly put out. This rapid action could only be performed by the AES firefighters who can mobilise within 15 seconds. We watched how the firefighters also used hoses to direct the fire at certain spots to snuff out any remnant fires. Dummies were also lifted from the fuselage and carried on stretchers to the temporary casualty station.
We were left in awe by the strength and speed of the firemen who were well-prepared for any runway emergencies.
---
Day Three: Learning more about Flying at Aeroviation Flight School
The final day of camp was at Aeroviation Flight School.
Here, campers identified country flags, airline logos, learnt the ABCs of Air Control Tower commands, tried the VR experience of getting up close to aeroplanes and also a Garmin 1000 Cessna 172 flight simulator.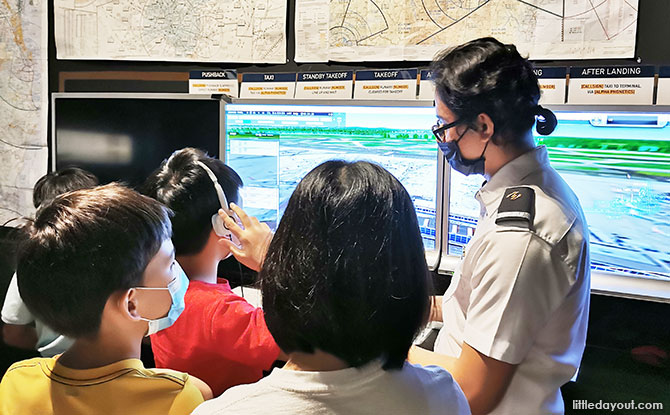 All the instructors facilitating the learning experience were former pilots who had an in-depth understanding of flying.
Campers took the chance to ask to them about their professional experience too. Campers were also able to use the knowledge gained from the previous days and apply them at the various stations in the flight school.
Each camper was given time to explore planes of their choice using VR headsets, try flying the planes on a simulator, give airport control commands and even play aviation-themed games to understand safety protocols.
What an all-rounded experience at Aeroviation! It was a fitting finale to our Fly High Air-venture camp!
---
Fly High Air-venture Camp Video
Watch the highlights of our camp in this short video here!
---
Much Appreciation to Our Fly High Air-venture Partners
Our amazing Air-venture might have ended and we thank our wonderful partners in the air-venture. Before we take to the skies hopefully in the near future, we hope we have ignited the little aviator's dreams in flying.
If you would like to join us for future camps, do indicate your interest here.