Fans of American-style burgers and thick milkshakes who live in northeast of Singapore can now satisfy their cravings at Five Guys NEX. The American chain has opened its second outlet in Singapore at the basement level of the Serangoon shopping mall.
---
Five Guys NEX, Serangoon
Five Guys NEX can be accessed from the exterior of the mall. This branch's indoor dining space is in fact larger than that of its first location at Plaza Singapura.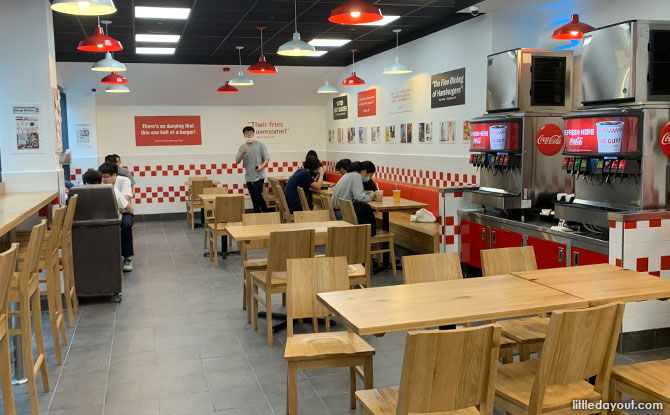 Just like the Plaza Singapura outlet, the Five Guys NEX store has a bright interior with its signature red and white décor.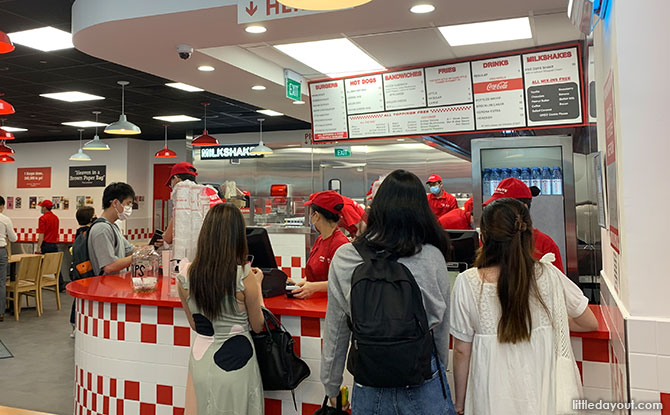 Just like the other Five Guys outlets, you place your order at a counter before it gets set to the kitchen. With an open kitchen, you can watch while you order gets prepared by the team of busy food preppers.
Once the food is ready, they call out your number for collection – one number for milkshakes and one for food.
While it is all very old-school style and we do appreciate their enthusiasm, in this day and age, it does make one wonder if they should forgo the shouting (albeit while wearing a mask) and just resort to a number display instead.
---
250,000 Ways to Order A Burger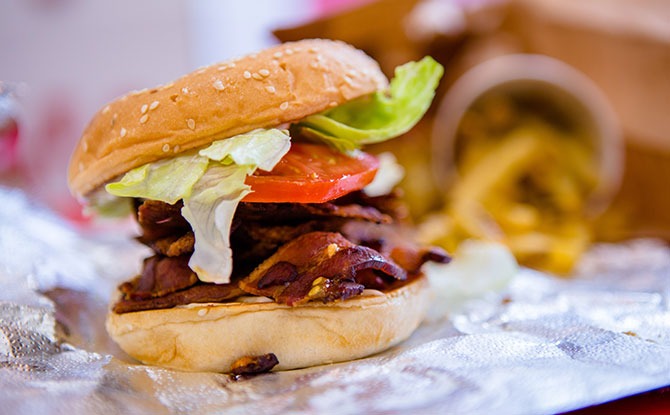 The menu you get at Five Guys NEX is the same as at the other outlet. There are burgers and hotdogs. You can also load up your order with your choice of toppings. Supposedly, there are 250,000 possible combinations. If that is too much to process, just get the "All the Way" combination (Mayo, Lettuce, Pickles, Tomatoes, Ketchup, Mustard, Grilled Onions and Grilled Mushrooms) and customise from there.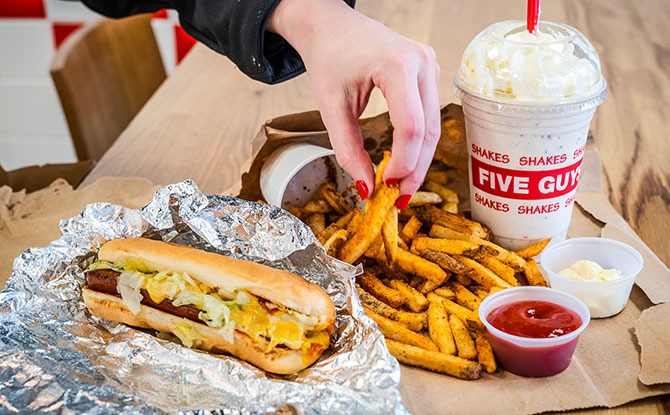 For us personally, the star on the menu is the Five Guys fries – potatoes carefully sourced and fried in peanut oil. It is very hard to resist getting a large serving ($11).
You can also order the milkshakes, which are $10 each. Mix them in with various flavours which include vanilla, coffee, peanut butter and salted caramel. Our guilty favourite is bacon.
One thing that we noticed was missing from our last visit to Five Guys was that there were no free salted peanuts available for people to munch on while waiting. We're not sure if this is because safe management measures, but perhaps it is something that can be introduced eventually.