Still racking your brains about what Father's Day gifts to get for dad? There are plenty of different things that you can get and we've put together a list based on different budgets to help you along.
Here are some ideas for Father's Day gifts for every budget.
---
Father's Day Gifts for a Budget of $0 to $20
You don't need to spend a lot to impress dads. When they say that it is the thought that counts, dads really do live by that motto.
If your budget is low, father's will appreciate it nonetheless. Here are some simple Father's Day gift ideas that the man of the house will appreciate.
---
-- Story continues below --
Father's Day Card
Whether it is bought or handmade (well actually fathers may appreciate handmade ones even more), a Father's Day Card is the quintessential way to say thank you to Dad and to express how much you can.
There is a reason why Father's Day cards are such a classic gift, especially when they come from the heart.
Inside the card, be sure to pen down what Dad means to you and a simple note that simply says "thank you" goes a long way too.
Snacks
Father's Day is a day for dads to indulge. A simple guilty pleasure could just be digging into their favourite sinful snack.
Whether it is crisps, chips or nachos, snacks don't cost a lot but they can be a thoughtful way to tell Dad, "I know you've been trying to stay off the unhealthy stuff but just let lose for a day and enjoy!"
Get something that you think Dad will like or something that he wouldn't normally get for himself. It can be a nice Father's Day gift – and you can even dig in and share it with him.
Drinks
It is a bit of stereotype that Dads like beer. But there is often no smoke without fire.
While a bottle of the finest whisky may not fit within the budget of $20, you can just opt for something simpler like a can of his favourite hi-ball or a bottle of his favourite brew.
Personalise it by adding on a message to it and dad is sure to appreciate the thought.
Condiments or Spices
You can never have too many herbs and spices, right? The spice rack at the supermarket is a smorgasbord of interesting gift ideas. If Dad is into cooking, you can get a variety of spices for him to experiment for his next big cookout.
If he is into spice, how about getting some different types of chilli or chilli oil to tantalise his tastebuds?
Photo Collage
If Dad is like most people, he probably has a bunch of photos living on his phone.
Turn digital images into something tangible by getting the digital pictures printed out (what?! you mean that can be done??!!) and then putting them together into a nice collage in a frame that he can keep on his desk.
This is something that he will appreciate, and be able to show off to say that his children did for him. It may take a bit more effort but isn't Dad worth it?
---
Father's Day Gifts for a Budget of $21 to $50
Books or Magazines
If your dad is the sort of person who enjoys reading, there is nothing better than having a physical hard copy book to hold on to.
Head down to the book store and pick up something in a topic that he could enjoy. It could be a book by a personality that he admires or the latest best-selling mystery novel.
If he prefers something that is lighter reading, get a copy of a magazine that he enjoys or something to guide him along with a hobby or skill that he's trying to pick up.
Personalised Cap
When it is too hot or bright outside, nothing is quite as useful as a cap or hat.
With a cap, you can personalise it for Dad. Nothing to over the top like "The World's Greatest Dad" please. If you want it to be useful for Dad to use on a daily basis, maybe personalise it with something more subtle like his initials will do.
Cooking Equipment
You won't believe how many dads secretly think that they are the next Masterchef.
To help him along with his belief, why not get him a creative cookbook that he can use to try out new recipes or a hi tech thermometer so that he can make sure the steaks are grilled to perfection.
There is so much kitchen gadgetry available nowadays that you are sure to be able to find something that he doesn't have in his secret arsenal of cooking (maybe he does need that apple corer / potato french fry maker after all).
Power Bank
Want to get something practical and functional for dad? In this day and age where electronic devices are rampant, power banks are an essential accessory.
Get one for dad and he will no longer have an excuse to say that the battery on his phone ran out.
Wine Sleeve
Wine sleeves are designed to keep your bottles of wine insulated and at the desired temperature when being brought about. They are great if you are planning a picnic with a tipple or an outdoor event.
Wine sleeves make great Father's Day gifts for Dads who love their wine and will help them transport the precious bottles around easily and get them to their destinations at the right temperature.
---
Father's Day Gifts for a Budget of $51 to $100
Coffee Pots or Kettles
For coffee-drinking Dads, how about an elegant coffee pot or gooseneck kettle for him to get his caffeine every day?
The gooseneck coffee pot has a long, narrow spout with a curved, swan-like neck, resembling the shape of a gooseneck. For coffee enthusiasts, it is a manual way to brew coffee where they can control the water flow to achieve the perfect brew.
Another nice gift for coffee-loving Dads is a moka pot. This is a traditional Italian coffee brewing, stovetop expresso maker. It produces a strong concentrated coffee with a rich flavour and aroma.
Multi-tools
Swiss Army Knives, leather working tools and even some wearable tools. Dads will feel especially handy with a cool multi-tool.
After all, who doesn't love to have a pair of scissors, nail file, corkscrew, can opener, mini saw and mini screw driver handy at all times?
You never know when you are stuck outside and have to open up a can of baked beans, right?
These multi-tools can range from tens of dollars in price up to hundreds of dollars for those with a mega-range of implements.
To make it even more meaningful, have Dad's name engraved on the multi-tool for a personalise touch.
---
Father's Day Gifts for a Budget of $100 to Infinity
LEGO Technic Set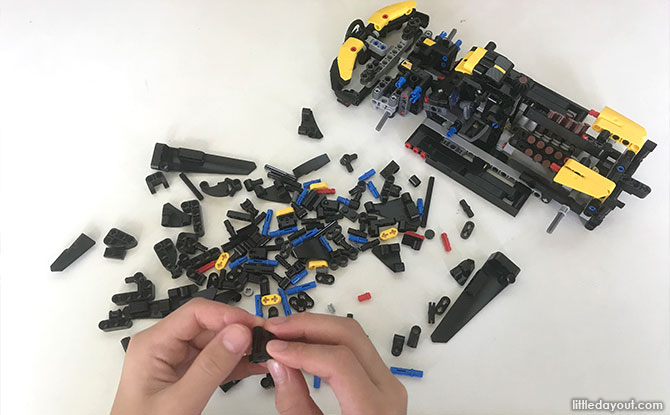 LEGO Technic takes the usual LEGO building sets and amps it up for the older age group, which Dads happily fall into! If Dad loves fiddling around with things, they will enjoy assembling the specialised pieces and many gears, axles and pulleys found in LEGO Technic sets.
They can spend hours building up models of real-life vehicles that have mechanical functionality including working steering systems and gearboxes. It is great fun for adult fans of LEGO.
If you are interested in LEGO Technic as a gift, read our review of the LEGO Technic Bugatti Bolide.
Monitor Screen Bar Light
Does Dad work late into the night? Help to protect his eyes by getting a monitor screen bar light to illuminate the screen and his work surface in the evening. There are many sleek designs and with the ability to adjust setting such as brightness and temperature of the light, Dad can choose his favourite settings to work.
These Monitor Screen Bar Lights may not be cheap but they are most definitely useful.
You may be interest to read our review of the BenQ ScreenBar Halo LED Monitor Light.
Bluetooth Speakers
Bring some music into the home with a well-designed bluetooth speaker for Dad to play music on.
Bluetooth speakers make use of Bluetooth technology to connect and stream audio from a smartphone or computer. Since it does not require a cable to create a direct connection, it keeps things neat around the home.
Bluetooth speakers are available plenty of designs, shapes, sizes and wattage nowadays. You can get small ones that are also portable and will probably fit within lower budgets below $100 or you can also choose to get something larger that can become part of the furnishings at home.