Looking for a special Father's Day cake to complete the Father's Day celebrations this year? From classic cakes to custom designs that are sure to bring a smile to dad's face, here are some places to get Father's Day cakes to celebrate all dads and father figures this Father's Day 2021
---
Father's Day Cakes 2021
Bread Talk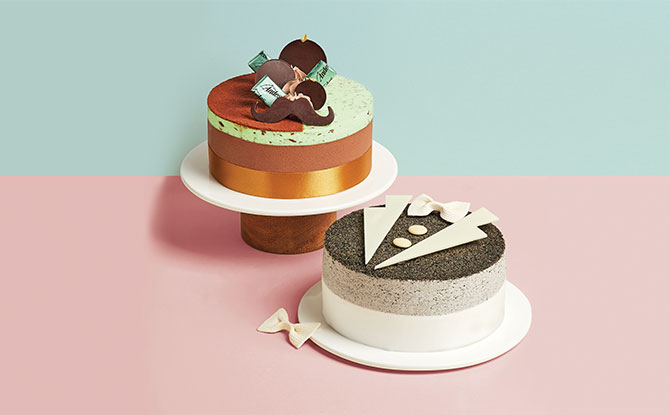 Celebrate Father's Day with one of these dapper Father's Day Cakes from BreadTalk. There are two cake designs available, a Chocolate Papamint cake and a Super Dad cake. Both of these cakes are available at $38.80. These limited-time products are available at all BreadTalk outlets island-wide and online on GrabFood, FoodPanda, Deliveroo, as well as at their online shop from 14 May to 20 June 2021. Read more about the cakes here.
---
River Ash Bakery
River Ash Bakery started in 2018 and they offer pretty customized cakes at affordable prices. This Father's Day 2021, celebrate SuperDad with Rive Ash Bakery's Super Dad cake. This cake is frosted with grey buttercream side choc drip, piping, sprinkles and gold paper and some choc decor. Choose from two flavours: Chocolate fudge or chocolate sea salt. Website
---
Bob The Baker Boy
From minimalist cakes to their popular gravity-defying beer cake, pick from eight delicious cake flavours, including the crowd favourite 55% Belgian Chocolate Cake! There are various designs available for Father's Day including the Lottery cake, Father and Baby Soccer themed cake or Midnight Blue Champagne cake. Website
---
Awfully Chocolate
The Best Papa All Chocolate Cake is a cake for all chocolate-loving dads. With two tiers of delicious dark chocolate fudge between soft moist chocolate cake layers, whether it is with his morning coffee, afternoon tea, or as an after-dinner dessert, this is a chocolate cake that dad is sure to enjoy. The Best Papa All Chocolate Cake also comes with a limited edition gold Best Papa cake topper to mark who this special cake is for. Website
---
Locaba
Looking for a dairy-free, eggless and diabetic friendly father's day cake? The Vegan Matcha White Chocolate Cake from Locaba is an option that you can consider. This light matcha almond sponge is sandwiched between a velvety matcha mousse and topped with Locaba's original housemade vegan white chocolate glaze. This cake is low-carb, has no refined or household sugar, is diabetic-friendly, gluten-free, and keto diet-friendly. Website
---
Janice Wong
A mix of chocolate and coffee goodness, Janice Wong is offering a 900gm limited edition cake to celebrate Father's Day! This cake is made with a biscoff mousse, biscoff crunch, coffee ganache, milk chocolate and a signature marble glaze. Website
---
Ferns N Petals
Celebrate Dad on his special day with Ferns N Petal's variety of Father's Day Cakes. Choose from cream cakes, cheesecakes, and designer cakes in a variety of flavours such as blueberry, vanilla, chocolate, black forest, pineapple and more. Website
---
NOW Bakery
NOW Bakery is offering a limited edition 6 inch father's day cakes in two different designs. Choose from a classy chocolate teapot or a bow tie with two flavours to choose from, chocolate cake with ganache filling and sesame cake with buttercream almond nibs filling. Order the cake by 10 June 2021 to enjoy an early bird discount! Website.
---
Baker's Brew
Enjoy this take on the traditional tiramisu, specially made for peanut butter lovers! Baker's Brew Father's Day special is a homemade sponge cake soaked in coffee syrup, with layers of crushed roasted hazelnuts, chocolate chips, filled with mascarpone cheese and cream, frosted with a light and aromatic peanut buttercream, and topped with a peanut cookie. Website
---
Cuppa Cakes
If you want to switch it up from a Father's Day cake, Cuppa Cakes is offering Father's Day cupcakes in three different designs: a Star Wars-themed one, a superhero one and one that is shaped like a Superman S. See the various designs and choose from flavours such as Bliss Choco, Red Velvet, Milk Choco, Salted Caramel and more. Website.
---
LeLe bakery
LÉLE Bakery is a Singapore bakery that bakes cakes for various occasions. They use a soft and moist sponge for all their cakes which are lower in sugar. If dad is a soccer fan, celebrate his special day with a soccer themed cake that is sure to bring a smile to his face. There are various teams that dads can choose from in different designs. There are also other designs and flavours that you can pick for the Father's Day cake. Website
---
The Cake Shop
The Cake Shop has a variety of cute cake designs for Father's Day cakes in Singapore. The Fresh Cream Designer Cake has a cute tuxedo design and customers can choose from six yummy flavours to full their cake with such as Chocolate, Cookies and Cream, Mixed Fruit and Blackforest. You can also choose if you want the cake to be eggless. Order these or any of the other Father's Day cake 2020 designs at their website.
---
Pine Gardens
This Black Sesame Mochi Cheesecake from Pine Gardens is a great treat for dad to enjoy! This cake has a roasted nutty flavour from the black sesame and paired with a smooth velvety Cheesecake mix. There is also mochi bits added for an extra chewy texture. Website
---
Singapore Marriott Tang Plaza Hotel
Let dad enjoy a decadent Whisky Chocolate Opera Father's Day Cake from Java+ this Father's Day. This treat is stacked with layers of Almond Sponge infused with coffee syrup with Whisky Latte Chantilly. Pick-up, drive-through collection and island-wide delivery available. Website