The Petai trail is one of the most popular trails that skirt around the MacRitchie Reservoir Park. The trail is made up of a series of wooden boardwalks that wind through the rainforest, giving visitors fantastic views of the waters of the reservoir and an opportunity to appreciate the flora that can be found there.
---
MacRitchie Petai Trail Boardwalk
The MacRitchie Petai Trail is one of two trails found on the eastern end of the MacRitchie Reservoir Park. First, you need to walk along the MacRitchie Prunus Trail which then jones up to the Petai Trail. It is a short, easy trail that takes about 20 minutes to walk.
The trail winds its way through the rainforest, and there are several points where you can stop and admire the views. It follows the edge of the water and provides a good view of the kayaking area and of the western end of MacRitchie Reservoir Park.
The Petai Trail does have a fair number of stairs and will lead you up and down the terrain beside the water. While this is suitable for most people, even kids, this is probably not a walk which you would want to take your stroller along for. Instead, get ready to have a bit of jaunt and some light stair climbing too.
The boardwalk is not that wide so do keep an eye on kids if they are tagging along.
---
Along the MacRitchie Petai Trail Boardwalk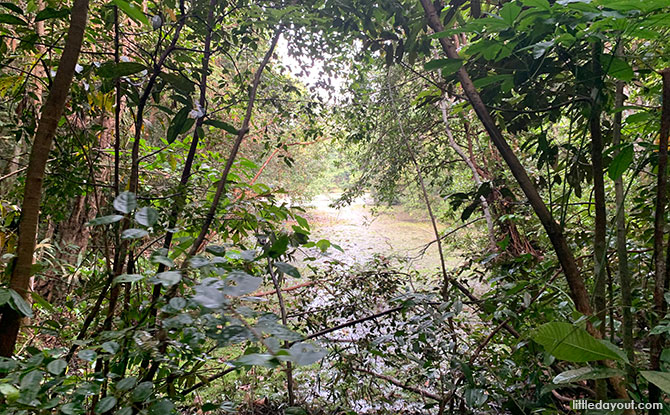 Along the Petai Trail, you might encounter monkeys, birds, and other animals. There are also several small streams that run through the forest, and it's a great place to see butterflies and other insects.
If you're looking for a peaceful place to walk and enjoy nature, the Petai Trail is definitely worth checking out. The boardwalks are well-maintained, and the views are beautiful.
Eventually, the MacRitchie Petai Trail connects to the MacRitchie Nature Trail. This is at around the Thomson Ridge mark where you can choose to cut out towards the Thomson MRT station, continue up towards Venus Drive or return to MacRitchie Reservoir Park.
So why not head over to MacRitchie Reservoir Park and head out to the boardwalks for a little walking adventure.