Located on Downtown East E!hub Level 3,  eXplorerkid @ Downtown East has reopened in April 2016. Boasting the only lit ball pool in Singapore and a mini OBS-style high-element confidence circuit, the 10,000 square feet indoor playground has loads of activities for children from as young as one-year-old up till 12-years-old.
Around the revamped indoor playground are six fun play stations. These are complemented with interactive workshops and programmes, providing a space for kids to explore and have fun.
Sand Play
eXplorerkid @ Downtown East's indoor sand area gives kids a unique tactile experience without the mess. This is no ordinary sand. It is  kinetic sand and feels similar to "wet" sand. Easy to shape and mould, let your kid's imagination and creativity lead the way.
---
-- Story continues below --
Mega Play
For more energetic play, the Mega Play station provides non-stop fun and action. A cosy and self-contained multi-storey play area, young explorers will be able to tackle steep slides and tunnels, obstacles and even a mini zip-line. Get ready to hear lots of shouts of fun.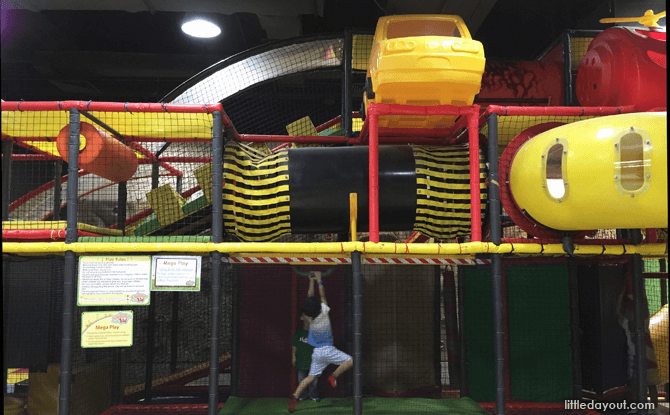 The Cliff
If climbing Mega Play isn't enough, The Cliff beckons aspiring climbers to test their agility, balance and hand-eye coordination. Located to the rear of the playground, this station is suitable for kids aged five and above.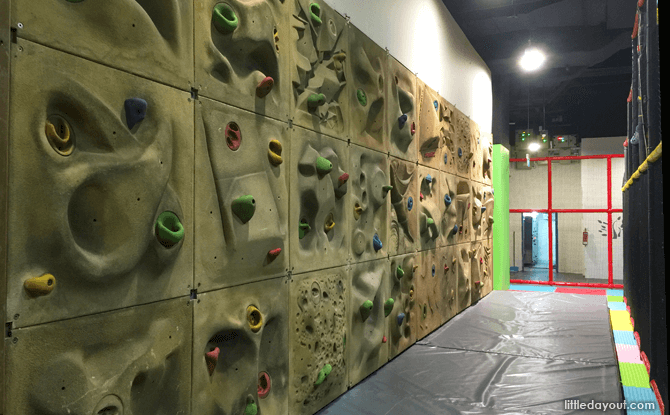 Lit Ball Pool
As the name suggests, this ball pool is illuminated from below with beautiful warm colours. The colours get caught by the pool's transparent balls, providing an ethereal setting for kids to dive into. This eye-catching area is a magnet to children of all ages.
Beside the ball pool are some rock-and-ride toys younger kids can enjoy.
Toddler Play Area
Younger ones can also indulge in another ball pool, tree slide, playhouse and role play areas.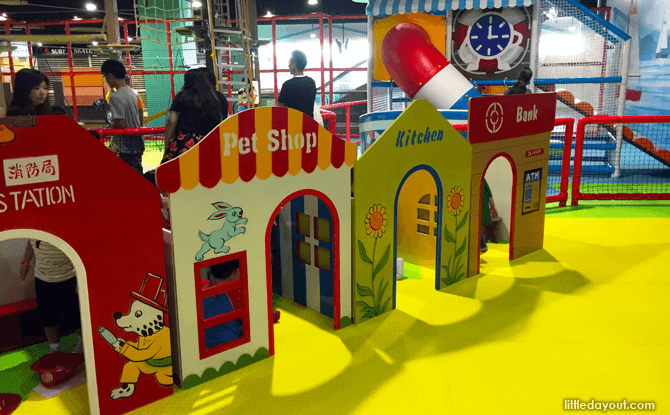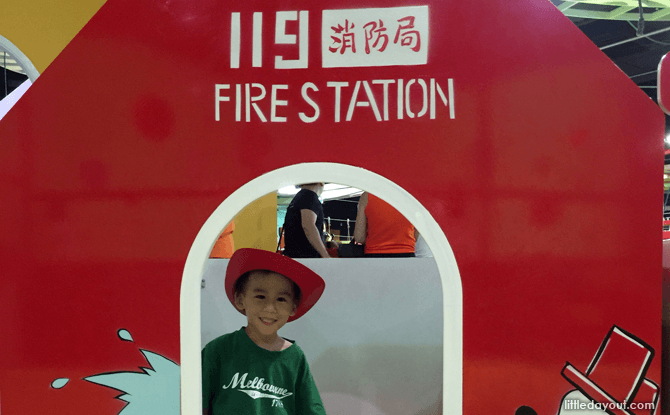 Adventure Highlands
A highlight of eXplorerKid @ Downtown East is the high elements (relatively high for a young kid!) rope course. The course has two levels, a higher level catering to the older kids (minimum height of 110 cm) and a lower level for those below 110 cm (so that the younger ones are not left out!)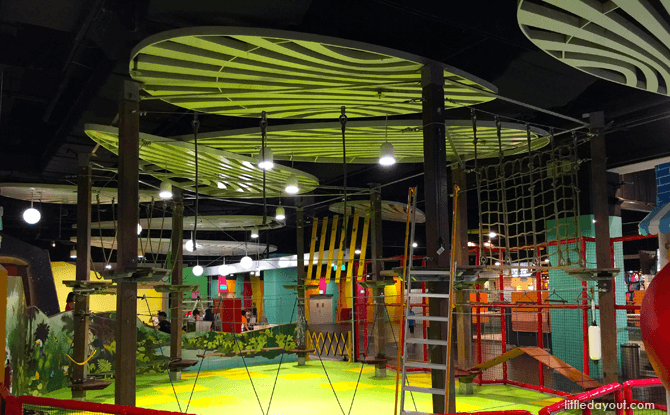 Helpful facilitators are present to encourage intrepid young adventurers. Once kids are safely harnessed up, the adventure begins!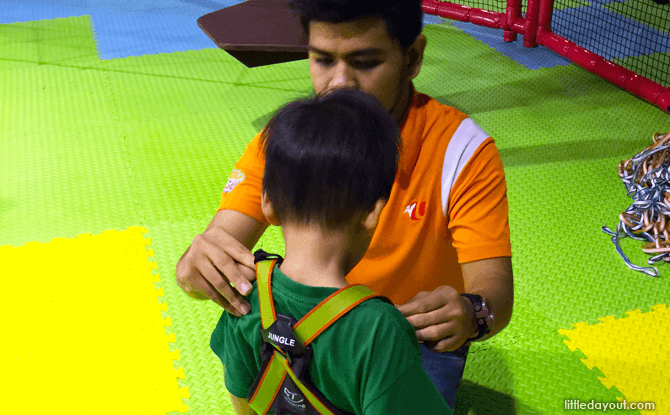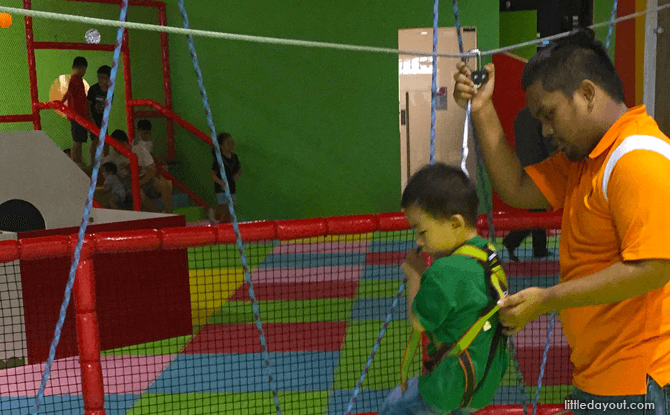 It is a fun yet challenging test of concentration, balance and confidence for children of all ages.
Adventure Highlands is ticked separately and for a fee of $5.50, your kid will get to experience a mini "outward bound" adventure.
Other Facilities at eXplorerkid @ Downtown East
What's a celebration without play? eXplorerkid @ Downtown East has two party rooms for birthday celebrations and, best of all, invited kiddy guests get unlimited playtime.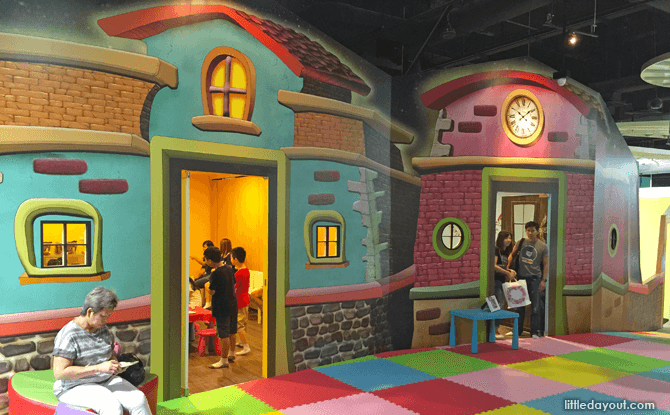 Parents can lounge at the TV area and there is a baby care room for parents with infants. To satisfy hungry tummies, light snacks are sold near the entrance of the playground.
Take note that socks are required to enter the indoor playground. You can also buy a pair of socks at $2.50 at the entrance.
eXplorerkid @ Downtown East provides varied physical, mental and social learning experiences to children of different ages. Not to mention, there is a nice mix of quieter stations like the sand play area, craft and role play stations, amidst the mayhem of the high-energy activity stations. At the end of the day, you're mostly guaranteed to return home with a tired but satisfied and happy kid.
eXplorerkid @ Downtown East
Address: 3rd Floor, E!hub, Downtown East, 1 Pasir Ris Close, Singapore 519599
Opening hours: 12 pm to 9 pm (off-peak days – Mon to Fri), 10 am to 10 pm (peak days – weekends, public holidays, gazetted school holidays, PSLE marking days)
For more info on the admission rates, please refer to the website below:
Website: http://www.explorerkid.com/about_us/ehubdowntown_east